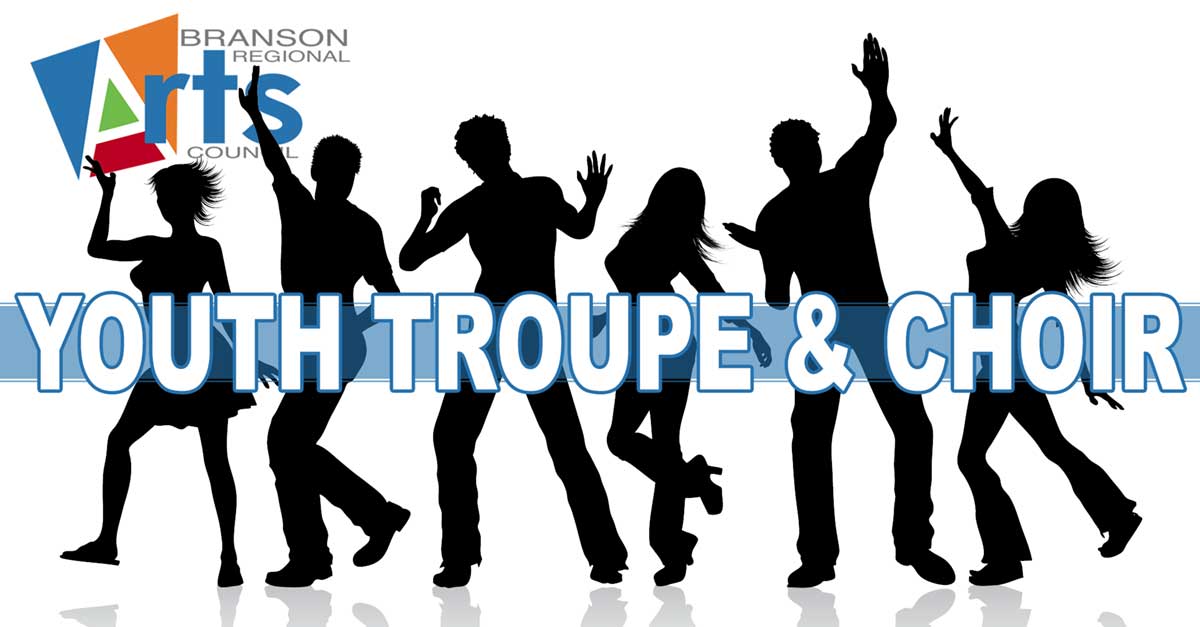 The Branson Regional Arts Council is pleased to announce the final cast selections for our ALL-NEW Youth Performance Troupe, and Show Choir. The following individuals will be contacted and are invited to register and participate for the 2018-2019 season.  Congratulations, and thank you to everyone who attended the auditions.
2018-2019 BRAC Youth Performance Troupe Cast Selections…
Derek Brown
Morgan Brown
Noah Byer
Sophie Douglas
Alexis Fischer
Dani Groff
Hallie Groff
Carter Hendrickson
Brynleigh Hill
Cole Hill
Molly Jones
Jordan Kendrick
Jake Musser
Megan Rodgers
Bekah Williams
About Youth Performance Troupe: Youth Troupe is a group devoted to all things theatre! Students in the Youth Troupe will meet weekly and encounter intensive, interactive studies in Voice, Acting, Stage Presence, Dance Choreography, Team Work. Students will develop both self confidence and respect for the skills required to be successful in Theatre Arts. The Youth Troupe will be run in a serious "conservatory master class" style meaning from the moment the students enter the theatre until they leave the theatre…training is in process. The Youth Troupe will be a congregate group that will have regular break out sessions based on age. All Youth Troupes will perform at various festivals, concerts, and gatherings throughout the academic year.
Please note that there will not be a Concert Choir for 2018-2019 as we didn't have enough expressed interest for this year. If your name is listed above, and you auditioned for Concert Choir, you have the option of being in Youth Performance Troupe.
2018-2019 BRAC Show Choir Cast Selections…
*some additions are expected to the final cast list
Joey Blackwood
Noah Byer
Dani Groff
Carter Hendrickson
Cole Hill
Brenna Kellem
Jordan Kendrick
Megan Rodgers
*(TBA)
About Show Choir: Show Choir is an energetic advanced musical group intended to combine challenging music repertoire with entertaining choreography. The choir will focus on elevating and applying its formal training into lively, breath taking "show" style performances. Students will study advanced music theory, vocal warm up, stage etiquette, presence and showmanship, and multi-part choral music. The directoral leadership will be both demanding & rewarding. The time at rehearsal will be run in a serious "conservatory master class" style meaning from the moment the students enter the theater until they leave the theater… training is in process.
https://bransonarts.org/wp-content/uploads/2018/08/Youth_Troupe_Choir-1200.jpg
627
1200
Branson Regional Arts Council
https://bransonarts.org/wp-content/uploads/2017/03/BRAC-HeaderLogo.png
Branson Regional Arts Council
2018-08-24 12:20:11
2018-08-28 14:12:27
2018-2019 Youth Performance Troupe & Show Choir Cast List