Disney's Finding Nemo JR Entertains And Inspires Audiences In Branson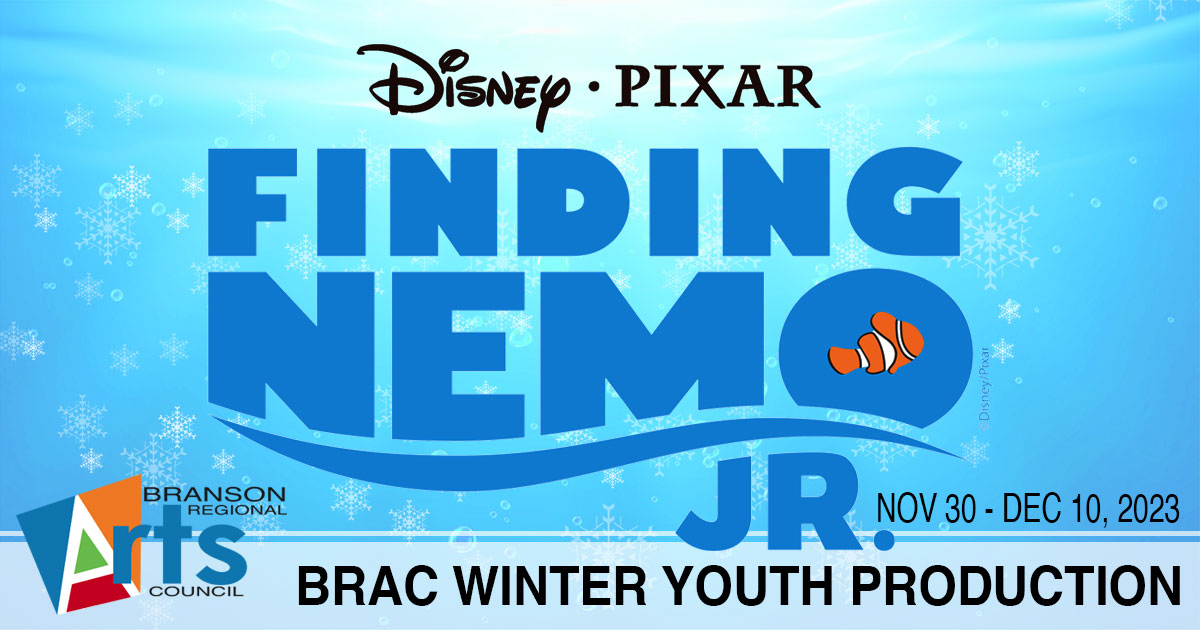 November 9, 2023

Branson Regional Arts Council

No Comments

2302 Views
The Branson Regional Arts Council proudly presents it's Winter Youth Theatre Production of Disney's Finding Nemo JR, a musical adaptation of Disney-Pixar's popular animated film Finding Nemo. This junior version of the musical is specifically designed for younger performers and audiences of all ages.
Rated G for Great Family Fun!
Performances at the Historic Owen Theatre in downtown Branson run November 30th through December 10, 2023. Showtimes are Thursday, Friday, Saturday (7pm) and Saturday, Sunday (2pm). Advance ticket reservations are highly recommended and can be purchased online at BransonArts.org/tix or by calling the Box Office at 417-336-4255. Tickets are $20 (Adults 18+) and $12 (Youth 4-17). Lap children under 4 are free.
Co-Directed by Kyle and Kellsey Bradley, the story closely follows the plot of the original movie, taking the audience on an underwater adventure with Marlin, a clownfish, and his forgetful friend Dory as they search for Marlin's son, Nemo, who has been captured by a diver and placed in a fish tank. The musical includes many other beloved characters from the film, including Crush the Sea Turtle and Bruce the Shark, and features memorable songs such as "Just Keep Swimming," "Fish Are Friends Not Food," and "Go With the Flow."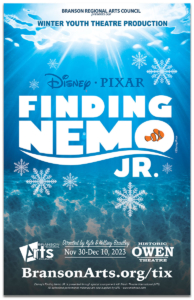 Finding Nemo JR. offers an opportunity for young area actors and actresses to showcase their talents while delivering important themes of family, friendship, and perseverance in a highly entertaining way!
Cast members of Finding Nemo JR include: Josslynn Silvy / Zoey Viola (Nemo), Ben Stevens (Marlin), Emma Spurling (Dory), Lundyn Mitchell (Professor Ray), Katie Linn (Scuba Mask Dancer), Josh Reed (Bruce), Jack Brown (Chum), Brooklyn Giannotti (Anchor), Indy Griffith (Bubbles), Hallie Groff (Bloat), Alivia Prince (Gurgle), Jillian Reed (Peach), Caleb Spurling (Gill), Ryan Merrifield (Nigel), Jael Frost (Crush), Alton Prince (Squirt), Scarlett McManus (Kai), Brenna Prince (Breeze), Paisley Buttram (Pearl), Emma Chandler (Sheldon), Greyson Stevens (Tad), Maggie Marks (Angelfish), Grady Stevens (Damselfish), Promise Brunson (Pearl's Parent), Emma Callaway (Sheldon's Parent), Evan Carr (Tad's Parent), Rylin Chick, Giovanni Verastegui, Gracie Floer (Moonfish), Kate Sutherland, Luke Johnson, Kynadee Carter, Reagan Hoagland, Royal Steelman, Gwendolyn Tsahiridis, Scout McManus, Caleb Linn, Katy Patton, Anabella Meyer, ToriAnne Lyons, Lexi Carr, Ezra Williams, Xia McElwee and Layla Gabriel (Young Sea Chorus).
Supporting the BRAC Youth Theatre Education Programs and this production of Disney's Finding Nemo JR is important for several reasons.
Nurturing Creativity: BRAC's Youth theatre programs provide a platform for young residents to explore their creativity, develop their artistic talents, and express themselves through acting, singing, and dancing. It encourages a love for the arts and helps participants discover their potential.
Building Confidence: Involvement in theatre, especially for youth, can boost self-confidence. It teaches public speaking, teamwork, and the ability to perform in front of an audience, which are valuable life skills.
Fostering Inclusivity: Theatre promotes diversity and inclusivity, allowing participants of various backgrounds and abilities to come together and collaborate. It's an opportunity to celebrate differences and work towards a common goal.
Community Engagement: BRAC's youth theatre productions involve the local community, from parents and volunteers to audiences. This strengthens our community bonds and supports a sense of togetherness.
Educational Value: Theatre can be an educational tool, teaching history, culture, and various subjects through storytelling. Finding Nemo JR can teach environmental awareness and the importance of protecting marine life.
Entertainment: Youth theatre productions like Finding Nemo JR offer enjoyable and family-friendly entertainment. They give families the chance to share in the joy of a live performance in the intimate setting of the Historic Owen Theatre.
Future Talent Development: Many successful actors, directors, and artists started their careers in youth theatre. Supporting these endeavors contributes to the development of future talent in the entertainment industry.
Supporting youth theatre and Branson Regional Arts Council productions like Finding Nemo JR has a positive impact on the personal growth of young individuals, our community, and the arts as a whole. It's a valuable investment in creativity, education, and cultural enrichment.
Swim on over to the Historic Owen Theatre and reserve your seats now, for this fun musical holiday production!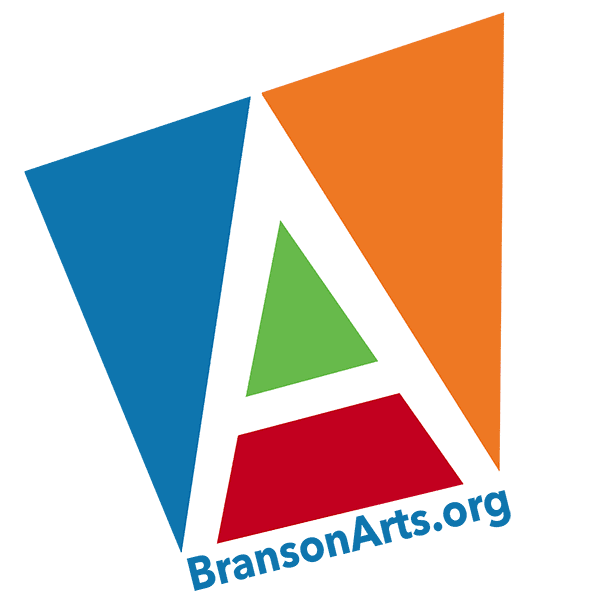 The Branson Regional Arts Council was founded in 1965 as the "Taney Arts Council," and officially established 501 (c)(3) non-profit status as "Branson Arts Council, Inc." in 1993.
Our mission is "to create exceptional artistic, cultural and educational opportunities for our community."
Financial support  is provided by BRAC members, theatre patrons, private donors, as well as additional grant support from  the Missouri Arts Council and other organizations.
BRAC, PO Box 2004, Branson, MO 65615
https://bransonarts.org/wp-content/uploads/2023/10/Finding_Nemo_JR_1200.jpg
630
1200
Branson Regional Arts Council
https://bransonarts.org/wp-content/uploads/2017/03/BRAC-HeaderLogo.png
Branson Regional Arts Council
2023-11-09 15:19:33
2023-11-09 15:19:33
Disney's Finding Nemo JR Entertains And Inspires Audiences In Branson