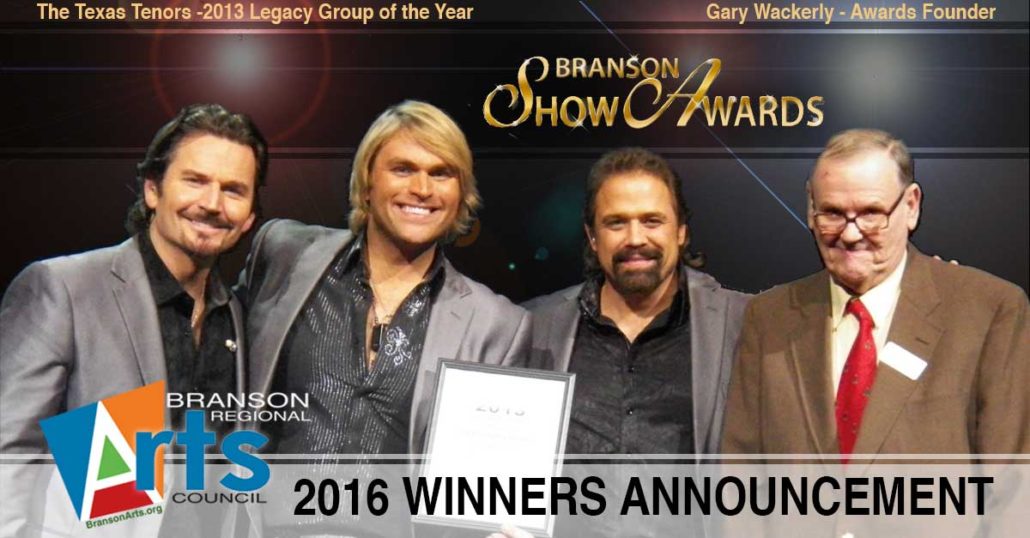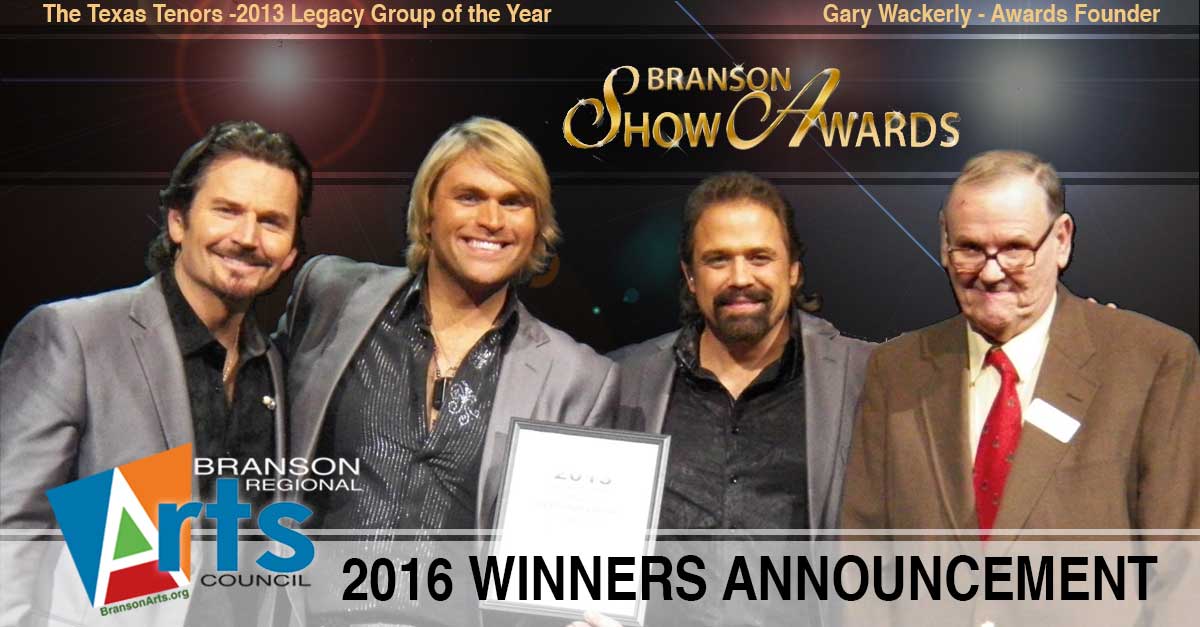 BRANSON SHOW AWARDS PRESENTATION MONDAY JUNE 26th!
The Branson Regional Arts Council is pleased to sponsor the Branson Show Awards once again this year.
2016 BRANSON SHOW AWARDS PRESENTATIONS
Monday, June 26th
Jackie B. Goode's Uptown Cafe, 285 MO-165, Branson, MO 65616
Presentations between 2:30pm and 4:30pm CST
2016 Award Winning Branson Performers and Shows will receive their awards at an informal reception this Monday at the Uptown Cafe. The public is invited to drop by and cheer on your favorite artist as they receive their award. Food and refreshments may be ordered at the restaurant.
2016 Branson Show Awards Winners are…
BEST SHOW – Clay Cooper's Country Express
BEST LEGACY SHOW – Barbara Fairchild
BEST NEW SHOW – Rock and Roll Revival
BEST COMEDY SHOW – Smoke On The Mountain
BEST GOSPEL SHOW – New South Gospel
BEST VARIETY SHOW – The Duttons
BEST THEATRICAL PRODUCTION – Moses
BEST MORNING SHOW – The Bretts
BEST SHOW FOR FAMILIES – Amazing Pets
BEST MUSICAL FAMILY – The Haygoods
BEST TRIBUTE SHOW – Carpenters Once More
BEST DINNER SHOW – A Tribute To George Strait
BEST MATINEE SHOW – #1 Hits of the 60's (& 50's too)
BEST SHOW LIMITED ENGAGEMENT – Arizona Keepsakes
BEST PATRIOTIC SALUTE – Clay Cooper's Country Express
BEST MALE VOCALIST – George Dyer
BEST FEMALE VOCALIST – Tamara Tinoco
BEST SINGING GROUP – Statler Brothers Revisited
BEST FEMALE SINGING GROUP – Branson Dreamettes
BEST MALE SINGING GROUP – New Jersey Nights
BEST QUARTET – Million Dollar Quartet
BEST BAND – Labamba
BEST KEYBOARD – Darrell Croy
BEST LEAD GUITAR – Wayne Severson
BEST BASS OR UPRIGHT – Larry Alred
BEST DRUMMER – Josh Gabriel
VIOLINIST OF THE YEAR – Amy Dutton Arambulo
BEST HORN – Marvin Short
BEST INSTRUMENTALIST – Katherine Haygood
BEST TRIBUTE ARTIST – CJ Newsom
BEST IMPRESSIONIST – Terry Sanders
COMEDIAN OF THE YEAR – Terry Sanders
BEST PHYSICAL COMEDY – Jordan Gabriel
SONGWRITER OF THE YEAR – Andrea Brett
BEST DANCE TROUPE – Country Express Dancers
BEST FEMALE DANCER – Jennifer Turner
BEST MALE DANCER – Steve Parish
FEMALE ENTERTAINER OF THE YEAR – Heather Gentry
MALE ENTERTAINER OF THE YEAR – Timothy D. Dutton
YOUNG MALE ENTERTAINER OF THE YEAR (age 11-17) – Timothy J. Dutton
YOUNG FEMALE ENTERTAINER OF THE YEAR (age 11-17) – Nadia Cole
BEST MAGIC SHOW – Illusionist Rick Thomas
BEST DUET – Shane Vorhaben & Dave Sanders
BEST MASTER OF CEREMONIES – Mike Patrick
ENTERTAINERS OF THE YEAR – Hughes Brothers, IT
BEST CHRISTMAS SHOW – Maxine's Christmas Carol
https://bransonarts.org/wp-content/uploads/2017/05/Branson_Show_Awards_1200.jpg
627
1200
Branson Regional Arts Council
https://bransonarts.org/wp-content/uploads/2017/03/BRAC-HeaderLogo.png
Branson Regional Arts Council
2017-06-20 16:13:36
2017-06-20 16:17:06
Branson Show Awards Presentation Monday June 26th