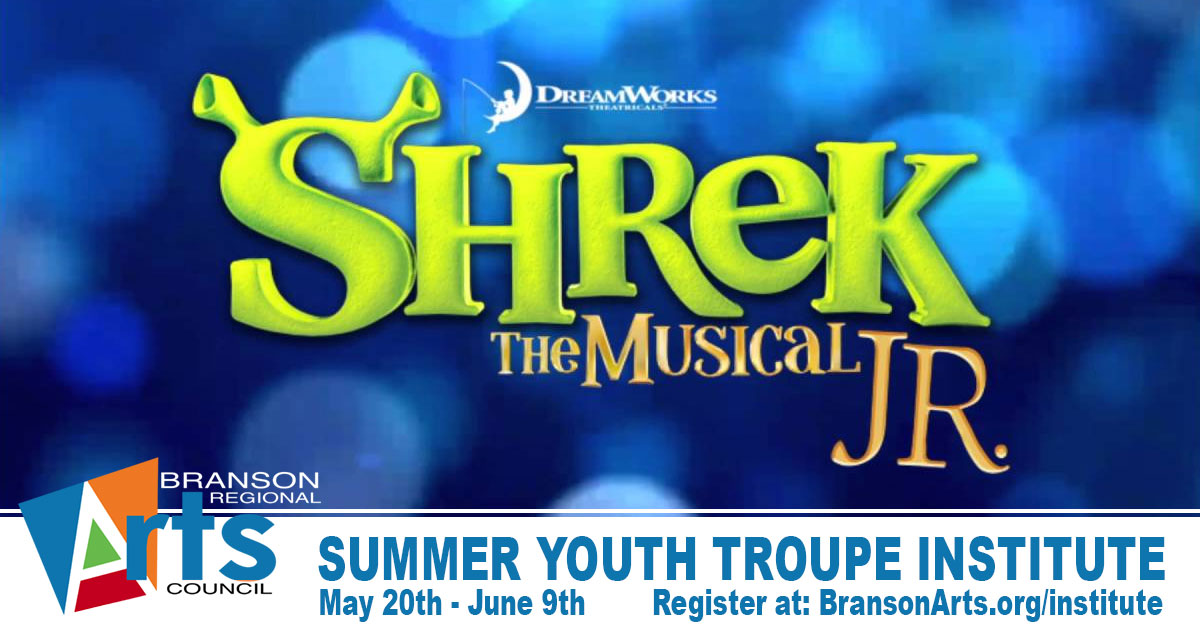 The 2019 Youth Troupe Summer Theatre Institute is now accepting students for it's production of Shrek the Musical, Jr.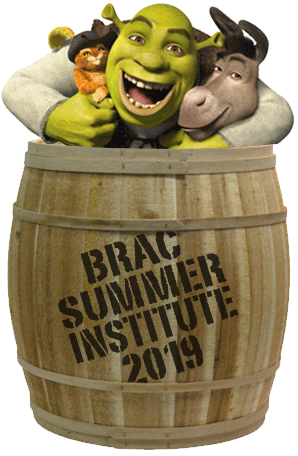 Register your child (ages 6-18) to experience the Branson Regional Arts Council's exciting summer theatre camp at the Historic Owen Theatre in Branson. The theme is Shrek the Musical Jr., with classes on Monday thru Friday, 8:00am – 12:00pm from May 20 thru June 9th. There will be a initial parent/student meeting on Sunday, May 19th from 6pm-7pm. (No class on May 27th for Memorial Day).
No auditions or previous experience required to participate!
Tuition for the entire session, including performances is $150 per student ($125 for BRAC members). A limited amount of scholarships are available based on need and situation.  Contact info@bransonarts.org for information.
The students will learn acting, dancing, singing, and stage movement culminating in a magnificent stage production of Dreamworks' Shrek the Musical Jr. with public performances June 6-9, 2019. Reserved seat tickets for Shrek the Musical Jr. are on sale now at BransonArts.org/tix.

JUMP INTO THE SWAMP!!! Register your child for this MAGICAL award-winning musical theatre experience!
CLICK TO REGISTER FOR SUMMER INSTITUTE
Shrek the Musical Jr. is based on the Oscar-winning DreamWorks Animation film and the Broadway production that received a total of twelve Drama Desk Awards and eight Tony Award nominations, including Best Musical! Beauty is in the eye of the ogre! It's a "big bright beautiful world" as everyone's favorite ogre, Shrek, leads a cast of fairytale misfits on an adventure to rescue a princess and find true acceptance. Part romance and part twisted fairy tale, Shrek JR. is an irreverently fun show with a powerful message for the whole family.
Summer Institute Class and Performance Schedule will be as follows:
 Sunday May 19 – 6:00 to 7:00 pm (Parents & Students Information Meeting)
 Monday May 20 – 8:00am to 12:00pm (Hollister Students only – 4:00pm to 6:00pm)
 Tuesday May 21 – 8:00am to 12:00pm (Hollister Students only – 4:00pm to 6:00pm)
 Wednesday May 22 – 8:00am to 12:00pm
 Thursday May 23 – 8:00am to 12:00pm
 Friday May 24 – 8:00am to 12:00pm
 Monday May 27 – Off (Memorial Day)
 Tuesday May 28 – 8:00am to 12:00pm
 Wednesday May 29 – 8:00am to 12:00pm
 Thursday May 30 – 8:00am to 12:00pm
 Friday May 31 – 8:00am to 12:00pm
 Monday June 3 – 8:00am to 12:00pm
 Tuesday June 4 – 8:00am to 12:00pm
 Wednesday June 5 – 8:00am to 12:00pm
 Thursday June 6 – 1:00 to 5:00 pm Performance at 7:00pm
 Friday June 7 – Call Time 5:00 pm Performance at 7:00 pm
 Saturday June 8 – Call Time noon Performance at 2:00 Call Time 5:00 Performance at 7:00
 Sunday June 9 – Call Time noon Performance at 2:00 Call Time 5:00 Performance at 7:00
https://bransonarts.org/wp-content/uploads/2019/04/Shrek_Institute_1200.jpg
627
1200
Branson Regional Arts Council
https://bransonarts.org/wp-content/uploads/2017/03/BRAC-HeaderLogo.png
Branson Regional Arts Council
2019-04-05 17:44:35
2019-04-06 17:07:55
Shrek The Musical Jr. - Summer Youth Institute Registration Announced