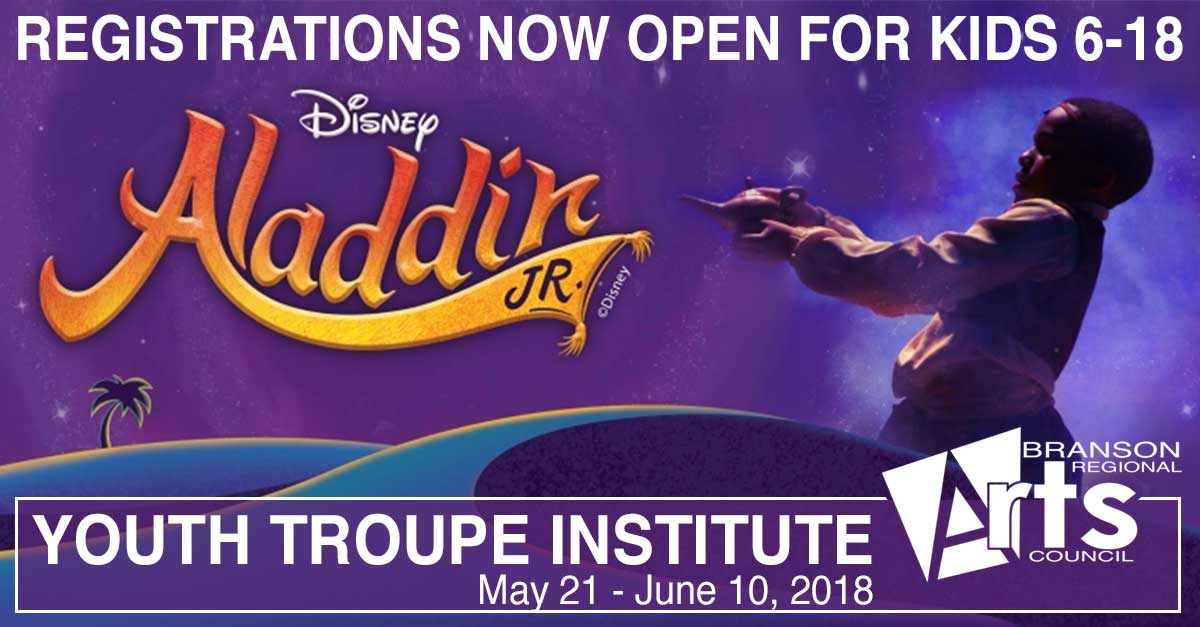 The 2018 Youth Troupe Summer Theatre Institute is now accepting students for it's first summer session.
Register your child (ages 6-18) to experience the Branson Regional Arts Council's first of TWO summer theatre camps at the Historic Owen Theatre in Branson. The theme for this session is Disney's Aladdin Jr. with classes on Monday thru Friday, 1-5pm from May 21 thru June 6th (No class on May 28th for Memorial Day). No auditions or previous experience required. Tuition for the entire session, including performances is $125 per student ($100 for BRAC members). A limited amount of scholarships are available based on need and situation.  Contact info@bransonarts.org for information.
The students will learn acting, dancing, singing, and stage movement culminating in a magnificent stage production of Disney's Aladdin Jr. with public performances June 7-10, 2018. Reserved seat tickets for Aladdin Jr. are on sale now at BransonArts.org/tix.
Your child will discover "A Whole New World" with this magically updated version of the Academy Award-winning Disney classic!
CLICK TO REGISTER FOR SUMMER INSTITUTE
Disney's Aladdin JR. is based on the 1992 Academy-Award®-winning film and the 2014 hit Broadway show about the "diamond in the rough" street rat who learns that his true worth lies deep within.
The story you know and love has been given the royal treatment! Aladdin and his three friends, Babkak, Omar, and Kassim, are down on their luck until Aladdin discovers a magic lamp and the Genie who has the power to grant three wishes. Wanting to earn the respect of the princess, Jasmine, Aladdin embarks on an adventure that will test his will and his moral character.
Summer Institute Class and Performance Schedule will be as follows:
  Monday May 21 4:00 to 8:00 pm
  Tuesday May 22 1:00 to 5:00
  Wednesday May 23 1:00 to 5:00
  Thursday May 24 1:00 to 5:00
  Friday May 25 1:00 to 5:00
  Monday May 28 Off Memorial Day
  Tuesday May 29 1:00 to 5:00 pm
  Wednesday May 30 1:00 to 5:00 pm
  Thursday May 31 1:00 to 5:00 pm
  Friday June 1 1:00 to 5:00 pm
  Monday June 4 1:00 to 5:00 pm
  Tuesday June 5 1:00 to 5:00 pm
  Wednesday June 6 1:00 to 5:00 pm
  Thursday June 7 1:00 to 5:00 pm Performance at 7:00pm
  Friday June 8 Call Time 5:00 pm Performance at 7:00 pm
  Saturday June 9 Call Time noon Performance at 2:00 Call Time 5:00 Performance at 7:00
  Sunday June 10 Call Time noon Performance at 2:00 Call Time 5:00 Performance at 7:00
https://bransonarts.org/wp-content/uploads/2018/05/YT_Institute_1200.jpg
627
1200
Branson Regional Arts Council
https://bransonarts.org/wp-content/uploads/2017/03/BRAC-HeaderLogo.png
Branson Regional Arts Council
2018-05-07 20:36:06
2018-05-07 20:48:03
Registration Now Open For Youth Troupe Summer Institute