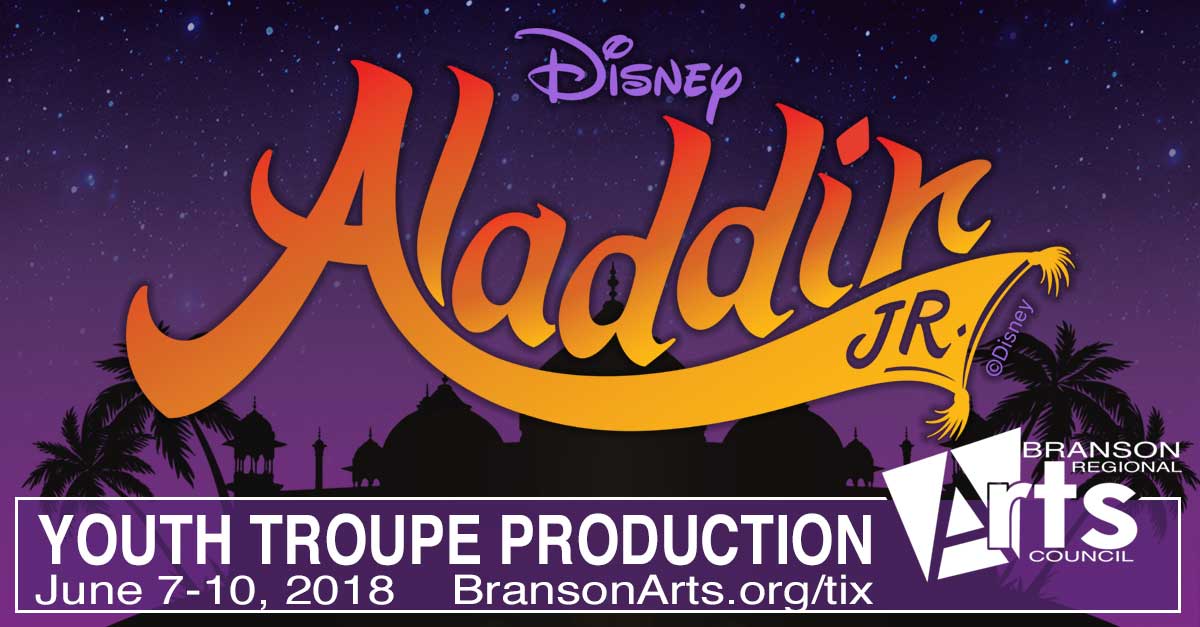 Disney's Aladdin Jr Features Large Cast of Young Area Actors
Over 40 talented young actors from across the Branson Tri-Lakes area are discovering "a whole new world" as they prepare to impress area audiences in a fun and exciting musical production of Disney's Aladdin Jr.
Produced as part of the Branson Regional Arts Council's Youth Troupe Summer Institute, Aladdin Jr. will be presented in six public performances at the Historic Owen Theatre in Downtown Branson this Thursday through Sunday.
Performance Times:
Thursday June 7 – 7pm, Friday June 8 – 7pm, Saturday June 9 – 2pm & 7pm, Sunday June 10 – 2pm & 7pm
Reserved seating tickets are available online at BransonArts.org/tix, and advance purchases are recommended.
Disney's Aladdin Jr. is based on the 1992 Academy-Award®-winning film and the 2014 hit Broadway show about the "diamond in the rough" street rat who learns that his true worth lies deep within. Aladdin and his three friends, Babkak, Omar, and Kassim, are down on their luck until Aladdin discovers a magic lamp and the Genie who has the power to grant three wishes. Wanting to earn the respect of the princess, Jasmine, Aladdin embarks on an adventure that will test his will and his moral character.
Songs from the Disney film include "Arabian Nights," "One Jump Ahead, "Friend Like Me," "Prince Ali," and "A Whole New World," as well as an additional song "Why Me" which was cut from the original Disney film.

The cast of Aladdin Jr. are all participants of the Branson Regional Arts Council's Youth Troupe Summer Theatre Institute for students ages 6 to 18. Featured cast members include: Alex Knudsen (Aladdin), Abby Sundahl (Genii), Renee' Elkady (Princess Jasmine), Cole Hill (Jafar), Sophie Douglas (Iago), Pace Gillman (Abu, Featured Dancer), Kevin Williams (Sultan, Cave of Wonders Voice), Morgan Brown (Babkak, Ensemble), Carter Hendrickson (Omar, Prince Abdulah, Ensemble), Emma Heseman (Kassim, Ensemble), Alexis Fischer (Isir, Featured Dancer, Ensemble), Sami Sutcliffe (Manal, Featured Dancer, Ensemble), Bekah Williams (Rajah, Featured Dancer, Ensemble), Liam Hill (Razoul, Ensemble), Macy Myers (Spooky Voice, Apple Vendor, Ensemble), Kaitlyn Jenanian (Fortune Teller, Featured Dancer, Ensemble), Grace Clark, Kendal Mask, Milla Solvie (Beggars, Featured Dancers, Ensemble), Molly Jones (Shop Owner, Ensemble), Lee Brown, Josslyn Silvy (Attendants, Ensemble), Korey Brown, Cameron Cornish, Uriah Guevel, Harrison McGregor, Sailor Tillis, Luke Sundahl, Caleb Sundalhl (Guards, Ensemble), Madison Lundeen, Laurie Payne (Featured Dancers, Ensemble), Sylvie Barbour, Emma Callaway, Claire Cornish, Jael Frost, Hallie Groff, Halle Horn, Addison Russell, Libby Sundahl, Betsy Sundahl, Katie Sundahl, Ashleign Williams and Jacob Foreman (Ensemble).
The production team include: Kim Hale and Lisa Murphy (Producers), Jennifer Sundahl (Assistant Producer), Lloyd Alexander-Holt (Director, Costumer, Vocal Director), Jacob Estes (Director, Scenic Designer), Kristen Dasto (Choreographer), Melissa Rivera (Assistant Teacher), Danielle Groff and Dakota Cooner (Student Directors), Jonathan Crum (Additional Costume Design), Nicole Dasto (Stage Manager, Audio Tech), Pamela Meadows (Lighting Design and Tech), Marshall Meadows (Photographer), Jim Barber (Marketing), Art Hale, Kim Hale, Lori Best, Jacob Estes, Nick Batey, Lisa Murphy, Charyl Nida, Lloyd Alexander-Holt, Kristen Dasto and Nicole Dasto (Set Construction).
[metaslider id=3474]
Aladdin Jr. is presented through special arrangement with Music Theatre International (MTI). The Walt Disney Company is a licensor of the Aladdin Jr. stage play only and is not a producer of this production. Music is by Alan Menken, with Lyrics by Howard Ashman and Tim Rice. The musical is based on the Screenplay by Ron Clements, John Musker, Ted Elliott and Terry Rossio.
For information on upcoming Youth Troupe Summer Theatre Institute programs, visit BransonArts.org/institute.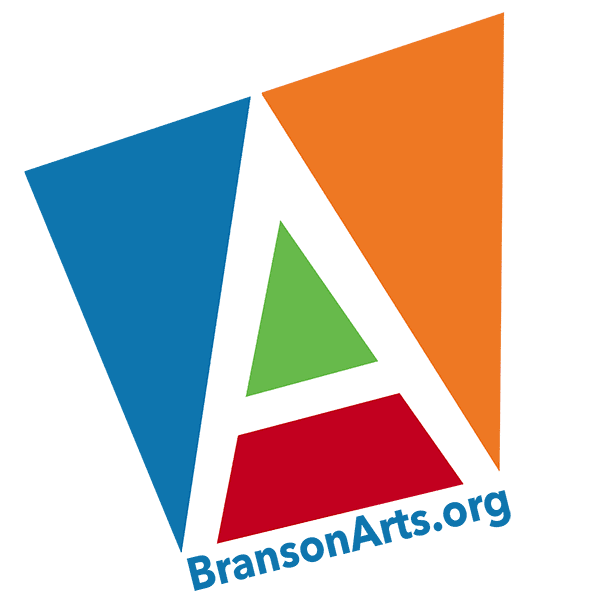 The Branson Regional Arts Council was founded in 1965 as the "Taney Arts Council," and officially established 501 (c)(3) non-profit status as "Branson Arts Council, Inc." in 1993.
Our mission is "to provide artistic, cultural and educational opportunities that support, strengthen and enhance artistic experiences for people of all ages in our area."
Financial support  is provided by BRAC members, theatre patrons, private donors, as well as additional grant support from  the Missouri Arts Council, City of Branson, and other organizations.
BRAC, PO Box 2004, Branson, MO 65615
https://bransonarts.org/wp-content/uploads/2018/06/Aladdin_Jr_1200.jpg
627
1200
Branson Regional Arts Council
https://bransonarts.org/wp-content/uploads/2017/03/BRAC-HeaderLogo.png
Branson Regional Arts Council
2018-06-03 16:37:47
2018-06-03 16:37:47
Disney's Aladdin Jr Opens This Week At Historic Owen Theatre