Osage Ballet Seeks Branson Actors For Televised Concert At Mansion Theatre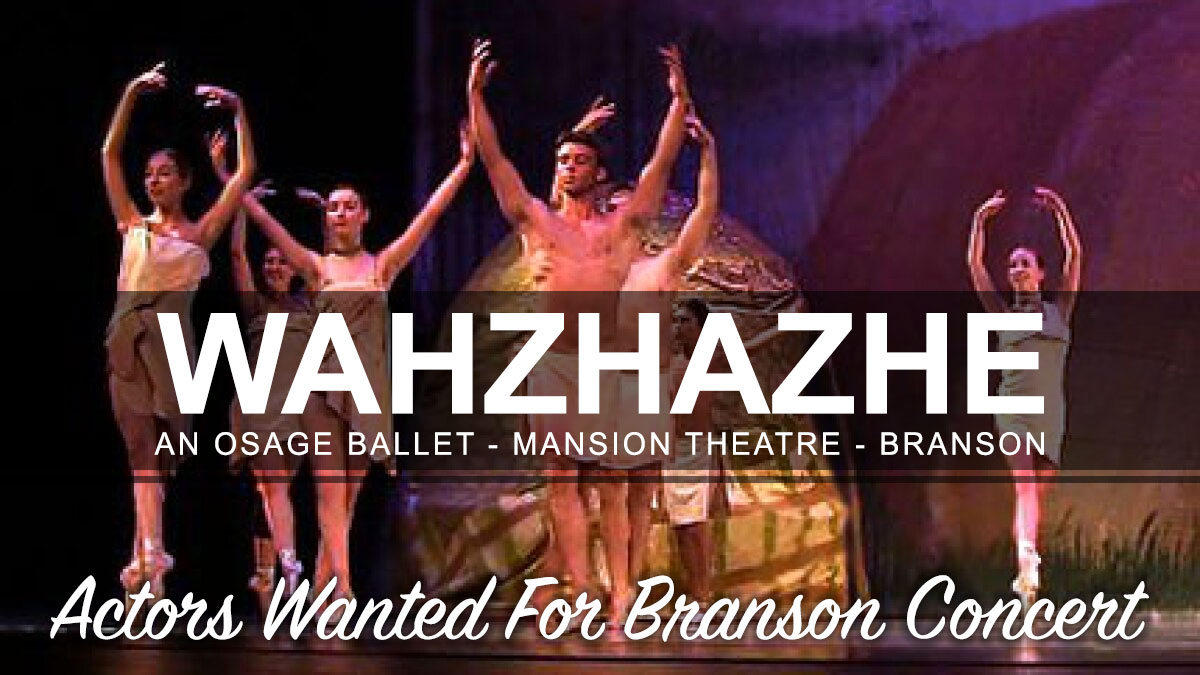 July 11, 2022

Branson Regional Arts Council

No Comments

13517 Views
Wahzhazhe is a contemporary ballet that mesmerizes audiences from the first beat of the rhythmic drums to the final curtain close. Audiences are surprised by the powerful storytelling, and even those who are not ballet lovers return to the show repeatedly to be moved by the story that unfolds in front of them.
On August 5th and 6th, the Osage Ballet will be performing at The Mansion Theatre for the Performing Arts in Branson, MO and the ballet is immediately seeking three actors to participate in this production.
Here are the details:

Two military guys to bring in the treaties. They will need to move well, but not necessarily dance.
One bad guy who was in his 40's, short, medium build, light complexion. Needs to be able to move well.
Rehearsals begin August 3rd at The Mansion Theater. Shows are August 5 and 6.

Interested actors should contact: Randy Tinker Smith – Wahzhazhe Ballet Director, 918-955-1119, osageballet@gmail.com
This is a non-paid performance, however the production will be recorded for a television special and the performers will have an excellent credit with high exposure nationally. The Branson Regional Arts Council is not associated with this production and is providing this audition information as a public service to assist this exciting concert event coming to Branson.
Since its humble beginnings, Wahzhazhe has garnered national and international attention. In 2013, the ballet was invited to the Smithsonian's National Museum of the American Indian in Washington DC to perform. In September of 2015, the Festival of Families in Philadelphia gave Wahzhazhe a global stage with more than half a million people in attendance during the Papal visit of Pope Francis.
Wahzhazhe touches audiences in a way that even they cannot anticipate. At sold-out performances in Washington DC's Smithsonian National Museum of the American Indian, even grown men wept. An audience member who watched the performance at the Tulsa Performing Arts Center in 2013 lauded that although she did not usually enjoy ballet, she would watch this ballet every time it was performed. At a performance at the Coleman Theatre in 2014, a woman embraced a young dancer after the show and explained through tears that she had no words for the depth of emotion that she felt after watching the ballet.
While the Osage Ballet, Wahzhazhe is a professional production, it is also a non-profit production that requires financial support from generous donors for its success.
We invite you to join us in bringing the Osage Ballet and our story to new audiences by making a tax-deductible gift. Your gift will enable us to cover the cost for a traveling production and make every performance successful.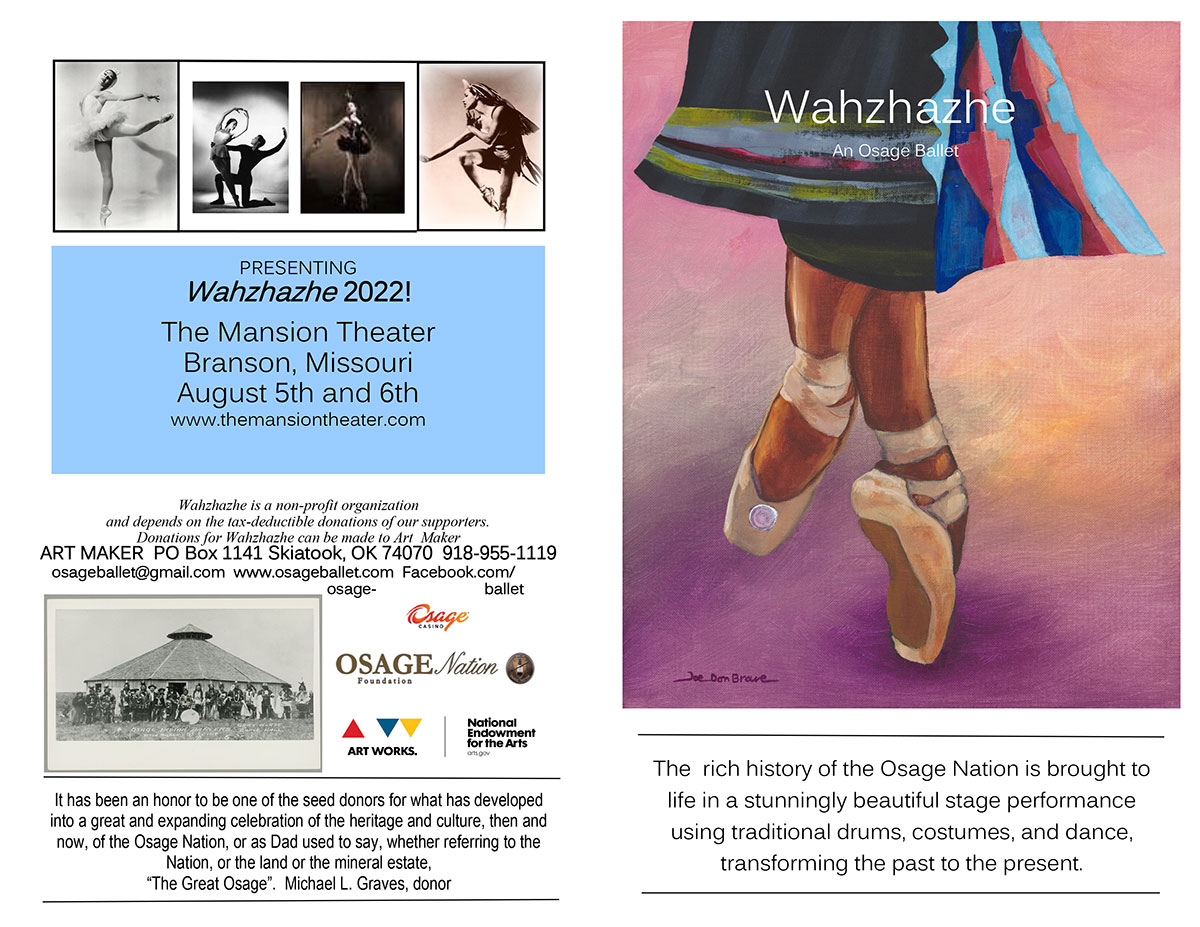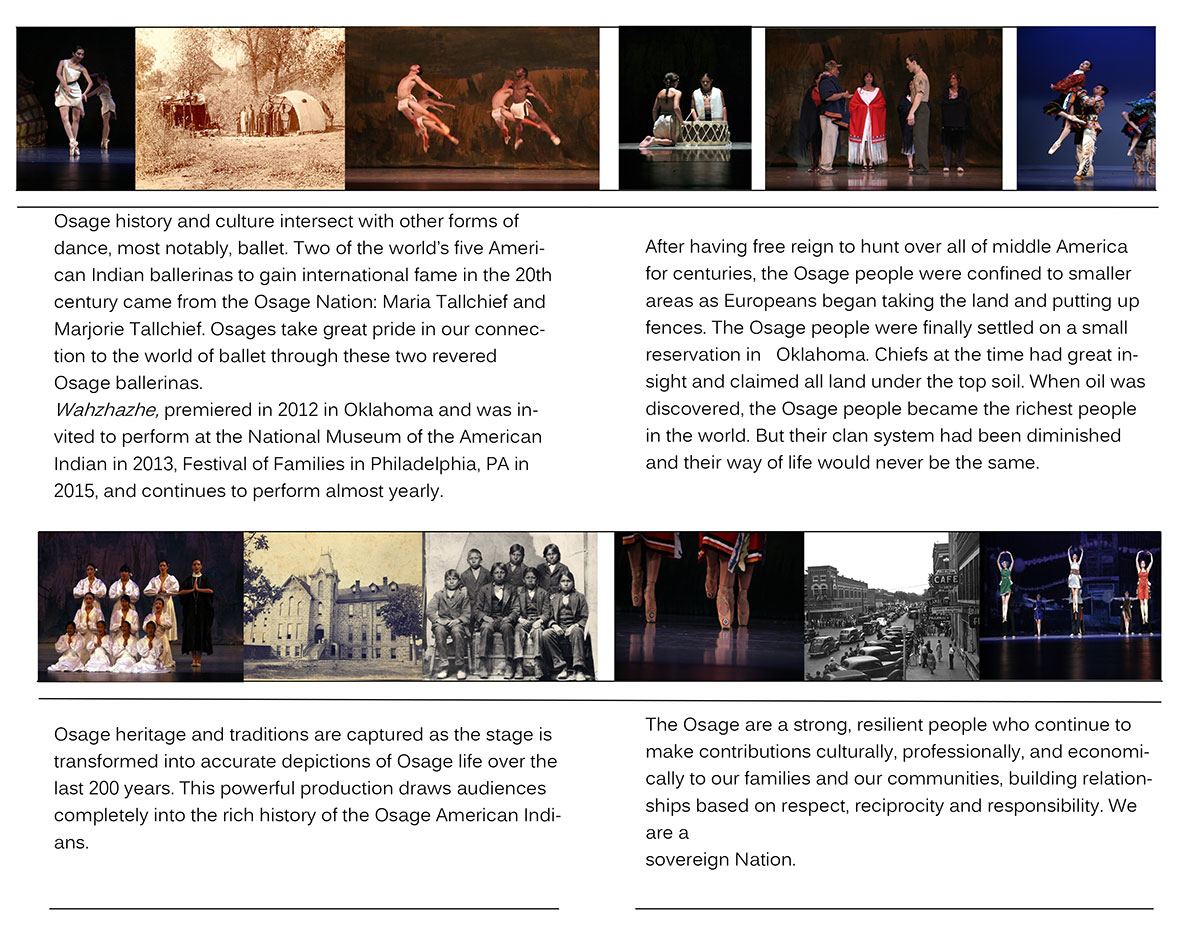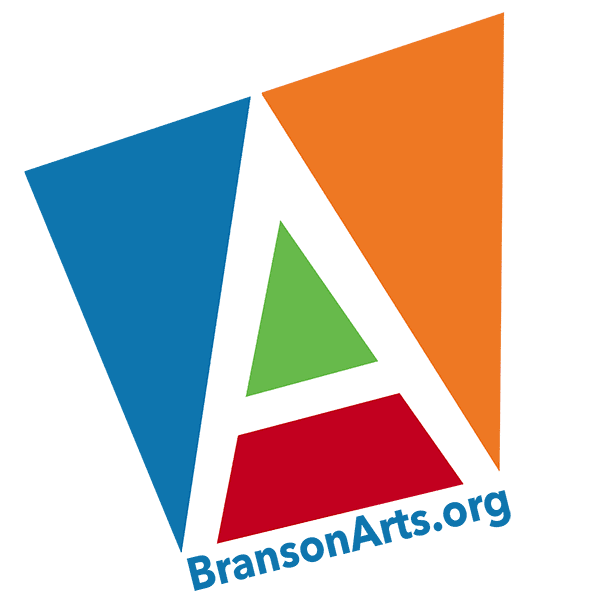 The Branson Regional Arts Council was founded in 1965 as the "Taney Arts Council," and officially established 501 (c)(3) non-profit status as "Branson Arts Council, Inc." in 1993.
Our mission is "to create exceptional artistic, cultural and educational opportunities for our community."
Financial support  is provided by BRAC members, theatre patrons, private donors, as well as additional grant support from  the Missouri Arts Council and other organizations.
BRAC, PO Box 2004, Branson, MO 65615
https://bransonarts.org/wp-content/uploads/2022/07/OsageBallet_Actors_1200.jpg
675
1200
Branson Regional Arts Council
https://bransonarts.org/wp-content/uploads/2017/03/BRAC-HeaderLogo.png
Branson Regional Arts Council
2022-07-11 17:33:20
2022-07-11 17:34:57
Osage Ballet Seeks Branson Actors For Televised Concert At Mansion Theatre