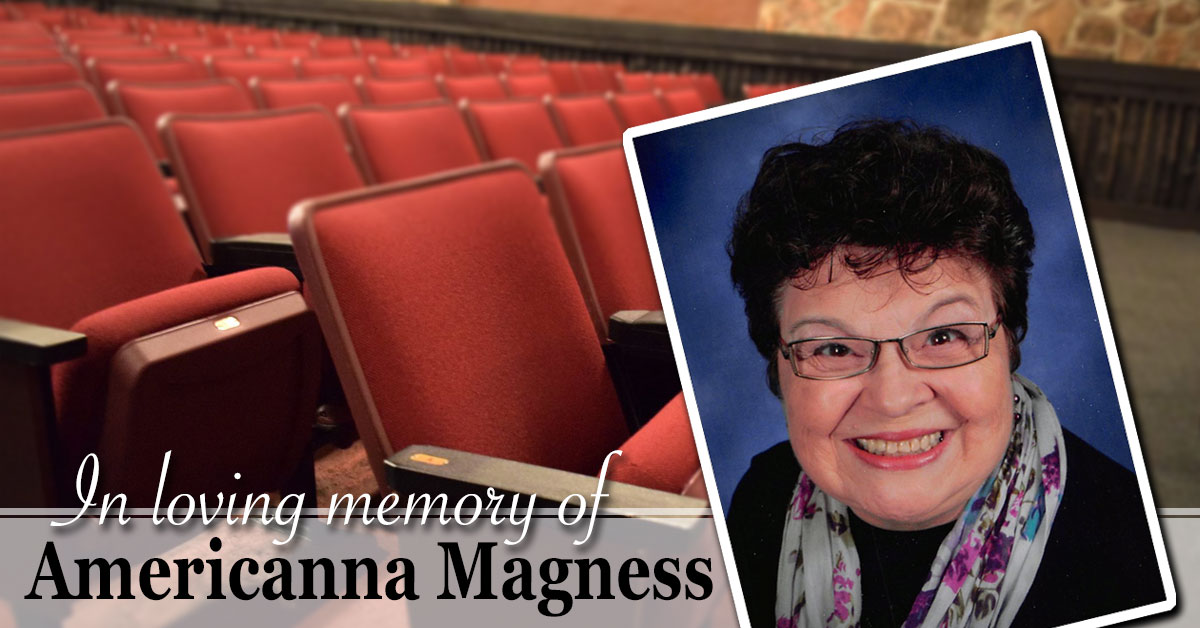 Americanna Magness was a beloved Champion of the Arts in the Ozarks. On April 2, 2020, Americanna quietly passed from this life leaving behind a legacy of hard work and dedication to several area organizations including the Branson Regional Arts Council.
In honor of her upcoming heavenly birthday on May 27th, the BRAC Board of Directors is pleased to honor Americanna's legacy by dedicating a seat engraved with her name at the Historic Owen Theatre in downtown Branson.
NOTE: This is not a live event, but an opportunity to donate to a special memorial in Americanna's memory.
Seat K-5 was where Americanna chose to sit during a "Gone With The Wind" film and gala fundraising event that she helped to create in September 2018 to benefit both the Branson Regional Arts Council and the Taneyhills Community Library.
Tax deductible contributions of any amount towards the dedication of this seat in Americanna's memory, may be mailed to: BRAC, P.O. Box 2004, Branson, MO 65615 (indicate Americanna on the check). Donations may also be made online via a special PayPal link (all major credit cards accepted).
DONATE TO THE MEMORIAL SEAT
Contributions in Americanna's memory will benefit the ongoing activities of the Branson Regional Arts Council including art exhibitions, community theatre productions and youth education programming at the Historic Owen Theatre. Individual Donors will be recognized on this webpage as well as in the lobby of the Historic Owen Theatre.
CONTRIBUTORS TO THE AMERICANNA MAGNESS MEMORIAL (to date):
Jim Barber
Bonnie Herrman
Marshall Howden
Cheryl Campbell
Ed Garrison
Bill & Sharon Budnick
Shirah Aumann
Barbara Cohn
Wilma Samford
Jack & Sherry Herschend
Barbara & Harold Anderson
In retirement, Americanna served on various boards for the Taneyhills Community Library; Deacon for the First Presbyterian Church; Board of Directors for the Branson Arts Council and received Art Citizen of the Year (2006); Coordinator of Old Stone Church Concerts; officer of PEO Chapter IB; and helped found the Branson Chamber singers, known today as the Branson Chorale.
Born in Springfield, Missouri on May 27, 1942, Americanna May (Awbrey) Magness lived in Branson her entire life. She is survived by her husband of 58 years, Tom Magness,her three children; Lynne Erin Murrow, Patrick Awbrey Magness, and Michael Alan Magness; her sister, Clara Lee Beasley; her four grandchildren; Kacey Marie Murrow, Alexandra Magness Smith, Mackenzie Magness Parks and Shane Patrick Magness; her two great-grandchildren; Watson Magness Smith and William Thomas Parks.
Americanna's loving and selfless spirit will be deeply missed by all.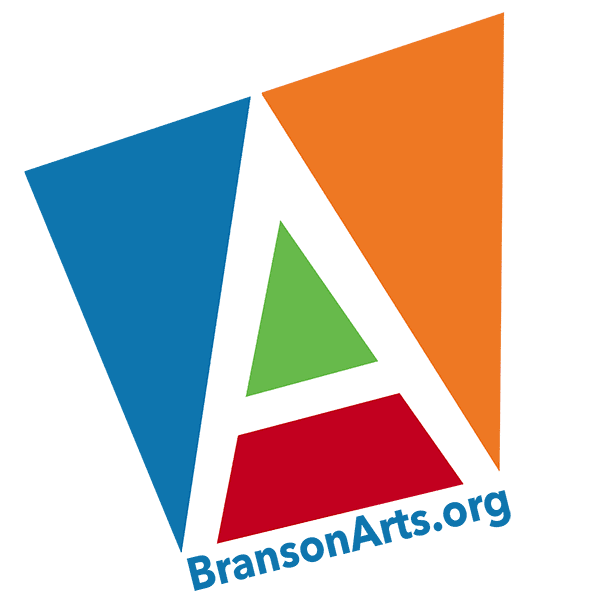 The Branson Regional Arts Council was founded in 1965 as the "Taney Arts Council," and officially established 501 (c)(3) non-profit status as "Branson Arts Council, Inc." in 1993.
Our mission is "to provide artistic, cultural and educational opportunities that support, strengthen and enhance artistic experiences for people of all ages in our area."
Financial support  is provided by BRAC members, theatre patrons, private donors, as well as additional grant support from  the Missouri Arts Council, City of Branson, and other organizations.
BRAC, PO Box 2004, Branson, MO 65615
https://bransonarts.org/wp-content/uploads/2020/05/Americanna_Magness_1200.jpg
628
1200
Branson Regional Arts Council
https://bransonarts.org/wp-content/uploads/2017/03/BRAC-HeaderLogo.png
Branson Regional Arts Council
2020-05-15 15:03:38
2020-06-01 15:41:46
In Memory of Americanna Magness – Branson Arts Champion