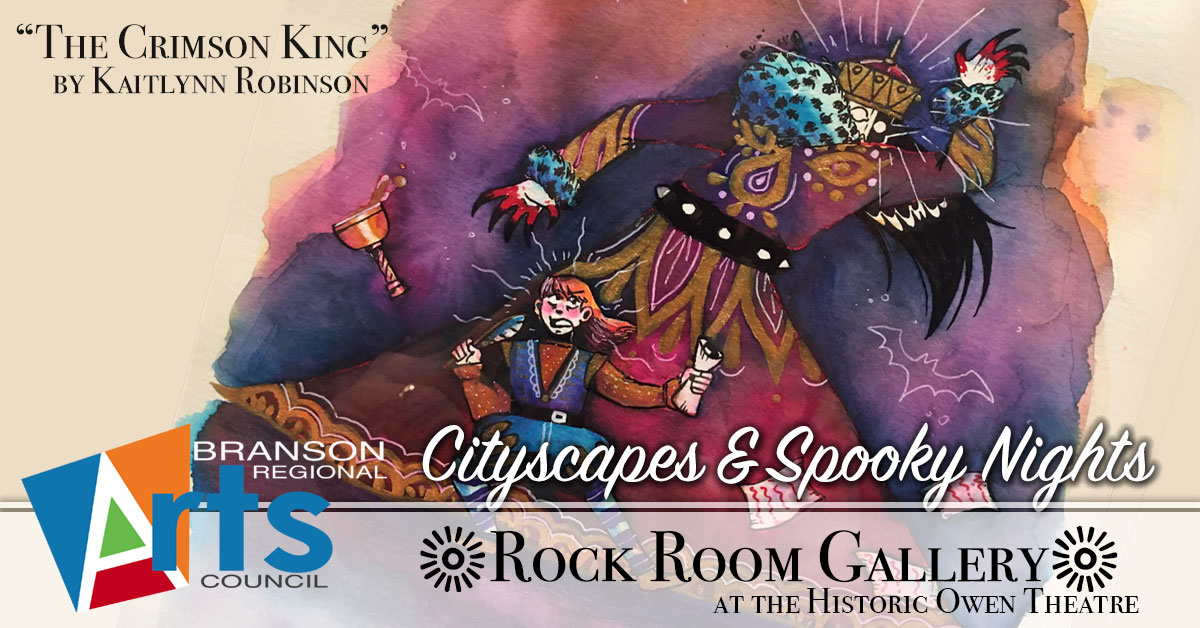 The Rock Room Gallery at the Historic Owen Theatre is currently featuring a themed exhibition titled "Cityscapes & Spooky Nights" to coincide with the Branson Regional Arts Council theatrical production of Dracula!
The Rock Room art exhibition is complimentary and on display to all Dracula ticket holders from Thursday, October 29th through Saturday, October 31st. Social distanced seats are still available for purchase by calling the box office at 417-336-4255 or online at BransonArts.org/tix.
Featured in the exhibit are original works of art by local area artists Kaitlynn Robinson, Jessica Lowe, Christe Colburn, Glenda Roberson and Gayle Page.
All displayed artwork is priced for sale, with a portion of the proceeds benefiting the Arts Council.
Kaitlynn Robinson is currently studying at the Kansas City Art Institute and has experience in visual and theatre arts through SOTO (State of the Ozarks) and the Branson Veritas Enrichment program where she also appeared in a production of Narnia: The Witch, the Lion & the Wardrobe. Her original illustration entitled "The Crimson King" (featured in the image above) is a colorful and perfect addition to this display.
Jessica Lowe has been featured in several previous Rock Room Gallery themed shows and many of her works are also currently on display at the Branson Convention Center Art Exhibition located on the second level glass tier of the venue. As a professional working artist, Jessica also teaches a variety of art classes for the Branson Regional Arts Council including a new online Pumpkin Painting Class video currently available for viewing.  Click here for more info.
Christe Colburn has also provided several original works of art for the Rock Room Gallery as well as the Branson Convention Center Art Exhibition. Her unique method of digital art prints makes for an exciting addition to this presentation. Christe is a photographer and digital artist with a keen eye for the creative aspects of any subject. She settled in the Ozarks by way of Taos, New Mexico and Denver, Colorado.
Glenda Roberson was a master science teacher for 22 years, Glenda retired in 2008 to enjoy gardening and golf. At the request of her daughter for watercolor paintings for the new nursery, Glenda picked up a brush for the first time in 2014. She placed 3rd in the 2016 White River Painting Exhibit at College of the Ozarks, and sells prints of her work at Bed, Bath & Beyond, Amazon, Houzz, Wayfair, Overstock, Gilt, Home Depot, and Marmont Hill. She works exclusively in watercolor, and her main style is realism. Her painting of the City of Oz is the perfect Cityscape for this exhibit.
Gayle Page is also featured in both the Rock Room and Branson Convention Center Exhibitions. She has majored in several media over the years, from acrylics on canvas to watercolor, pencil and most recently collage. Her degree in studio art wasn't the beginning of her training. She attributes that to childhood art classes at KC's Nelson Art Gallery. Besides teaching art and owning her own specialty paint business for 30 years, her move to Branson eight years ago has allowed her also participate in the Table Rock Art Guild.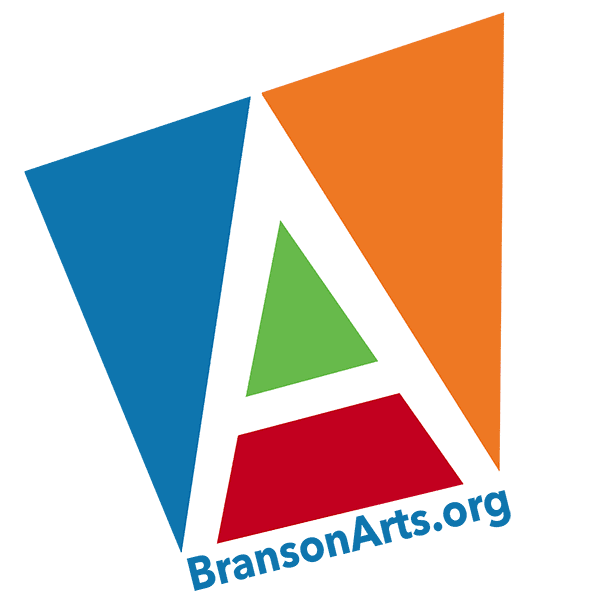 The Branson Regional Arts Council was founded in 1965 as the "Taney Arts Council," and officially established 501 (c)(3) non-profit status as "Branson Arts Council, Inc." in 1993.
Our mission is "to provide artistic, cultural and educational opportunities that support, strengthen and enhance artistic experiences for people of all ages in our area."
Financial support  is provided by BRAC members, theatre patrons, private donors, as well as additional grant support from  the Missouri Arts Council, City of Branson, and other organizations.
BRAC, PO Box 2004, Branson, MO 65615
https://bransonarts.org/wp-content/uploads/2020/10/Spooky_Nights_Rock_Room_Gallery_1200.jpg
628
1200
Branson Regional Arts Council
https://bransonarts.org/wp-content/uploads/2017/03/BRAC-HeaderLogo.png
Branson Regional Arts Council
2020-10-23 20:45:06
2020-10-23 20:45:06
Rock Room Gallery Spooky Nights Exhibit Features Local Area Artists