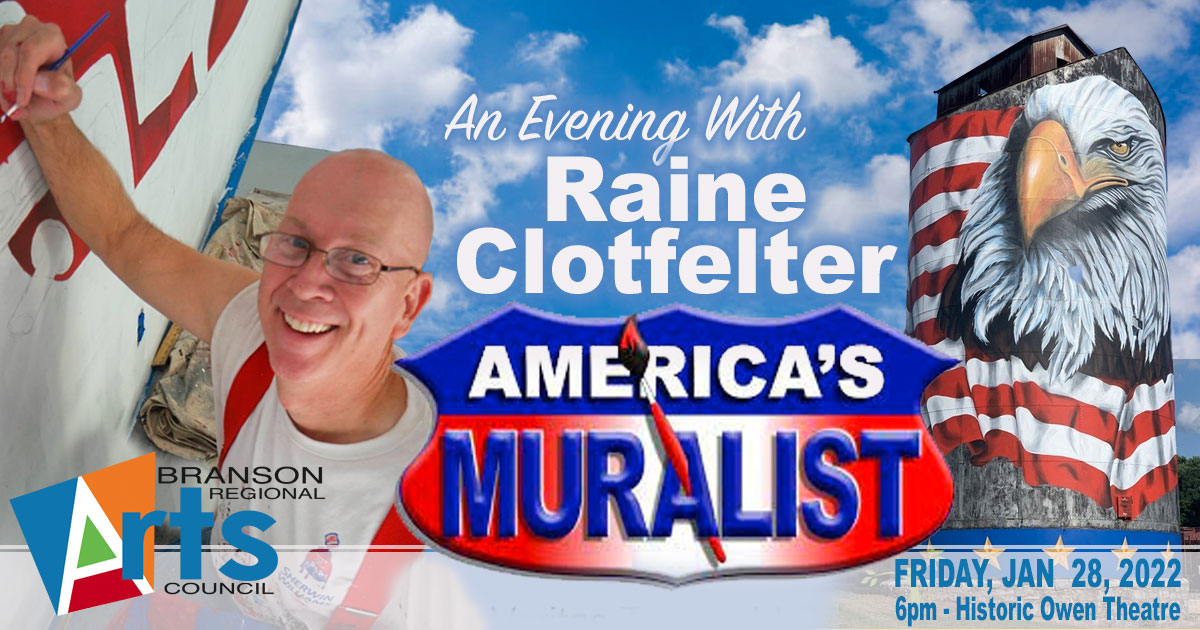 The Branson Regional Arts Council presents an exciting and informative speaker, Raine Clotfelter, also known as America's Muralist. On Friday, January 28th at 6pm in the Historic Owen Theatre in downtown Branson,
A $5 donation at the door will benefit the Arts Council. While this event is particularly geared towards working artists,  everyone is invited to attend.
Card carrying BRAC Members will be admitted free of charge (show card at the box office). Annual BRAC Memberships may be purchased online at BransonArts.org/membership.
Raine will be speaking on topics such as: building an art business, how to price your artwork, working as a team, Art business etiquette, what products to use, as well as tips and tricks of the trade.
There will also be a digital presentation of Raines murals followed by a question and answer period.
Timelapse: Creation of Branson's Downtown Mural from Digital Lunchbox on Vimeo.
Raine is a professional Artist/Illustrator seeking to revitalize and enrich our nation's most valued resources; its citizens and communities, by capturing in his artwork and murals, the unique individuals and historical events that made this country what it is today. Raine's artwork has been published in several military publications such as Link, Surface Warfare, and Navy News. He has historical pieces displayed on Naval ships, various military commands, recruiting and reserve centers across the country, including the White House in Washington, DC. He has been classified as a Naval Historian for his works on Naval history.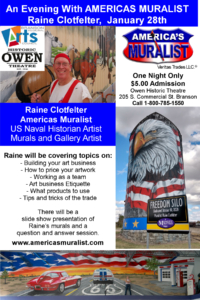 Raine joined the Navy in 1983. He was first stationed in Norfolk, VA where he served on board the USS Newport LST-1179, the USS Shenandoah AD-44, and on SURFLANT's Admiral Staff. In 1988 Raine continued his career in the Navy by joining the Navy Reserves.
The Navy was very careful in selecting DMs. In 1984 only 15 DM billets were available to fill out of 21 qualified applicants in the entire Navy. Raine was selected first across the board. In the 1980's there were over 400 DMs in the Navy and upon his retirement in 2004 there were only 46. Historically; Raine was the Navy's last reservist DM when he retired in April 2004.
In January 2003, Raine was recalled to active duty, where he served on the front lines in Iraq for Naval Security in the Middle East. Even though his main line of duty was physical security to protect the Middle East U.S. Central Command and the airstrip in Bahrain, he was the only Navy DM there. Therefore, during this time Raine created artwork and technical illustrations to support the Naval Criminal Investigation Service (NCIS) and other attached command's.
In regard to Raine's professional illustrations, he was chosen to serve on three separate admiral staffs during his Naval career. He served as ISO for Noble Eagle and Enduring Freedom in Iraq. Before retiring from his Naval career he received four US Navy and Marine Corps Achievement Medals, the Coast Guard Meritorious Unit Commendation medal (among other service awards for his intelligence work (technical illustrations) he produced in response to the September 11th terrorist attacks), two Navy Meritorious Unit Commendation medals, Joint Meritorious Unit Commendation medal, four Armed Forces Service medals, Armed Forces Expeditionary medal, three Battle "E"s, and was awarded nine other medals. REDCOM photographed Raine's artwork at the Broken Arrow Naval Reserve Center to classify his art as preserved Naval history and designated Raine as a "Navy Historian Artist".
As a staff artist for Columbia Pictures Entertainment, Raine also illustrated artwork for Walt Disney Productions, Gulf Western, TIME, Warner Bros., Tri-Star Entertainment, Branson Teleproductions, and Percussion Entertainment. In the music publishing realm he designed many folio's and sheet music covers for entertainers such as Reba McEntire, Garth Brooks, Dolly Parton, Hank Williams Jr., Clint Black, as well as others. Beyond the entertainment industry, he has produced artwork for corporations such as JC Penney, Radio Shack, Comp USA, Boeing, McDonald Douglas, Texas Instruments, Raytheon, Bass Pro and others. Most recently he has done several large historic murals for businesses, cities and towns across the US and at various museums such as the
World's Largest Toy Museum, The Harold Bell Wright Museum, the American Presidential Museum, the Branson Auto & Farm Museum, Celebrity Car Museum in Branson, MO, as well as O'Fallon Historical Museum in Baker, MT, and the VanHorn Historical Museum in ND.
To present date, Raine has worked on over 170 detailed, hand-painted murals and gallery pieces. Some of his murals of American history are as large as sixty-feet high and with lengths of three hundred-feet long.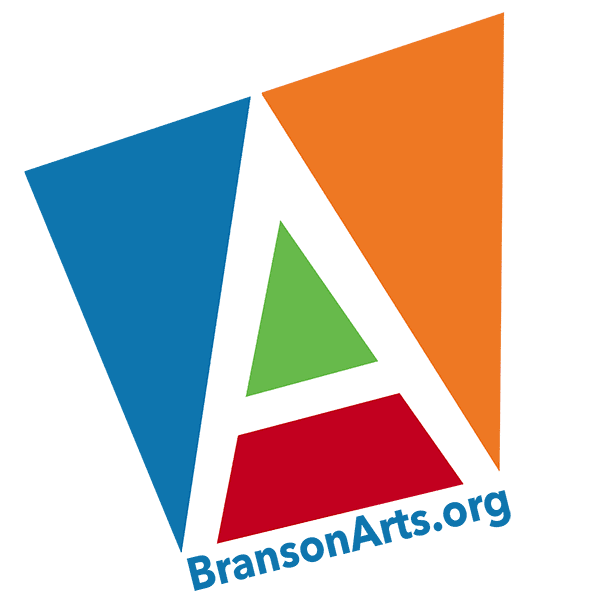 The Branson Regional Arts Council was founded in 1965 as the "Taney Arts Council," and officially established 501 (c)(3) non-profit status as "Branson Arts Council, Inc." in 1993.
Our mission is "to provide artistic, cultural and educational opportunities that support, strengthen and enhance artistic experiences for people of all ages in our area."
Financial support  is provided by BRAC members, theatre patrons, private donors, as well as additional grant support from  the Missouri Arts Council and other organizations.
BRAC, PO Box 2004, Branson, MO 65615
https://bransonarts.org/wp-content/uploads/2022/01/Raine_Clotfelter_Muralist_1200.jpg
630
1200
Branson Regional Arts Council
https://bransonarts.org/wp-content/uploads/2017/03/BRAC-HeaderLogo.png
Branson Regional Arts Council
2022-01-11 14:04:30
2022-01-12 14:01:20
Exciting Lecture For Artists At Historic Owen Theatre