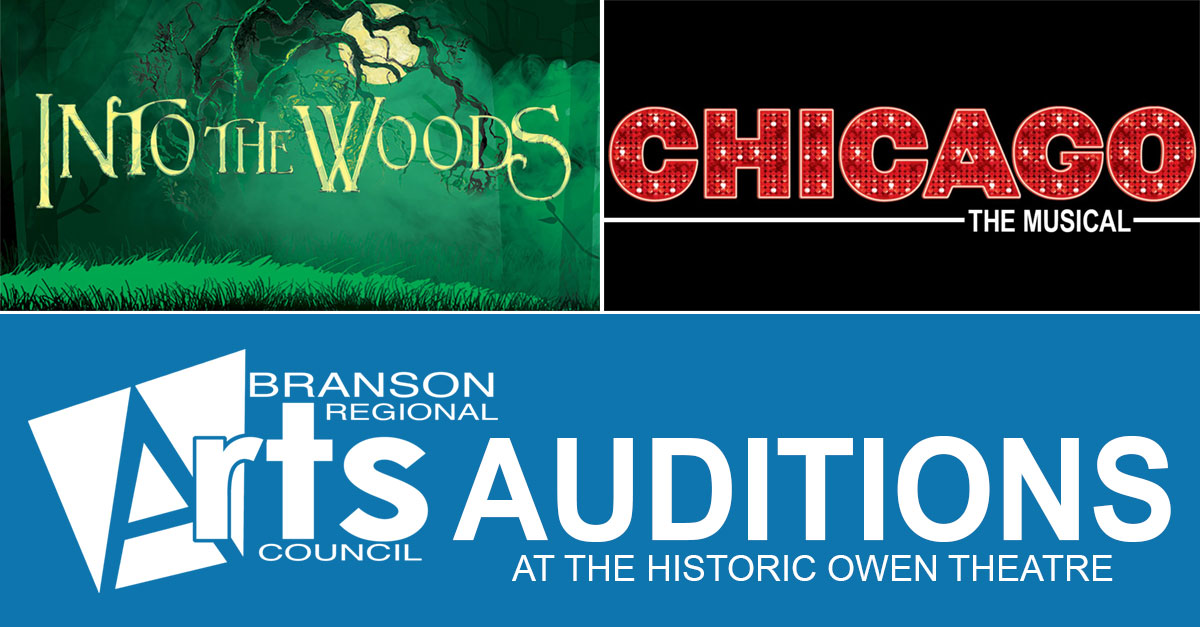 The Branson Regional Arts Council announces open auditions for it's next two productions… Into The Woods, and CHICAGOthe Musical.
Into the Woods Auditions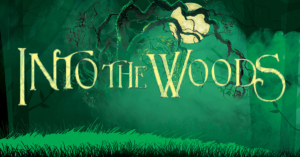 Auditions for the Forte Theatre Productions and Branson Regional Arts Council production of INTO THE WOODS…
Date: February 8th – 7pm (Callbacks February 10th 1-4pm)
Place: Historic Owen Theatre , 205 S. Commercial Street, Branson MO
Please prepare a 16-32 measure cut of a song (up to 1:30) which matches the style of the show
You may sing from the show
Please bring recorded accompaniments
Head shots and resumes highly welcome
Cast will be announced February 11. Rehearsals will begin February 15. There will be some weekday daytime rehearsals.
If you have any questions, please email fortetheatreproductions@gmail.com
Chicago – the Musical Auditions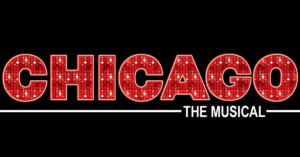 Auditions for the Branson Regional Arts Council's production of CHICAGO…
Dates: Monday, March 4 and Tuesday, March 5, 2019, 6:00-9:00 p.m. (Callbacks Wednesday March 6 & Thursday March 7 from 6-9pm)
Place: Historic Owen Theatre, 205 S. Commercial St, Branson, MO
NOTE: These auditions are for ages 18+ only. CHICAGO is rated PG-13.
Into The Woods will be presented at the Historic Owen Theatre April 4-15.
Requirements:
*Bring audition form and one copy of your head shot and resume.
*We greatly prefer a LIVE audition, but will accept video/online submissions if absolutely necessary. Please email online submissions to lloyd@bransonarts.org
*Ages 18 and up ONLY. Prepare TWO contrasting songs, one up-tempo and one ballad, in the style of Kander & Ebb. Please, no POP songs.
*An accompanist will be provided. We greatly prefer that you utilize the accompanist, but we will allow the use of tracks if absolutely necessary.
*Please bring a clean copy of your music, in the correct key, clearly marked, and preferably in a binder.
*Lead sheets WILL NOT BE ACCEPTED. If using a track, the music must be in digital format. No CD's or tapes allowed.
DANCE CALL
*All auditioning MUST attend the dance call AND have a singing audition, unless otherwise specifically arranged.
*MEN and WOMEN MUST bring proper dance attire and appropriate dance shoes. Please wear clothing that fits close to the body and shows off your physique. NO BAGGY CLOTHES. Ladies must wear 2 inch character shoes, and character shoes OR dance sneakers are required for men. NO OPEN TOED SHOES.
*You will be given the opportunity to change after the vocal audition.
*The audition combination(s) will be taught in groups.
Please contact the director, Lloyd Alexander-Holt, with any questions regarding auditions. lloyd@bransonarts.org
About Chicago
John Kander and Fred Ebb's hit musical Chicago was based on the play of the same name by Maurine Dallas Watkins. A reporter in Chicago in the 1920s, Watkins covered the popular trials of two female murderers– Belva Gaertner and Beulah Annan– who both blamed their actions on the negative effects of drink and jazz. At the time, female murderesses were media darlings, and following the two "jazz babies'" acquittal in 1924, Watkins wrote a satirical play, turning Gaertner into Velma Kelly and Annan into Roxie Hart. The play was produced in 1926 on Broadway, directed by George Abbott.
Broadway's longest-running American musical, Chicago is a dazzling and satirical look at fame, justice, and the media machine. Set in 1920s Chicago and based on real-life murders and trials, Chicago follows Roxie Hart, a wannabe vaudevillian star who murders her lover and is arrested, despite her attempts to convince her pushover husband, Amos, to lie for her. In the Cook County Jail, Roxie meets her hero, the famed double-murderess and nightclub performer Velma Kelly. When both acquire the same lawyer, the greedy and lustful superstar, Billy Flynn, tensions come to a head as they vie for the spotlight– though instead of onstage, they're mugging for the flashbulb of the newspaper reporters. With catchy, sexy music and timeless lyrics by John Kander and Fred Ebb, and a funny, intelligent, and utterly engaging book by Kander and Bob Fosse, Chicago is a musical spectacular that is as addictive as gossip rags and as unforgettable as any trial of the century.
Open casting is available for the following roles:
Roxie Hart (Female – Lead – Mezzo-Soprano)
Velma Kelly (Female – Lead – Alto)
Amos Hart (Male – Supporting – Baritone)
Billy Flynn (Male – Supporting – Baritone)
Mary Sunshine (Either Gender – Supporting – Countertenor)
Matron Mama Morton (Female – Supporting – Alto)
Fred Casely (Male – Featured – Spoken)
Sergeant Fogarty (Male – Featured – Spoken)
Martin Harrison (Male – Featured – Spoken)
Go-to-Hell Kitty (Female – Featured – Mezzo-Soprano)
Aaron (Male – Featured – Spoken)
Judge (Male – Featured – Spoken)
Harry (Male – Featured – Spoken)
Liz (Female – Featured – Mezzo-Soprano)
Annie (Female – Featured – Mezzo-Soprano)
June (Female – Featured – Mezzo-Soprano)
Hunyak (Katalin Helinszki) (Female – Featured – Spoken)
Mona (Female – Featured – Mezzo-Soprano)
Ensemble (8-10) roles available
The BRAC's production of CHICAGO is staged and musically directed by Lloyd Alexander-Holt, choreographed by Jordan Alexander-Holt, and produced by Kimberly Hale and Lisa Murphy. CHICAGO will be presented at the Historic Owen Theatre May 2-5.
Advanced Reserved Seat Tickets for both Into The Woods and Chicago The Musical are on sale now at BransonArts.org/tix.
https://bransonarts.org/wp-content/uploads/2019/01/BRAC-Auditions_Woods_Chicago.jpg
627
1200
Branson Regional Arts Council
https://bransonarts.org/wp-content/uploads/2017/03/BRAC-HeaderLogo.png
Branson Regional Arts Council
2019-01-24 19:17:05
2019-01-24 19:17:05
Audition Announcement for Into The Woods and Chicago