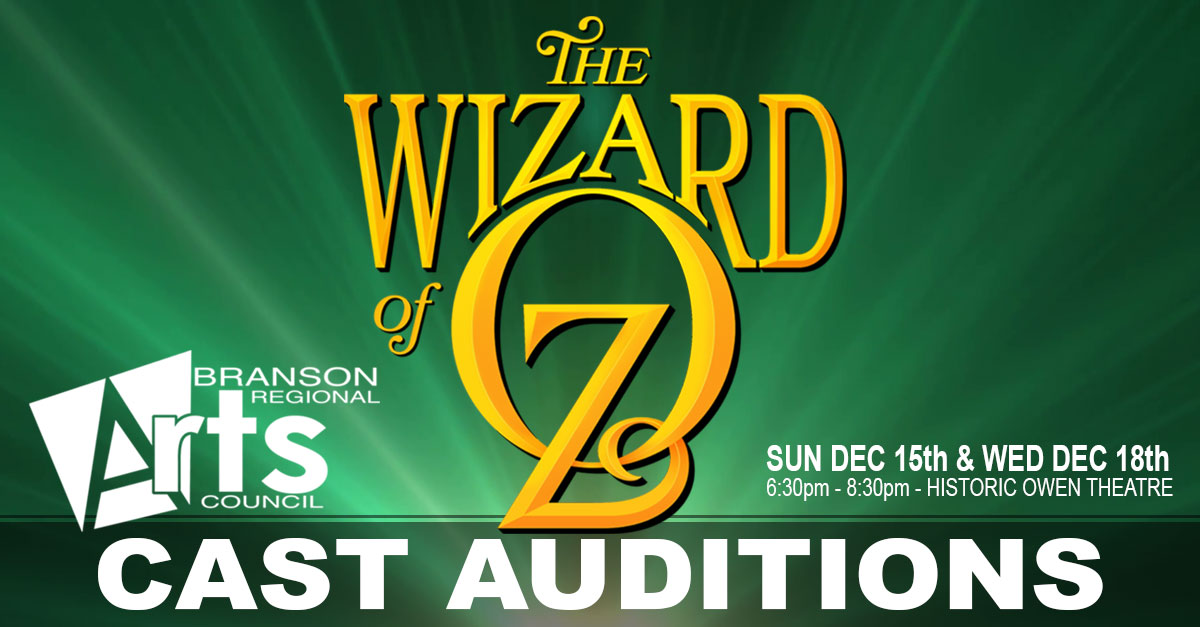 The Branson Regional Arts Council announces open cast auditions for all roles for our upcoming musical production of THE WIZARD OF OZ.
Audition Dates/Times:
Sunday, Dec 15th, 6:30pm – 8:30pm
Wednesday, Dec 18th, 6:30pm – 8:30pm
Location:
Historic Owen Theatre, 205 S. Commercial St., Branson, MO 65616
Rehearsal Dates/Times:
Sundays through Thursdays (tentative)
Initial Cast Meeting – January 4, 2020, 6:00pm
January 5, 2020 – February 13, 2020, 6:00 pm – 10:00 pm (tentative)
Performance Dates/Times:
Feb 14-16, Feb 21-23, Feb 28-Mar 1 (12 performances)
Evening Performances @ 7:00 pm – Matinee Performances @ 2:00 pm
Producers: Kim Hale, Karie Dykeman, Lisa Murphy
Director: Jacob Deck
Music Director: Caitlin Secrest
About The Show:
This beloved tale, in which a Kansas farm girl travels over the rainbow to discover the magical power of home, has been entertaining audiences for 80 years!
This will be the RSC version of THE WIZARD OF OZ, and includes the songs "Over The Rainbow," "Munchkinland (Ding Dong! The Witch Is Dead)," "If I Only Had A Brain/A Heart/The Nerve," "We're Off To See The Wizard (Follow The Yellow Brick Road)," "The Jitterbug," and "The Merry Old Land of Oz," "Poppies (Optimistic Voices)" and "If I Were King Of The Forest."
IMPORTANT:
Please prepare (1) song and bring Karaoke tracks for your musical audition on phone or as an MP3 on a thumb drive. If you are reading for a specific role, please sing that characters song from The Wizard of Oz (not required).
Please be prepared to run through some simple choreography. Dress in comfortable, loose clothing, no high heels or ruby slippers.
You may be asked to do a cold read from the script.
Character Breakdown – Principal Roles:
Dorothy Gale – The heroine of our Fairytale, young, full of energy, strength and kindness. Must be strong dancer, singer and actress.
Professor Marvel/The Wizard of OZ – Professor Marvel portrays himself as one who knows many things and has great wisdom in all matters with the help of his crystal ball. Must be a strong actor. Wizard of Oz is a mysterious character that rules over Oz. Must be strong actor with crisp clear voice and commanding presence.
Hunk/The Scarecrow – Hunk is the thinker of the bunch who speaks his mind. Must be a strong actor with good comedic timing. The Scarecrow is made of straw and walks with constant unrestricted movements. He has no brain but often says more intelligent and insightful things than any other person in the musical. Must be a strong singer, actor and dancer.
Zeke/The Cowardly Lion – Zeke is the farmhand Dorothy turns to for encouragement and courage. He is sweet and comforting but easily spooked. Must be a strong actor.
The Cowardly Lion wishes to go home throughout the adventures in Oz but his friends never let him. In the end he finds the courage he thought he was lacking. Must be strong dancer, singer and actor and have great comedic timing.
Hickory/The Tin Man – Hickory is emotionally charged farmhand who desires great things. He is quick witted and lovable. The Tin Man is the most loving and emotional character in the musical. He wants nothing more than to have his heart back. He is strong, protective and encouraging. Must be a strong dancer (tap), singer and actor.
Aunt Em/Glinda the Good Witch – Emily Gale is the Aunt of Dorothy who leads a busy and tiring life on her Kansas farm. Strong actress capable of portraying a strong motherly character. Glinda the Good Witch of the North watches over Dorothy and her friends. She is caring and nurturing and is a great aid to anyone in need. She must portray dignity and grace. Strong actress and good singer for her solos in Munchkinland and Poppy field.
Miss Gulch/The Wicked Witch of the West – Miss Gulch is uptight neighbor who attempts to take Dorothy's beloved dog Toto away from her. She is harsh, mean and strict spirit but also has a good delivery of sarcastic banter. The Wicked Witch of the West is the villain of our story. She follows our four friends throughout the land of OZ striking fear into them any way she can. While she is a bully with a fantastically creepy cackle she also has a playful fun side. Actress must be able to blend the witch's wicked ways with her sarcastic wit.
Character Breakdown – Supporting Roles:
Uncle Henry – Uncle Henry is a busy man trying to keep his farm afloat. He is goodhearted and good natured.
Three Crows – Three male crows sing with Scarecrow in "If I only had a brain. Must be good dancers, singers and actors.
Three Trees – Three female trees sing along with Tin Man in "If I only had a heart". Must have good singing and speaking voices.
Mayor of Munchkinland – Must be a strong speaker and singer.
Coroner of Munchkinland – Should be a good singer with a unique voice.
Lullaby League – 3 Tots – Ballerinas – Must have sweet voices and be able to dance on pointe.
Lollipop Guild – 3 Tough Guys – Must be good singers and dancers.
Winkie General – Head of the Witch's Army
Nikko – Head of the Flying Monkeys
Flying Monkeys
Poppies & Snowflakes
Emerald City Guard
Jitterbug Lead Dancers, Jitterbugs and Ghosts
---
Practice Accompaniment Tracks on YouTube To Help Inspire Or Get You Started…
Over The Rainbow
Follow The Yellow Brick Road
If I Only Had A Heart
If I Only Had The Nerve
If I Were The King Of The Forest
Munchkin Musical Sequence
The Jitterbug
Entre' Acte / Merry Old Land Of Oz
Original Movie Soundtrack Songs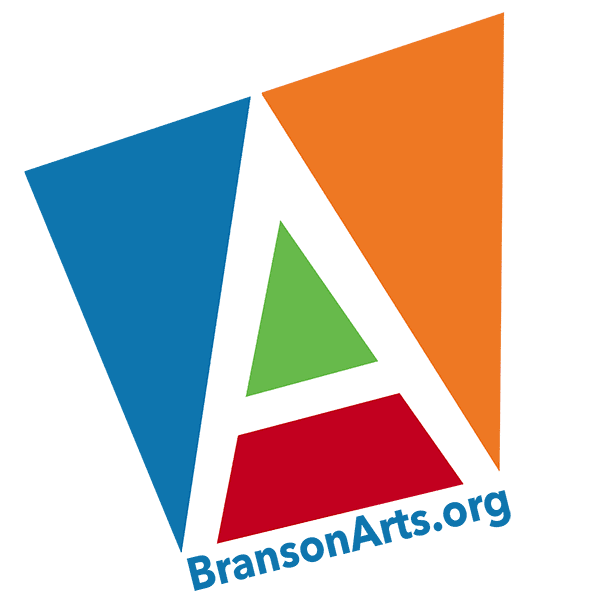 The Branson Regional Arts Council was founded in 1965 as the "Taney Arts Council," and officially established 501 (c)(3) non-profit status as "Branson Arts Council, Inc." in 1993.
Our mission is "to provide artistic, cultural and educational opportunities that support, strengthen and enhance artistic experiences for people of all ages in our area."
Financial support  is provided by BRAC members, theatre patrons, private donors, as well as additional grant support from  the Missouri Arts Council, City of Branson, and other organizations.
BRAC, PO Box 2004, Branson, MO 65615
https://bransonarts.org/wp-content/uploads/2019/12/Wizard_Oz_Auditions_1200.jpg
627
1200
Branson Regional Arts Council
https://bransonarts.org/wp-content/uploads/2017/03/BRAC-HeaderLogo.png
Branson Regional Arts Council
2019-12-05 16:41:53
2019-12-05 18:17:09
The Wizard Of Oz Auditions Announced