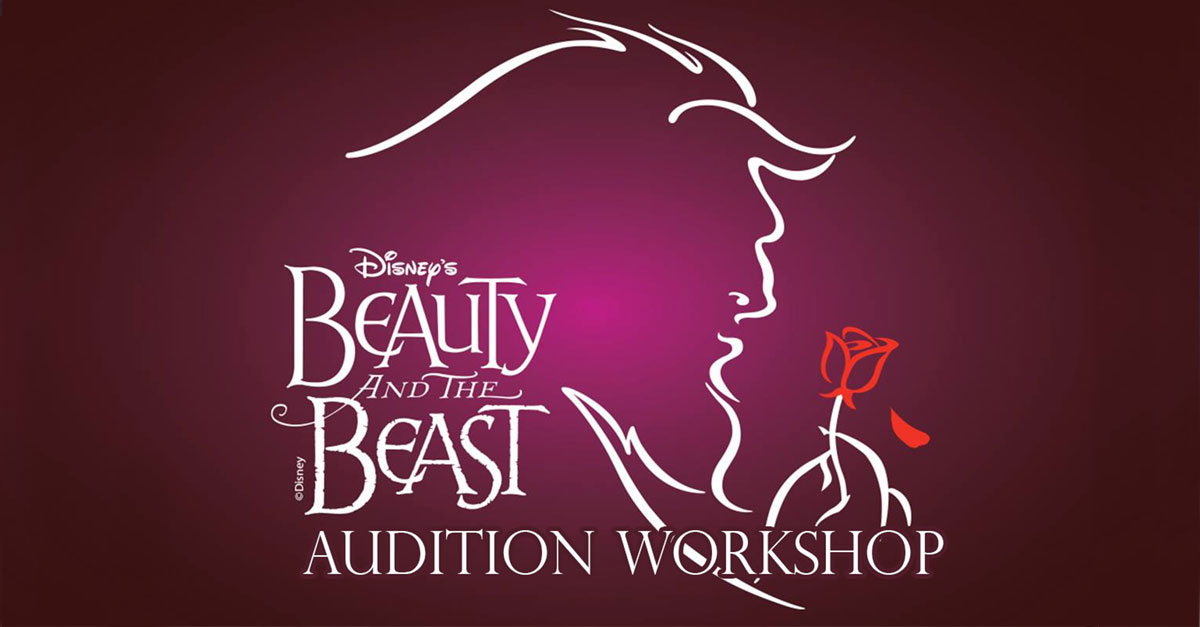 An Audition Workshop for the Branson Regional Arts Council's production of Disney's Beauty & the Beast, will be held Sunday, November 18, 2018, at the Historic Owen Theatre, 205 S. Commercial St., Branson, MO, 65616 from 1:00 p.m. to 4:00 p.m.
For the workshop, participants are asked to prepare a 1 minute vocal selection, or a 16-32 bar cut, to present to the directors for critique and constructive feedback.
Please bring sheet music in the correct key. An accompanist will be provided. If you do not have sheet music, the use of an mp3 accompaniment track is acceptable. 
Participants will also be taught an audition dance combination, so dress comfortably in clothing that won't restrict your movement in any way. 
The cost of the workshop is $20.00. Pre-registration is preferred, however, we will accept registrations at the door.
CLICK HERE to register online. Call 417-336-4255 for information.
*****************************************************************************
Audition Information*
*It is not required to take the Audition Workshop to attend the actual Auditions, however, the workshop will better prepare you for success.
Auditions for the BRAC's production of Disney's Beauty & the Beast will be held on Monday, November 26 and Tuesday, November 27 from 8:00-10:00 p.m. at the Historic Owen Theatre, 205 S. Commercial St., Branson, MO, 65616. These auditions are for ages 13+. Auditions for children, will be held on Wednesday, November 28, from 6:00-7:00 p.m.
Call backs: Wednesday, Nov. 28, 7-10pm & Thursday, Nov. 29, 6-9pm – Historic Owen Theatre
Requirements:
 Bring audition form and one copy of your head shot and resume.
 We greatly prefer a LIVE audition, but will accept video/online submissions if absolutely necessary.

Singing:
 Ages 13 and up: Prepare TWO contrasting songs, one up-tempo and one ballad, 16-32 bars of each only in the style of the show. Please no pop songs.
 Kids: can prepare ONE short song of their choosing.
 An accompanist WILL be provided. We greatly prefer that you utilize the accompanist, but will allow the use of tracks if absolutely necessary.
 Please bring a clean copy of your music in the correct key, preferably in a binder. Lead sheets will not be accepted. (If using a track: the music must be in a digital format. No CDs or tapes.)
Dance Call:
 All auditioning MUST attend the dance call AND have a singing audition, unless otherwise specifically stated.
 Bring proper dance attire and dance shoes.
 A combination will be taught in groups

Please contact the casting director, Melissa Rivera, with any questions regarding auditions at .
About the Production:
Step into the enchanted world of Broadway's modern classic, Disney's Beauty and the Beast, an international sensation that played a remarkable 13-year run on Broadway and has been produced in 37 countries worldwide. Based on the Academy Award-winning animated feature, the stage version includes all of the wonderful songs written by Alan Menken and the late Howard Ashman, along with new songs by Mr. Menken and Tim Rice. The original Broadway production ran for over thirteen years and was nominated for nine Tony Awards, including Best Musical.
The classic story tells of Belle, a young woman in a provincial town, and the Beast, who is really a young prince trapped under the spell of an enchantress. If the Beast can learn to love and be loved, the curse will end and he will be transformed into his former self. But time is running out. If the Beast does not learn his lesson soon, he and his household will be doomed for all eternity.
The BRAC's production Disney's Beauty & the Beast is co-directed by Lloyd and Jordan Alexander-Holt, musically directed by Lloyd Alexander-Holt, and choreographed by Jordan Alexander-Holt. It will be presented at the Historic Owen Theatre February 21-24, and March 1-3,2019. Rehearsals will be held Sunday-Thursday evenings from 6:00-9:00 p.m.
https://bransonarts.org/wp-content/uploads/2018/11/Beauty_Beast_Workshop_1200.jpg
627
1200
Branson Regional Arts Council
https://bransonarts.org/wp-content/uploads/2017/03/BRAC-HeaderLogo.png
Branson Regional Arts Council
2018-11-08 14:18:27
2018-11-08 14:20:01
Audition Workshop Announced for Disney's Beauty & The Beast