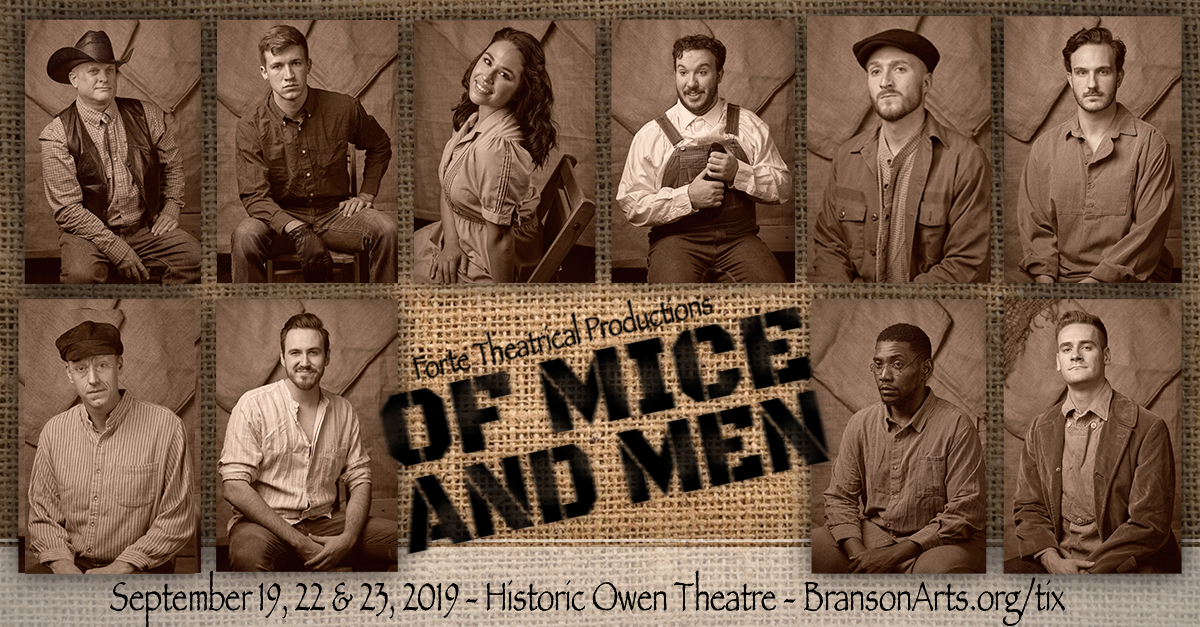 Forte Theatre Productions LLC and the Branson Regional Arts Council are collaborating to bring five performances of the theatrical classic, Of Mice and Men to the stage of the Historic Owen Theatre on September 19th, 22nd, and 23rd.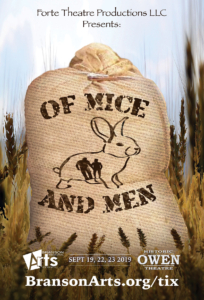 Written by John Steinbeck, Of Mice and Men follows the journey of Lennie and George, two migrant field workers as they chase down their dream of a farm of their own. Their relationship is unconventional as Lennie is a child-like man who doesn't know his own strength, and George, his reluctant caretaker, feels the pressures of society to hide Lennie's uniqueness.
"Even though the story was written in 1937 during the Great Depression, there are many relatable themes that a modern audience can relate to," says Producer, Tina Cool-Anderson. "We still struggle with loneliness, financial struggles, class systems, and bigotry today and Steinbeck does a wonderful job of illuminating those issues," she adds.
"The saying 'hope deferred makes the heart sick' applies to every character in Of Mice and Men," explains Forte Director, Kyle Blanchard. This production features an immersive experience for the audience. The cast will greet guests and sit with the audience during the performance where they will actively be a part of the production. "Forte Theatre Productions' Of Mice and Men will be a refreshingly energetic and active retelling of the classic American story, " says Blanchard, adding, "patrons should expect to find more humor throughout the story than is usually displayed."
The performance location of the Historic Owen Theatre in Downtown Branson is especially fitting for this production. Of Mice and Men was first performed in 1937 and the Owen was built in 1936. "The rustic ambiance of the Owen and classic Steinbeck were meant for each other," says Cool-Anderson.
The cast Of Mice and Men are: Austin Delp (George), Jesse Brown (Lennie), Connor Sullivan (Slim), Andy Brown (Candy), Caleb Schantz (Curley), Jessica Brown (Curley's Wife), Traven Harrington (Crooks), Conor Finnerty-Esmonde (Carlson), Nick Haney (Whit), and Mark Peper (The Boss).
The production team includes: Tina Cool-Anderson (Producer), Kyle Blanchard (Director), Jonathan Crum (Costume Designer), Pamela Meadows (Lighting Director) Connor Sullivan (Fight Choreographer), Nick Haney (Marketing), Mariah Garrett (Stage Manager), and Adrianna Cota (Prop Mistress).
Performances at the Historic Owen Theatre in Branson are September 19 at 7:30pm, and September 22 and 23 at 2:00pm and 7:00pm.
A special talk-back performance of the show will be held on Monday, September 23 at 2pm. The actors will hit the stage after the play and answer questions from the audience. This special Monday Matinee event is being offered at a "student price for all" ticket. To select and reserve seats online, visit bransonarts.org/tix or call the Historic Owen Theatre box office at 417-336-4255.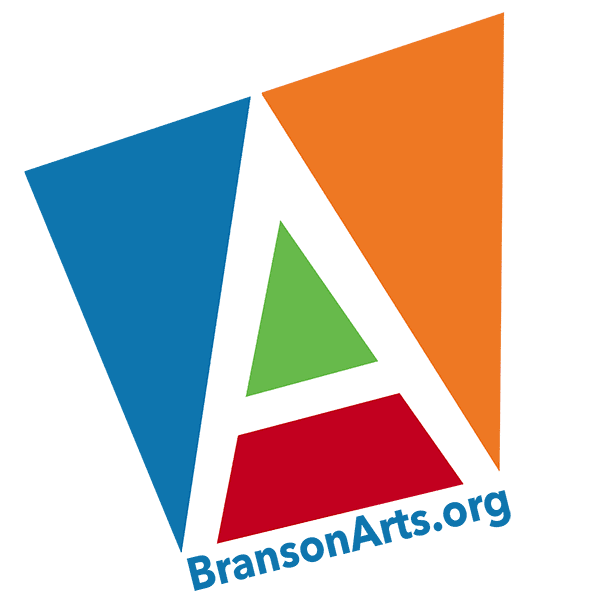 The Branson Regional Arts Council was founded in 1965 as the "Taney Arts Council," and officially established 501 (c)(3) non-profit status as "Branson Arts Council, Inc." in 1993.
Our mission is "to provide artistic, cultural and educational opportunities that support, strengthen and enhance artistic experiences for people of all ages in our area."
Financial support  is provided by BRAC members, theatre patrons, private donors, as well as additional grant support from  the Missouri Arts Council, City of Branson, and other organizations.
BRAC, PO Box 2004, Branson, MO 65615
https://bransonarts.org/wp-content/uploads/2019/09/Of_Mice_And_Men_Branson_1200.jpg
627
1200
Branson Regional Arts Council
https://bransonarts.org/wp-content/uploads/2017/03/BRAC-HeaderLogo.png
Branson Regional Arts Council
2019-09-12 12:35:52
2019-09-12 12:35:52
Of Mice And Men At The Historic Owen Theatre