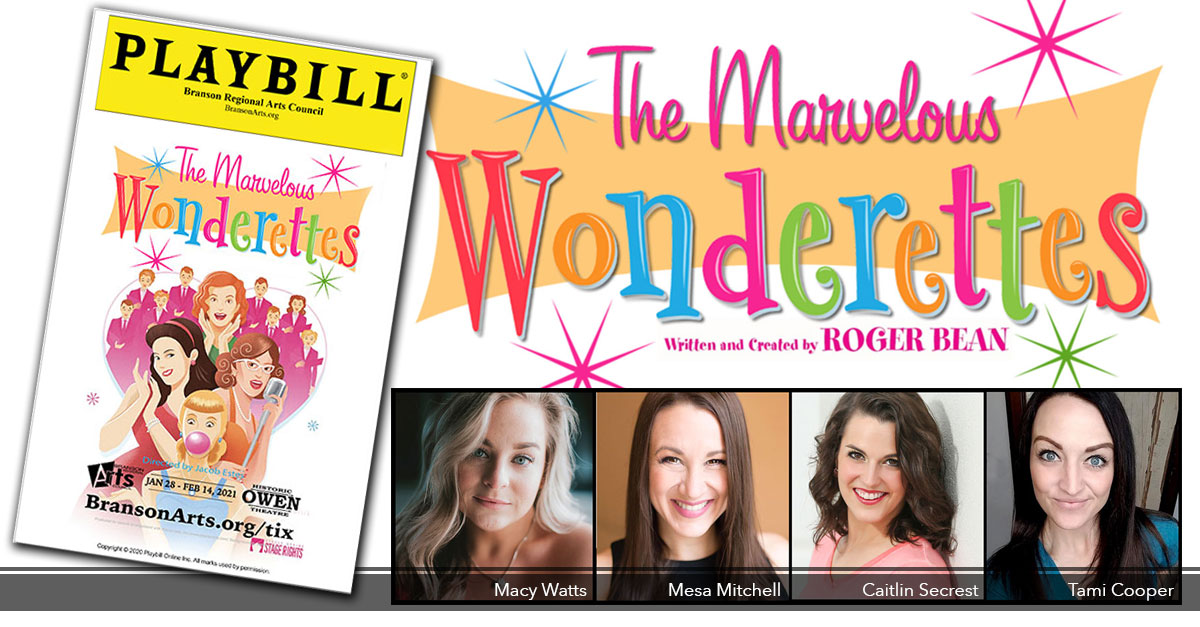 The Branson Regional Arts Council has selected a marvelous production to kick off their 2021 Season of musicals and plays at the Historic Owen Theatre in downtown Branson.
The Marvelous Wonderettes is a jukebox musical comedy by Roger Bean. This exciting musical has played off-Broadway at the Westside Theatre in New York, and is now playing at the Historic Owen Theatre in Branson from January 28 through February 14, 2021. The show, which features pop songs from the 1950s and 1960s as a vehicle to tell its story, pays homage to the high school Songleader squads of the 50s. When called upon to perform at their senior prom as a last minute replacement, Springfield High Songleaders Betty Jean, Cindy Lou, Missy and Suzy, rally together to entertain their classmates in four-part harmony.
The following performances will also be available to view via livestream from your home computer or smart device: Feb 6th (7pm), 7th (2pm), 11th (7pm), 12th (7pm), 13th (7pm), and 14th (2pm). Visit BransonArts.org/stream for streaming ticket information.
GET TICKETS FOR WONDERETTES  STREAMING TICKET FOR WONDERETTES
The musical includes the songs "Lollipop", "Dream Lover", "Stupid Cupid", "Lipstick on Your Collar", "Hold Me, Thrill Me, Kiss Me", "It's My Party", and "It's In His Kiss (The Shoop Shoop Song)" and over 25 more beloved tunes that audiences will love!
The season kick-off production at the Historic Owen Theatre is directed by Jacob Estes, and stars Tami Cooper (as Suzy Simpson), Mesa Mitchell (as Cindy Lou Huffington), Caitlin Secrest (as Betty Jean Reynolds), and Macy Watts (as Missy Miller). Swing actresses for the production are Liz Sambol and Seanna Bounds.
Production crew includes: Karie Dykeman, Kim Hale, Lisa Murphy (Producers), Justin Ables (Artistic Director), Delyla Uebel (Musical Advisor), Sean Neil Myers (Stage Manager), Caitlin Secrest (Vocal Captain), Lorie Best (Assistant Producer), Pamela Meadows (Lighting Design), Mac Hill (Technical and Sound Director), Jacob Estes (Choreography, Costume and Wigs), Corey Mitchell (Set Design), and Jim Barber (Marketing, BRAC Executive Director).
Per the City of Branson mandate, all patrons and staff must wear masks while inside the theatre, however patrons may remove their mask once seated. All theatre seats are socially distanced, so space is limited.  Advance tickets are highly recommended by calling the box office at 417-336-4255 or online at BransonArts.org/tix.
GET TICKETS FOR WONDERETTES  STREAMING TICKET FOR WONDERETTES
After several date changes and adjustments due to the 2020 pandemic, the Arts Council is excited to announce their newly updated 2021 season schedule. [download 2021 schedule pdf]
The Marvelous Wonderettes (musical) Jan 28-Feb 14, 2021
BRAC Cabaret Show (musical) Mar 7, 2021
BRAC Cabaret Show (musical) Apr 11, 2021
The Complete Works of Williams Shakespeare – Abridged (comedy play) Apr 30 – May 3, 2021
The Glass Menagerie (dramatic play) June 3, 6 & 7, 2021
Peter Pan Jr. (Youth Troupe Musical – Chad A Fuqua Memorial Park, Hollister) July 15-18, 2021
Mamma Mia! (musical) Aug 5-15, 2021
9 to 5 The Musical (musical) Sep 9-19, 2021
The Tempest – Shakespeare In The Park (Chad A Fuqua Memorial Park) Sep 26-27 & Oct 3-4, 2021
The Hunchback of Notre Dame (musical) Oct 14-24, 2021
The Sound of Music (musical) Dec 2-12, 2021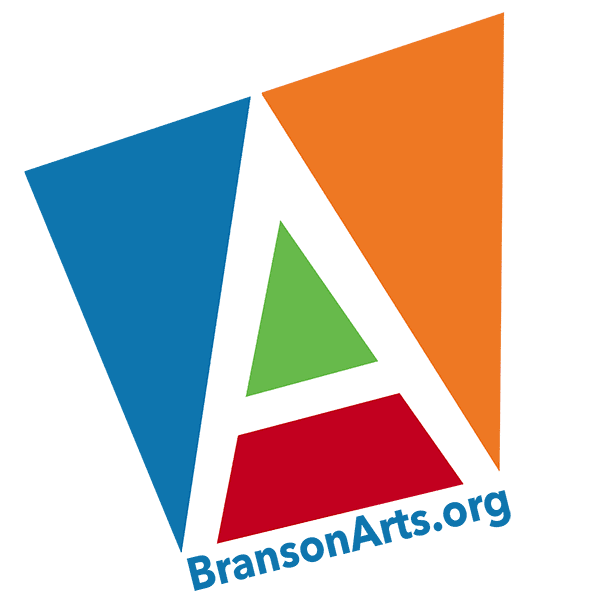 The Branson Regional Arts Council was founded in 1965 as the "Taney Arts Council," and officially established 501 (c)(3) non-profit status as "Branson Arts Council, Inc." in 1993.
Our mission is "to provide artistic, cultural and educational opportunities that support, strengthen and enhance artistic experiences for people of all ages in our area."
Financial support  is provided by BRAC members, theatre patrons, private donors, as well as additional grant support from  the Missouri Arts Council, City of Branson, and other organizations.
BRAC, PO Box 2004, Branson, MO 65615
https://bransonarts.org/wp-content/uploads/2021/01/Wonderettes_Cast_1200.jpg
627
1200
Branson Regional Arts Council
https://bransonarts.org/wp-content/uploads/2017/03/BRAC-HeaderLogo.png
Branson Regional Arts Council
2021-01-19 16:50:47
2021-02-16 12:18:10
2021 Historic Owen Theatre Season Kicks Off With The Marvelous Wonderettes