Legally Blonde the Musical at Historic Owen Theatre
A fabulously fun award-winning musical is coming to Branson's Historic Owen Theatre this week for five fantastic performances. Legally Blonde The Musical, is based on the popular 2001 film by the same name. The story follows the transformation of Elle Woods as she tackles stereotypes and scandal in pursuit of her dreams. Action-packed and exploding with memorable songs and dynamic dances – this musical is so much fun, it should be illegal!
Performances are 7pm this Thursday, July 12 through Saturday, July 14, with 2pm matinee shows on Saturday, July 14 and Sunday July 15. Advanced reserved seating is recommended at BransonArts.org/tix or by calling 417-336-4255. This production is rated PG13.
This Branson Regional Arts Council production of Legally Blonde is co-produced by Kim Hale and Lisa Murphy, Directed by Jacob Estes with Vocal Direction by Lloyd Alexander-Holt and Choreography by Kristen Dasto.
The talented cast of Legally Blonde includes: Carolyn Billingsley (Elle Woods), Kellsey Bradley (Vivienne Kensington), Kyle Bradley (Warner Huntington III), Cameron Perry (Emmet Forrest), Jeffrey Stringer (Professor Callahan), Amelia Harper (Paulette), Stacey Biermann (Serena), Sierra Johnson (Margot), Madelyn Baum (Pilar), Kristen Dasto (Brooke Wyndham/Choreographer), Maddison Hatfield (Kate/Chutney/Greek Chorus/Ensemble), Kayleigh Shaw (Enid), Emily Alphin (Whitney/Greek Chorus/Delta Nu), Matthew James (Carlos/Frat Boy/Grand Master Chad), Tucker Barry (Kyle (UPS Guy)/ Dewey/ Ensemble), Sean Neil Myers (Elle's Dad/Winthrop/Ensemble), Haley Bertrand (Elle's Mom/Courtney/DA Joyce Riley), Kelsey Moore (Sales Woman/Judge/Cat Lady), Alex Harris (Sundeep/Pforzheimer/Frat Boy), Jeremy Coca (Nikos/ Lowell), Jordan Alexander-Holt (Kiki the Colorist/Frat Boy/Ensemble), Jonathan Kirkland (Aaron/Jet Blue Pilot/Frat Boy/Ensemble), Kaitlyn Schumacher (Greek Chorus/Delta Nu), Melissa Davis (Greek Chorus/Delta Nu), Swayze Dasto (Bruiser Woods) and Olive Ables (Rufus).
Additional production team members include: Pamela Meadows (Lighting Design/Technician), Nicole Dasto (Audio Technician/Stage Manager), Melissa Rivera (Casting Coordinator), Jacob Estes (Costumer/Scenic Design), Jonathan Crum (Costume Design), Lori Best (Spotlight Operator), and Marshall Meadows (Photographer), and set construction by Dave Yeager, Brian Dasto, Jacob Estes, Nick Batey, Melissa Davis, Stacey Bierman, Kristen Dasto, Alex Harris and Kyle Bradley.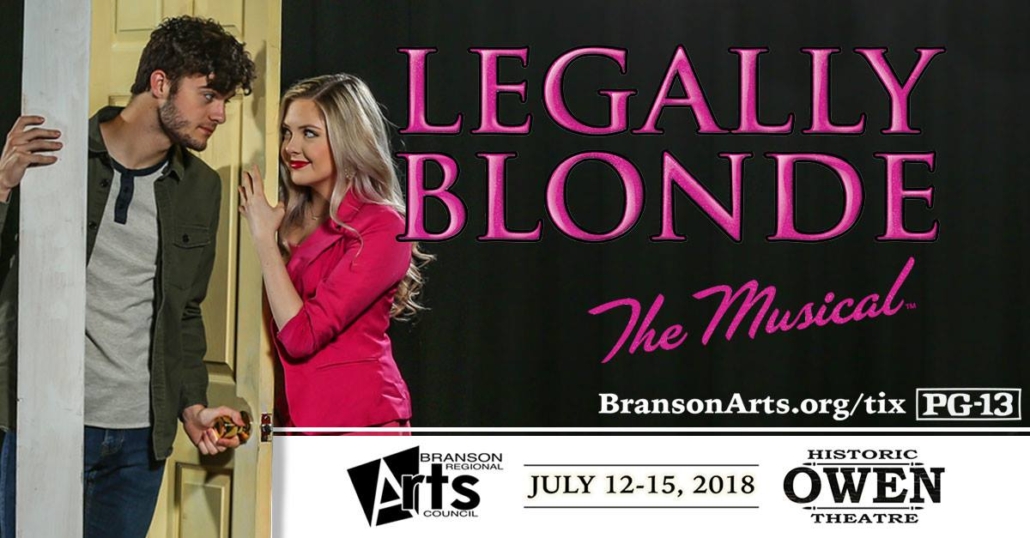 https://bransonarts.org/wp-content/uploads/2018/07/36493730_2108913612455356_6296681244327411712_o-1.jpg
627
1200
Branson Regional Arts Council
https://bransonarts.org/wp-content/uploads/2017/03/BRAC-HeaderLogo.png
Branson Regional Arts Council
2018-07-09 16:17:43
2018-07-09 16:32:15
Legally Blonde the Musical at Historic Owen Theatre