The Branson Regional Arts Council's Staccato Performance Troupe presents Emma! A Pop Musical for five exciting performances from Thursday, March 30 to Sunday, April 2, 2023.
The production is Rated G | General audiences. Showtimes are 7pm (Thursday, Friday, Saturday) and 2pm (Saturday, Sunday).
All tickets for this production are only $12 (Adults & Youth), with lap children (age 4 and younger) admitted free of charge. Advance reserved tickets are recommended and on sale now at BransonArts.org/tix or by calling the box-office of the Historic Owen Theatre at 417-336-4255.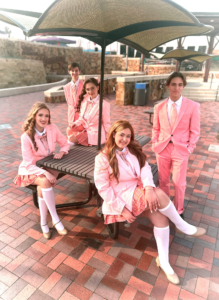 Emma! A Pop Musical loosely follows the storyline of Jane Austen's 1815 novel, Emma, but incorporates a 21st century prep school twist. Emma Woodhouse, portrayed by Renee Elkady, considers herself to be Highbury Prep's top matchmaker after she sets up two of her teachers. She then tries to set up her best friend Harriet Smith (Liya Rivere), with school president nominee Philip Elton (J. Perry) and herself up with rockstar Frankie Churchill (Dylan Whatley). Meanwhile, the arrival of a new potential student and heiress, Jane Fairfax (Abby Wheeler), stirs up controversy. Emma's relentless matchmaking plans take an unexpected turn, and Harriet ends up with the 'commoner' lunch busboy Martin (Jason Prince), while Emma ends up with the power-focused schoolboy Jeff Knightley (Pace Gillman). 
The storyline of the production is woven together with a string of hit songs by legendary girl groups and iconic female singers from The Supremes to Katy Perry. Girl power has never sounded so good!
The cast of 14 talented performers also features Jordan Porter as Ashley, Melinda Prince as Miss Bates, Megan Rogers as Miss Taylor, Hallie Groff as Ronnie, Ashley Rogers as Estelle, Lundyn Mitchell as Elaine, and Alivia Prince as Nedra.
Director Jacob Estes leads the production in addition to being choreographer, adding one more credit to his long list of acting and directing achievements on behalf of the Branson Regional Arts Council. Jacob has also performed at Kings Castle Theatre, Silver Dollar City, The Welk Resort, Sight and Sound Theatre, and on tour nationally with Forever Young.
Stage Manager Dimitri Tsahiridis makes his BRAC debut with this production. Dimitri is a student at Branson High School, and has done technical work for such shows as The Curious Savage and Mamma Mia!. He is adding to his portfolio to gain working experience in all aspects of theater before going to college, where he will major in theater and eventually reach his lifetime goal of directing.
Staccato Performance Troupe is an advanced show choir for area youth between the ages of 12-18 that combines a challenging music repertoire with entertaining choreography, on-stage acting, and stage performance. Through the training season, members work towards a common goal while studying advanced music theory, vocal and physical warm ups, musical theatre vocal techniques (belting, mixing, telling a story), stage etiquette, hip hop, jazz and musical theatre dance. Open auditions for new Staccato members are held each Fall, and under the direction of Jacob Estes, the students focus on elevating their "triple threat" skills and applying their formal training into a lively musical theatre presentation such as this production of Emma! A Pop Musical.
The production team also includes Karie Dykeman and Kim Hale (Producers), Kristine Brown (Assistant Producer), Pamela Meadows (Lighting Design), Myles Stevens (Sound Technician), Kyle Blanchard (Theatre & Special Events Manager), Lorie Best (Volunteer Coordinator), Josh Silvy (Theatre Inventory), and Jim Barber (BRAC Executive Director, Marketing and Design).
https://bransonarts.org/wp-content/uploads/2023/03/Emma_Musical_1200.jpg
630
1200
Branson Regional Arts Council
https://bransonarts.org/wp-content/uploads/2017/03/BRAC-HeaderLogo.png
Branson Regional Arts Council
2023-03-23 16:20:53
2023-03-23 16:20:53
Emma! A Pop Musical