An Art Gallery In Your Hand? The Branson Convention Center Art Exhibition Is Online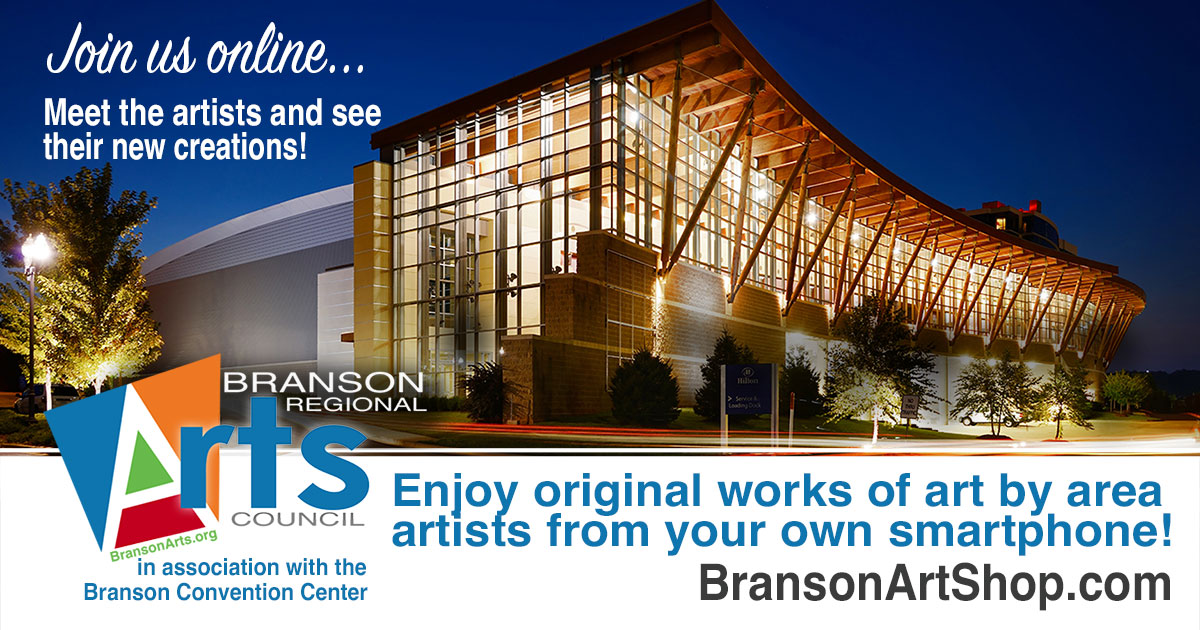 May 23, 2023

Branson Regional Arts Council

No Comments

3081 Views
Did you know that you can preview all of the incredible works of visual art currently on display at the Branson Convention Center Art Gallery, right from your smart phone or home computer?
Simply visit BransonArtShop.com to view or purchase a work of art directly from the artist to hang on your own wall.  With Mother's Day and Father's Day approaching, an original work of art would be a treasured and unique gift for a loved one, or even yourself!
The current artists featured at the Branson Convention Center until mid-September 2023 include (alphabetical order):
Mary Arneson
"I am a self-directed artist that has been painting nature's offerings since 2007, first in Colorado and now in Missouri. My journey as an artist has its rewards and challenges. The path to creativity is sometimes wide and straight, sometimes narrow and winding. Whichever path presents itself, I am eager to create the visions I see in my mind and hold in my heart. While the end product is my ultimate goal, the journey to get there is ongoing inspiration and my joy as an artist. My varied painting techniques and many subjects of interest keeps my approach to a canvas exciting and new. I am honored to have my paintings throughout the US, Canada, and Great Britain, as well as published in art magazines.' – Mary Arneson
Meike Aton
"Hi, I'm Meike Aton. I have been an artist all my life. I just didn't know it. Growing up in Germany, artistic creativity was considered just part of my life. Artists are usually creative in several different areas, but focus in on one or two methods of expression. One of my creative areas was the fiber world. I picked up fleeces on shearing day, washed, carted and spun the fibers into yarn for weaving and knitting. Sometimes I dyed the wool with plants from my farm. Numerous throws, pillows and blankets grace my sofas. Intricately patterned sweaters, scarfs and hats make up part of my wardrobe. While drawing and painting always accompanied my life to some degree, it took center stage about ten years ago. That's when I became a full time painter. Today I work in acrylics and mixed media, creating mostly large scale abstract paintings in bold and happy colors. My creativity gives me great satisfaction. And that satisfaction I'd like to share with you." – Meike Aton
Diana Bogardus
Always seeking creative outlets, Diana Bogardus started out in fine art, receiving a fine art scholarship in college with interest in acrylic painting and graphite illustration. Then while raising a family, supporting her husband in ministry, and refining her photography skills, she received a degree in Graphic Design. Diana has worked as a graphic designer for 30 years, currently as Art Director of New Leaf Publishing Group for 15 years. Coming full circle on her creative journey, she began self-challenges in Prismacolor pencil illustration and digital illustration using Adobe Fresco.
Jennifer Buttell
Jennifer is a multi-talented artist from Ozark and divides her artistic passions between the canvas, stage and screen. Her Jeniblue Art incorporates acrylic paint on canvas in the style of artist, Jackson Pollack. She has appeared in several films and produced her own award-winning music video through her film production company called Blue Monster, LLC.

As an actress, she has appeared locally in several BRAC productions at the Historic Owen Theatre including, The Wizard of Oz, Mamma Mia!, Hello Dolly! and Nunsense – The Mega Musical.
Jack Clutter
"Photography has long been a passion of mine, starting with my first purchase of a 35 mm camera while in my teens. I have always been fascinated by how you can capture that one point in time and record that small piece of history to be shared with family and friends. Each photo has it's own story to tell and that moment will never be relived quite the same: kids grow, people age, seasons change, environments are altered, and the light that helps paint the picture continuously varies. I am very blessed with my wonderful wife and our two boys who are growing into outstanding young men. I have lived my entire life in southwest Missouri and I'm a graduate of Evangel University. I have worked in the corporate world for over 30 years and now have an opportunity to live out my dream to take my photography to the next level and establish it as my career. My prayer is that the photos I take will bring glory to God and help showcase His creation!' – Jack Clutter
Lee Copen
Born in South Africa, in 1966, Lee was drawing and painting the land, people and animals that surrounded her, before she even started school. Her family moved to Chile when she was 12 years old, where her love of drawing and painting continued. In 1982 the family moved to Colorado, here Lee encountered her first formal art education. Lee has traveled extensively throughout her life; including Zimbabwe, Peru, Bolivia, England, Scotland, Greece, Sweden and throughout the United States. Wherever she went, she painted; filling sketchbooks with beautiful drawings and watercolors. She continued to study art at the University of Northern Colorado, and received a BFA in drawing and painting. After college she pursued a career as an architectural illustrator. In 2000 Lee returned to college to receive a teaching certificate and has been teaching art in a public high school ever since. Both careers allowed Lee to continue painting on her own and building skills. In 2010 she started to pursue fine art professionally. Since that time she has earned numerous local and regional awards and her art can be found in private collections throughout the United States. Whether working in the studio or on location her work is inspired by the beauty and diversity that can be found in nature. She currently lives on a small farm in Missouri; painting the hills, farms, rivers and springs of the Ozarks. Her work reflects her love of the land. She is influenced by many great landscape painters, especially George Inness and Isaac Levitan.
Megan Ellison
Meg Ellison is a contemporary artist known for her unique blend of spray paint and oil techniques, which she uses to create stunning depictions of nature. Born and raised in the Midwest, Meg spent much of her childhood exploring the forests and lakes that surrounded her. This early connection to nature sparked a lifelong fascination with the natural world, which she now expresses through her art.

Meg's work is characterized by a bold, vibrant style that combines the spontaneity of spray paint with the precision of oil painting. She uses these contrasting techniques to capture the energy and movement of natural landscapes, from rolling hills and thundering waterfalls to delicate wildflowers and soaring birds. Through her art, Meg seeks to convey the sense of wonder and awe that she feels when she encounters the beauty of nature.
Brent Holland
Brent A. Holland of Branson West, MO is a native of Springfield, MO. He is a visual artist who integrates digital and traditional media applications into drawings that showcase figurative representation and formal abstraction. Brent dabbles in 3D modeling techniques as a way to further explore his signature perspective rendering style. In general. Brent focuses on the process and psychology of observation while creating.

"My work is the accumulation of thousands of moments of looking with layers of multiple visual insights. Forms in cavernous studio spaces and on wall come into sharp focus and dissolve into ethereal impressions."

Holland is an Associate Professor in the Department of Art and Visual Culture at Iowa State University where he teaches all levels of painting and drawing. Brent holds an MFA in painting from the University of Washington, Seattle and a BFA in drawing from Missouri State University, Springfield. His work has been exhibited throughout the US and is represented by Olson-Larsen Galleries in West Des Moines, Iowa.
Jasmine Hutton
Jasmine Hutton is an artist whose chosen medium is photography.

She received her Bachelor of Fine Arts in Photography from Missouri State University in 2022.

Her current work, Waking Up After, is centered around memory, dream, and the landscape. This work is an introspective look into the relationship between memory and dream.
Vic Mastis
Working in pastel and oil, Vic chooses subject matter from what is inspired by everyday living, including landscapes, night scenes, florals and still life. "I find inspiration in solitude and I want to share the peaceful feeling," she says. Sometimes Vic uses gold leaf to create the illumination of subtle effects along with glazes of oil paint achieving an ethereal aura that compliments all decor. Vic's work has been in the Albrecht-Kemper Museum of Art, St. Joesph, Missouri, Edward Hopper House in Nyack, New York; Fort Walton Museum, Fort Walton Beach, Florida, Victor, Colorado and many other exhibits. She received Artist Choice awards at the plein-air events in Augusta, Missouri and Victor, Colorado. Her work has won numerous awards. She teaches and conducts workshops in both oil and pastel.
Audrey Bottrell-Parks
"I believe everyone can learn to draw realistically. It is a teachable skill that is learned, like learning to write your name. Through developing the mind of an artist, your world looks different. Lines, shapes, values and colors come alive, and you wonder why you never noticed it before! God is the ultimate artist and I look in awe at His marvelous handiwork. I am moved by my subjects and by color. My goal is to move the viewers to a greater understanding of the world around them."

Best of Missouri Hands juried artist, commissioned artist for ESPN, Missouri Sports Hall of Fame, Promega Corporation, MSU West Plains, PGA golfers and a host of others, Audrey brings years of professional experience to the classroom. Earning her Art Education degree in her home state of Wisconsin in 1979, she has taught publicly and privately for more than 30 years. Her exquisite portraits grace the walls of homes and businesses worldwide and have been published internationally. The ESPN portraits were unveiled on the nationally televised Skins Game in 2003 and 2004. Audrey's art extends beyond her beautiful portraits of people and animals to encompass the colors of life itself. Being moved by the energy and emotion of pure color, she now offers vivid semi-realistic and abstract acrylic paintings and photographs.
Gary B. Parks
Gary has used his creativity in every aspect of his life, from his construction business, to wood and glass sculptures and to painting. He loves color and to work in a large format. Painting offers him the ability to highlight the energy of color and the flow of movement along with textures. Gary has his own sawmill which he uses to cut large slabs of wood. Some will become furniture and others sculpture. It is amazing to see the colors on the freshly cut slabs along with the designs of the grain. As an avid rock collector, he sees the beauty and abstract designs inside when cut open. All of which, are an art form in itself, and partner beautifully with his abstract paintings.
Whitney Weibel
Whitney Weibel is an independent artist from Pierce City, Missouri with an extensive background in banking and mortgage loan underwriting.
The Branson Regional Arts Council appreciates all of these artists and encourages everyone to visit their exhibition in person by visiting the 2nd level of the Branson Convention Center. Special thanks to the management and staff of the convention center who provide display services in addition to artist receptions at the beginning of each new exhibition.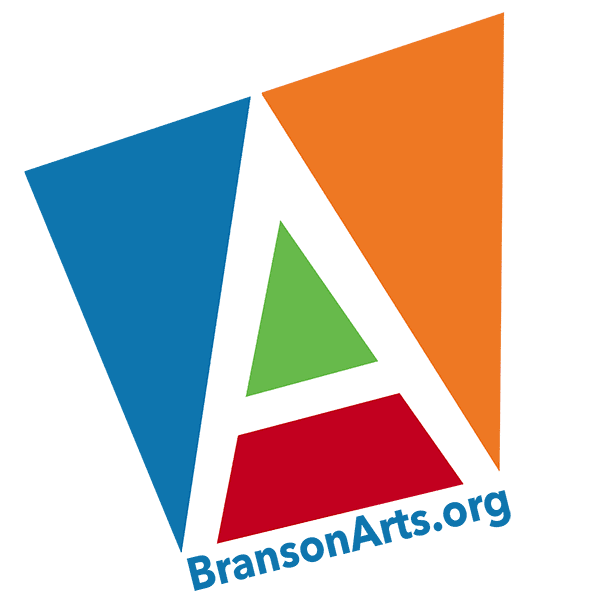 The Branson Regional Arts Council was founded in 1965 as the "Taney Arts Council," and officially established 501 (c)(3) non-profit status as "Branson Arts Council, Inc." in 1993.
Our mission is "to create exceptional artistic, cultural and educational opportunities for our community."
Financial support  is provided by BRAC members, theatre patrons, private donors, as well as additional grant support from  the Missouri Arts Council and other organizations.
BRAC, PO Box 2004, Branson, MO 65615
https://bransonarts.org/wp-content/uploads/2023/05/BCCGallery-BransonArtShop_1200.jpg
630
1200
Branson Regional Arts Council
https://bransonarts.org/wp-content/uploads/2017/03/BRAC-HeaderLogo.png
Branson Regional Arts Council
2023-05-23 17:09:03
2023-05-23 17:09:33
An Art Gallery In Your Hand? The Branson Convention Center Art Exhibition Is Online