Cast Auditions For Dracula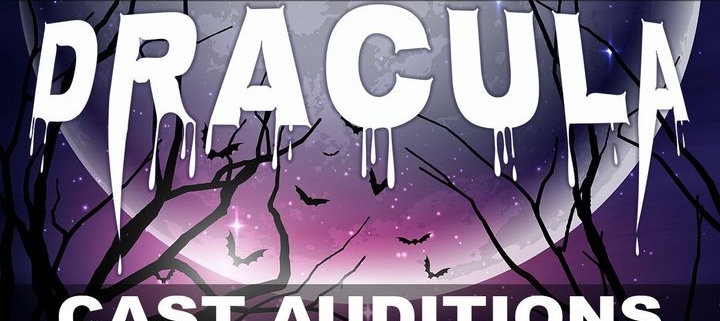 The Branson Regional Arts Council is now accepting video submission auditions for it's Halloween weekend production of Bram Stoker's classic tale, Dracula, as adapted by author William McNulty.
Actors over the age of 18 are invited to submit a video audition performing a short read for one or more roles they are interested in.
The monologue script may be downloaded for printing by clicking this link…
https://drive.google.com/file/d/1pW5lSjZ6fd5JKOF6nB-wAQOj42oPNG_y/view?usp=sharing
Audition video links (YouTube, Google Drive, etc) or attached video files (under 8 MB) may be emailed to BransonArts@gmail.com. Please include a digital headshot and acting resume if available. Women who are only interested in auditioning for one of the brides, may just submit a headshot and resume as there are no spoken lines for those roles.
Video audition submissions must be received no later than 9am on September 15th.
Character Roles include:
Dr Seward – Head doctor at the asylum. In mourning over the death of his fiancée Mina.
Count Dracula – Seward's new neighbor; recently moved from Transylvania.
Professor Abram Van Helsing – old friend of Seward; comes to help Lucy.
Mina – Love of Seward; recently died of a mysterious illness involving a loss of blood.
Lucy – Mina's friend; Displaying the same troubling symptoms as her friend Mina.
Jonathon Harker – Lucy's fiancée; missing after a trip to Transylvania.
Renfield – Psychiatric patient who seems to know a bit too much about what is going on.
Miss Sullivan – Dr Seward's assistant.
Mr. Briggs – Dr. Seward's orderly. Responsible for maintaining peace among the patients.
Under the Direction of Jacob Deck, this production is scheduled for five thrilling performances at Branson's Historic Owen Theatre on Thursday, October 29th (7pm), Friday, October 30th (7pm & 11pm), and October 31st (2pm & 9pm). Advance audience tickets are on sale now at BransonArts.org/tix. All seat purchases will be social distanced for extra safety of the audience, therefore, seating for each production will be limited to approximately 50 patrons per performance.
Rehearsals are tentatively scheduled to begin on September 18th with sessions on Mon, Tue, Thur, Fri (6:30pm – 10pm) and Sat (9am-12pm and/or 2pm-5pm) at the Historic Owen Theater.
Professor Van Helsing and his brave comrades must hunt down and destroy the profoundly evil Count Dracula. But the Count is exceedingly resourceful, employing superhuman strength, psychic powers, and shape-changing to confound and frustrate his antagonists. Culminating in a wild and shocking confrontation between the King of Vampires and those who would rid the world of him, this adaptation is an action-packed, blood-soaked retelling of Bram Stoker's classic tale of horror.
https://bransonarts.org/wp-content/uploads/2020/09/10684_image_119073491_3785509294795771_7743724666559815619_o.jpg
376
720
Branson Regional Arts Council
https://bransonarts.org/wp-content/uploads/2017/03/BRAC-HeaderLogo.png
Branson Regional Arts Council
2020-09-09 18:57:00
2020-09-09 18:57:00
Cast Auditions For Dracula