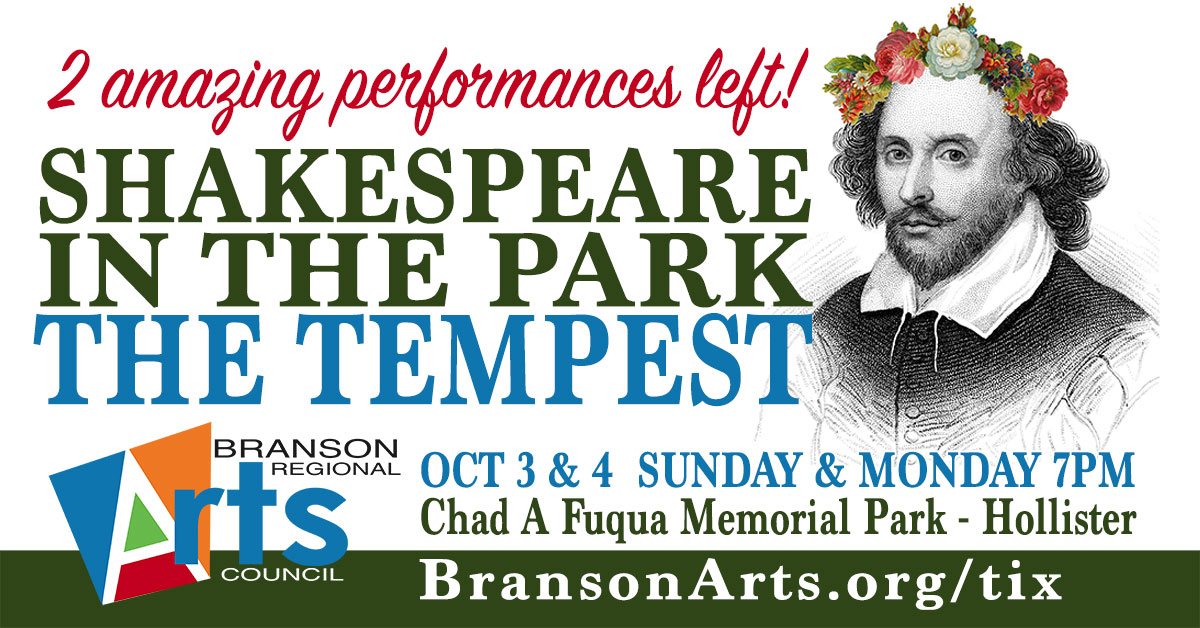 The Branson Regional Arts Council is getting rave reviews of it's 4th Annual Shakespeare in the Park production of The Tempest. 
Final Performances: Chad A Fuqua Memorial Park, 312 Esplanade Dr., Hollister, MO
Sunday – Oct 3 – 8pm
Monday – Oct 4 – 8pm
Family friendly production!
Tickets are$10(Adults 18+),$5(Students with ID, or Youth 4-17)
"Amazing performance of The Tempest in Chad A Fuqua Park yesterday evening. Thank you to

Branson Regional Arts Council

for bringing theatre to our Hollister Park."
– Denise Olmstead – Deputy City Administrator, City of Hollister
Bring your own lawn chair or blankets as seating is open in the grass in front of the stage. Bring your own coolers, snacks and refreshments. Jackets are highly recommended as it may cool down in the evening.
"Shakespeare in the park was excellent! So much talent! We enjoyed this SO much! Ariel was incredibly graceful and spirit-like, Caliban was AMAZING, very unearthly, and creepy! We loved Prospero. Trinculo and Stephano kept us in stitches. Amazing performance! Thank you for a great venue and performance!"
– Terena Terry
The production team includes:Justin Ables(Director), Audrey Noll (Choreographer), Nate Frank (Music Arranger), Katie Pohlheber (Stage Manager), Anika Bryceson (Costume Design), Kyle Blanchard (Set Design), Kristen Ables (Puppet Design), Josh Bouldon (Speech and Text Coach), Alex Schriver (Lead Builder).
The Tempest features a talented cast of talented actors including: 
Nicole Horton (Prospero), 
Catherine Kennedy (Miranda), 
Joey Faggion (Ferdinand), 
Cat Blanchard (Ariel), 
Josh Bouldon (Caliban), Kyle Blanchard (Caliban), 
Charis Bouldon (Antonia), 
Michael Sager (Boatswain), 
Brandon Farrar (Ship Master), Zack Bucky Buckner 
(Alonso), 
Nick Carrano (Sebastian), 
John Paul Fox (Gonzalo), 
Jameson Clanton (Trinculo), 
Blake West (Stephano), and 
Lindsay Lee, Elizabeth Theune, Kyra Carrano, Michael Sager, Brandon Farrar (Ensemble/Puppeteers).
Summary of The Tempest:Prospero uses magic to conjure a storm and torment the survivors of a shipwreck, including the King of Naples and Prospero's treacherous brother, Antonio. Prospero's slave, Caliban, plots to rid himself of his master, but is thwarted by Prospero's spirit-servant Ariel. The King's young son Ferdinand, thought to be dead, falls in love with Prospero's daughter Miranda. Their celebrations are cut short when Prospero confronts his brother and reveals his identity as the usurped Duke of Milan. The families are reunited and all conflict is resolved. Prospero grants Ariel his freedom and prepares to leave the island.
Past BRAC Shakespeare in the Park performances have been in cooperation with Forte Theatrical Productions and includedA Midsummer Night's Dream,Romeo and Juliet, and a Rock version ofHamlet. Each of these productions were held outdoors on the pavilion stage in Chad A Fuqua Memorial Park, and the Branson Regional Arts Council thanks theCity of Hollisterand theHollister Parks Departmentfor their support and cooperation in making these community events possible.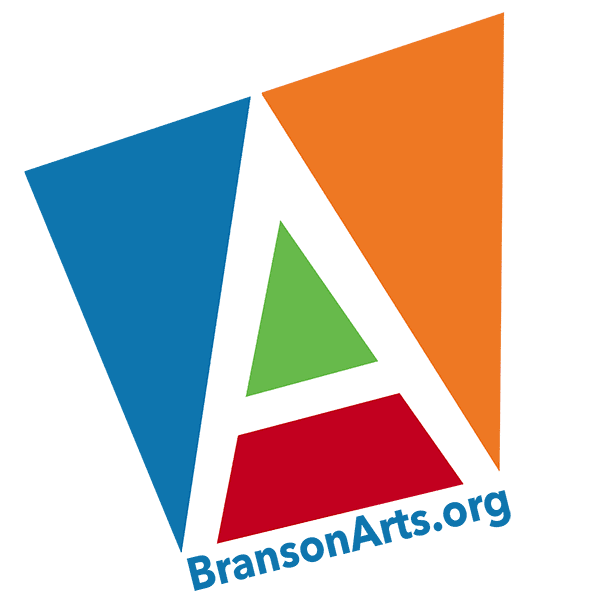 The Branson Regional Arts Council was founded in 1965 as the "Taney Arts Council," and officially established 501 (c)(3) non-profit status as "Branson Arts Council, Inc." in 1993.
Our mission is "to provide artistic, cultural and educational opportunities that support, strengthen and enhance artistic experiences for people of all ages in our area."
Financial support  is provided by BRAC members, theatre patrons, private donors, as well as additional grant support from  the Missouri Arts Council and other organizations.
BRAC, PO Box 2004, Branson, MO 65615
https://bransonarts.org/wp-content/uploads/2021/09/2_shows_Shakespeare_Tempest_2020.jpg
628
1200
Branson Regional Arts Council
https://bransonarts.org/wp-content/uploads/2017/03/BRAC-HeaderLogo.png
Branson Regional Arts Council
2021-09-30 20:28:57
2021-09-30 20:28:57
The Tempest Is A Shakespearean Hit In Hollister