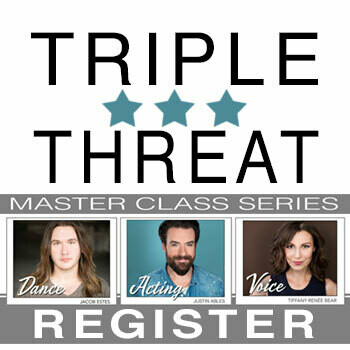 TRIPLE THREAT - Online Master Class
SKU 3THREAT
Product Details
Triple Threat is the Branson Regional Arts Council's new online conservatory which focuses on the three major areas of performance of musical theatre: Acting, Singing, and Dance.
This new three week course gives the youth of our community the opportunity to study in these specific areas with local professionals from the comfort of their home. All three of our teachers come directly from the fields of theatre and performance and are excited to offer this masterclass series to educate and enlighten in these specific areas. [click for more info]
This will be taught in 2 simultaneous sessions, one class for youth ages 10-13, and one class for youth ages 14-19).
Dates and Times:
3 Sundays: September 27 & October 4, 11
Times: 2PM-5PM Central Standard Time (3 hours)
Location: Online via Zoom Video (links provided at registration)
Registration Info:
Cost per student (all 3 weeks): $60.00
Students may register via credit card, or personal check (made payable to BRAC).
Class sizes are limited to 18-20 students per class.
Scholarship opportunities for residents of Branson, Missouri (please inquire at edu@bransonarts.org).
ACTING... with Justin Ables
Let's take the stage and bring out your inner monologue in the acting portion of Triple Threat! In this theatre masterclass, students will learn about basic acting techniques brought about by the famous Konstantin Stanislavski and Uta Hagen. Students will dive into the techniques of sense memory, naturalism and the different steps that actors take to develop a character onstage. As a class, we will use these new skills to become more aware of ourselves as performers and look through the lense of life as our stage characters do. So join us, as we develop these basic skills that have shaped the careers of artists all around the world!
VOICE... with Tiffany Bear
As singing actors we are partners with the text and our voice is a means of communicating the story to our audience. In our Musical Theatre Voice section of Triple Threat we will focus on how to be compelling storytellers through music. Come ready with "your book" and several contrasting 32 bar cuts that we can "put on their feet"! We will also touch on how to choose appropriate material for YOUR voice, how to prepare your audition and present yourself "in the room" and in when creating a character on stage for an actual show. Together we will sharpen skills, dive deeper into Musical Theatre voice, make strong acting choices that create compelling performances, and most of all have fun while building confidence!
MUSICAL THEATRE DANCE... with Jacob Estes
This class is designed for students with a passion for musical theatre. Get ready to step outside of your comfort zone, while learning various fun pieces of choreography! We will study/move to a vast variety of musical theatre rep and even learn some original Broadway steps! The choreography taught is meant to challenge you and there will be different options of difficulty to choose from when doing the routine! Dance class is how you study, which means auditions are the test. We will be learning by setting up virtual mock auditions where you will receive feedback and instruction. You will leave feeling confident, and ready to book that next audition!
PLEASE REGISTER EACH CHILD INDIVIDUALLY, REFRESHING THIS FORM EACH TIME
Save this product for later