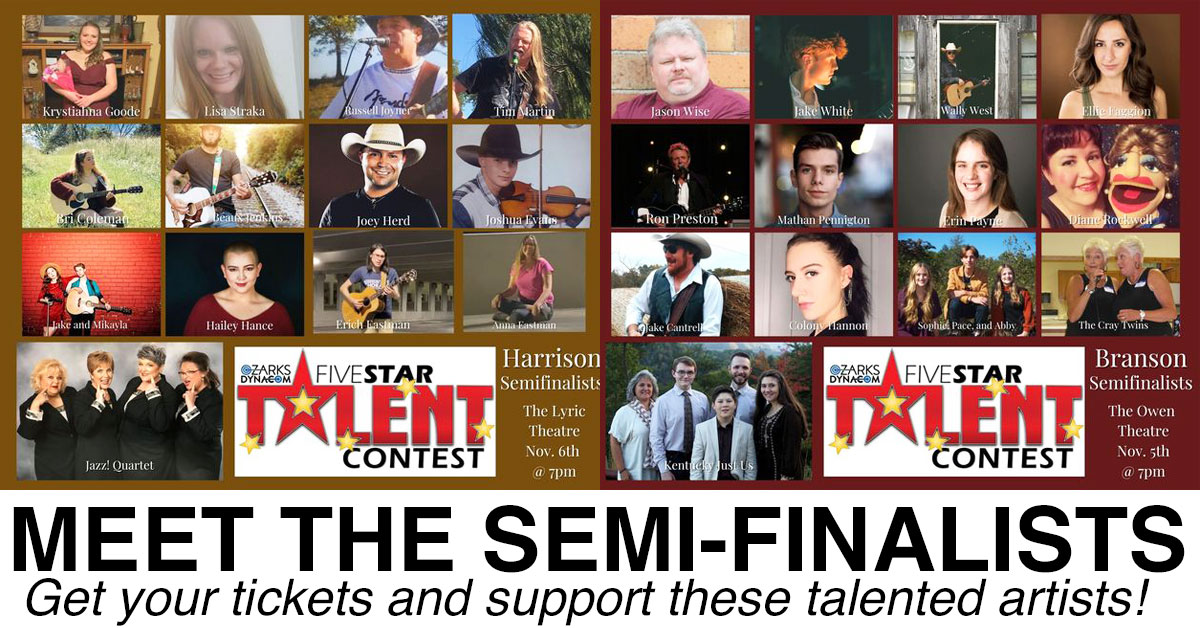 After nearly 100 contestants submitted their audition videos, the votes are in! The finalists who will be competing in the Semi-Finals of the 1st annual Ozarks DynaCom Five-Star Talent Contest have been announced! Prepare to cheer them on to victory by reserving your seats for one or both of the exciting competitions in Branson, Missouri and Harrison, Arkansas.
A combination of audience voting and professional judging will selected the winners. Two, separate and unique groups of semi-finalists will compete on November 5th at the Historic Owen Theatre, 205 S. Commercial in Branson and on November 6th at the Historic Lyric Theater at 115 W. Rush in Harrison, Arkansas. Both semi-final shows begin at 7:00 PM with tickets available for sale on the arts councils' websites: BransonArts.org/tix and TheLyricHarrison.org.
Tickets are $17 (Adults 18+) and $14 (Youth 4-17). No charge for lap children age 0-3.
---

Featured performers in the Branson Semi-Final Talent Show include: Kentucky Just Us, Jason Wise, Jake White, Wally West, Ellie Faggion, Erin Payne, Ron Preston, the Crays Twins, Diana Rockwell & Minnie Donut, Sophie Douglas, Pace Gillman, Abby Wheeler, Jake Cantrell, Colony Hannon, and Mathan Pennington. There will also be a special (non-competing) performance by Harmony Trio and Staccato Show Choir. The show will be hosted by Jim Barber, the Executive Director of the Branson Regional Arts Council and morning radio host at Branson4U.com 98.1FM.
CLICK HERE TO PURCHASE TICKETS TO THE BRANSON SHOW! (ticket proceeds benefit the BRAC)
---

Featured performers in the Harrison Semi-Final Talent Show include: Beaux Jenkins, Russell Joyner, Erich Eastman, Hailey Hance, Jazz! Quartet, Bri Coleman, Joey Herd, Tim Martin, Jake & Mikayla, Lisa Straka, Anna Eastman, Krystiahna Goode, and Joshua Evans.
CLICK HERE TO PURCHASE TICKETS TO THE HARRISON SHOW! (ticket proceeds benefit the Ozark Arts Council)
---
We remind you that all ticket proceeds benefit the Arts Council that is hosting each performance. Please help us continue to provide community arts events through your purchase of a ticket to these exciting talent shows.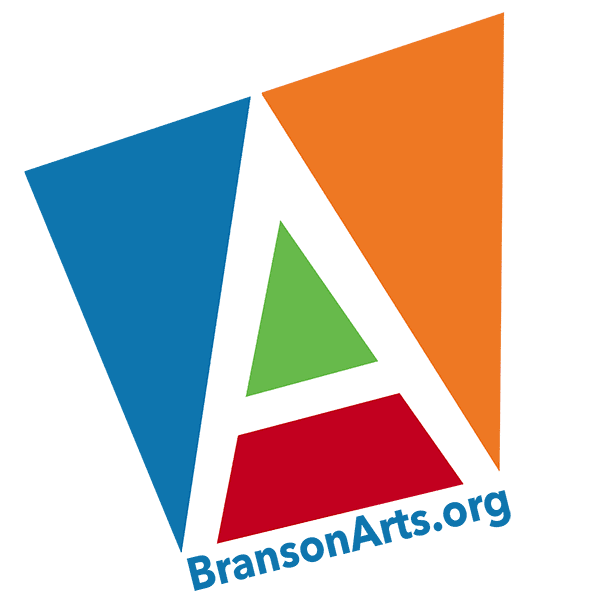 The Branson Regional Arts Council was founded in 1965 as the "Taney Arts Council," and officially established 501 (c)(3) non-profit status as "Branson Arts Council, Inc." in 1993.
Our mission is "to provide artistic, cultural and educational opportunities that support, strengthen and enhance artistic experiences for people of all ages in our area."
Financial support  is provided by BRAC members, theatre patrons, private donors, as well as additional grant support from  the Missouri Arts Council and other organizations.
BRAC, PO Box 2004, Branson, MO 65615
https://bransonarts.org/wp-content/uploads/2021/10/Five_Star_Talent_Semi_Finalists_1200.jpg
628
1200
Branson Regional Arts Council
https://bransonarts.org/wp-content/uploads/2017/03/BRAC-HeaderLogo.png
Branson Regional Arts Council
2021-10-26 15:48:52
2021-10-26 15:48:52
Meet The Semi-Finalists Of The Five-Star Talent Contest