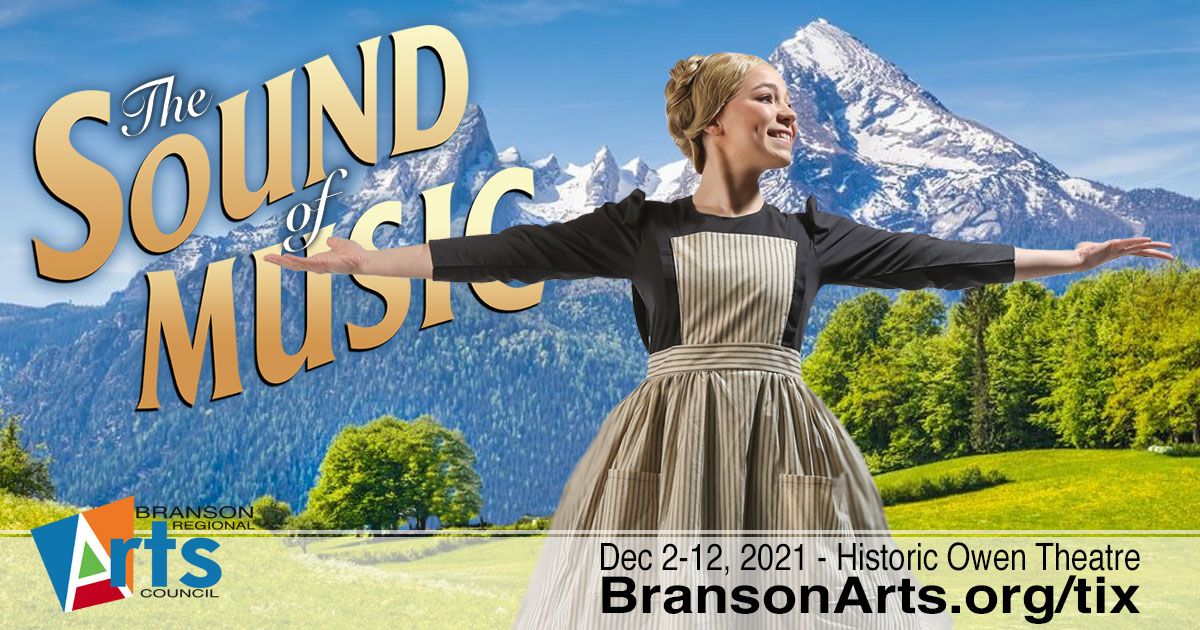 The Ozark Hills are alive with The Sound Of Music as the Rogers and Hammerstein classic comes to the Historic Owen Theatre in downtown Branson for ten performances from December 2-12, 2021.
Show schedule and ticket information can be found at BransonArts.org/tix or by calling the box office at 417-336-4255. Admission is $17 (Adults 18+) and $14 (Youth 4-17). Proceeds benefit the Branson Regional Arts Council, a 501 (c)(3) non-profit organization that provides a wide variety of artistic events, youth arts education and theatrical programs for all residents in the Ozarks.
"After having to postpone this show last season, we are thrilled to finally bring this incredible family production to the stage of the Historic Owen Theatre," says BRAC Executive Director Jim Barber. "We appreciate the support of our fantastic patrons for their patience, and we know you and your entire family will have a great time together at this holiday production," he added.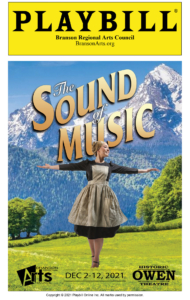 Based on the true story of the Von Trapp Family Singers, this play captures a personal tale of growth and hope amidst the horrors of World War II. The Sound of Music tells the tale of young postulant Maria Rainer, whose free spirit has trouble fitting into the rules and regulations of Nonnberg Abbey. Commissioned by the Mother Abbess to serve as the governess for seven motherless children, Maria transforms the Von Trapp family home from a place of dour rules and regulations to one filled with joy, with laughter, and with music. In the process, Maria wins the hearts of all seven children–and their widower father, Captain Von Trapp.
With the Mother Abbess' blessing, and to the children's delight, Maria follows her heart, and Maria and the Captain marry. Upon returning home from their honeymoon, Maria and the Captain learn that their beloved Austria has been taken over by the Nazis, and the retired Captain is asked to report for immediate service in the Nazi Navy.
When the Nazis show up at their door to take Captain Von Trapp away, it is a family singing engagement (wily navigated by their friend Max) that buys the family time to make their narrow escape. Their Austrian convictions compel Maria, the Captain, and the children to flee over the mountains of Switzerland to safety, taking the words of the Mother Abbess to heart: "Climb Every Mountain… till you find your dream."
The Branson Regional Arts Council production of The Sound of Music is under the direction of Jacob Deck who also serves as choreographer and set designer for the musical.
The production team includes: Delyla Uebel (Music Director), Karie Dykeman and Kim Hale (Producers), Pamela Meadows (Lighting Design), Mac Hill (Sound and Technical Director), Melody Snyder (Costumes), Jennifer Vaugh (Costumes), Jordan Alexander-Holt (Costumes and Wig Design), Loran Polson (Stage Manager), Lisa Murphy (Media Coordinator), Marshall Meadows (Photography), Jim Barber (Marketing and Design), and set construction by Jeremiah Reeve, Art Hale, Jacob Deck, Mac Hill, Loran Polson and Jennifer Kersey.
The large cast includes: Hayden Gish (Maria Rainer), Loran Polson (The Mother Abbess), Esther Weicht (Sister Berthe), Mindy Law (Sister Margaretta), Julie Brinkman (Sister Sophia), Tom Baker (Captain Georg von Trapp), Dylan Pratt (Franz / Herr Zeller), Jennifer Kersey (Frau Schmidt), Talya Tinoco (Liesl von Trapp, A & B), Pace Gillman (Friedrich von Trapp, A & B), AJ Turner (Friedrich von Trapp, B), Abby Wheeler (Louisa von Trapp, A), Sophie Douglas (Louisa von Trapp, B), Liam Hill (Kurt von Trapp, A), Lee Brown (Kurt von Trapp, B), Savannah Turner (Brigitta von Trapp, A & B), Kylee Chandler (Brigitta von Trapp, A & B), Johanna Thornsberry (Brigitta von Trapp, A & B), Lundyn Mitchell (Marta von Trapp, A), Jael Frost (Marta von Trapp, B), Zoey Viola (Gretl von Trapp, A), Emma Chandler (Gretl von Trapp, B,) Cole Hill (Rolf Gruber / Baron Elberfeld), Charis Boulden (Elsa Schraeder), Amy Sorenson (Ursula / Nun / Ensemble), Randy Simmon (Max Detweiler), Beth Lambeth (Baroness Elberfeld / Nun / Ensemble), Anna Weicht (A New Postulant / Nun / Ensemble), Jim Barber (Admiral Von Schreiber) and Melody Snyder (Nun / Ensemble).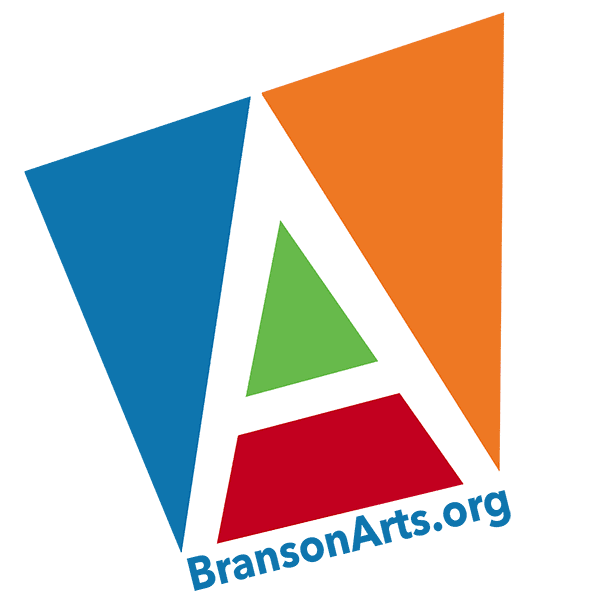 The Branson Regional Arts Council was founded in 1965 as the "Taney Arts Council," and officially established 501 (c)(3) non-profit status as "Branson Arts Council, Inc." in 1993.
Our mission is "to provide artistic, cultural and educational opportunities that support, strengthen and enhance artistic experiences for people of all ages in our area."
Financial support  is provided by BRAC members, theatre patrons, private donors, as well as additional grant support from  the Missouri Arts Council and other organizations.
BRAC, PO Box 2004, Branson, MO 65615
https://bransonarts.org/wp-content/uploads/2021/11/Sound_Of_Music_Branson_1200.jpg
630
1200
Branson Regional Arts Council
https://bransonarts.org/wp-content/uploads/2017/03/BRAC-HeaderLogo.png
Branson Regional Arts Council
2021-11-24 16:22:02
2021-11-24 16:22:02
The Sound of Music Opens At Historic Owen Theatre