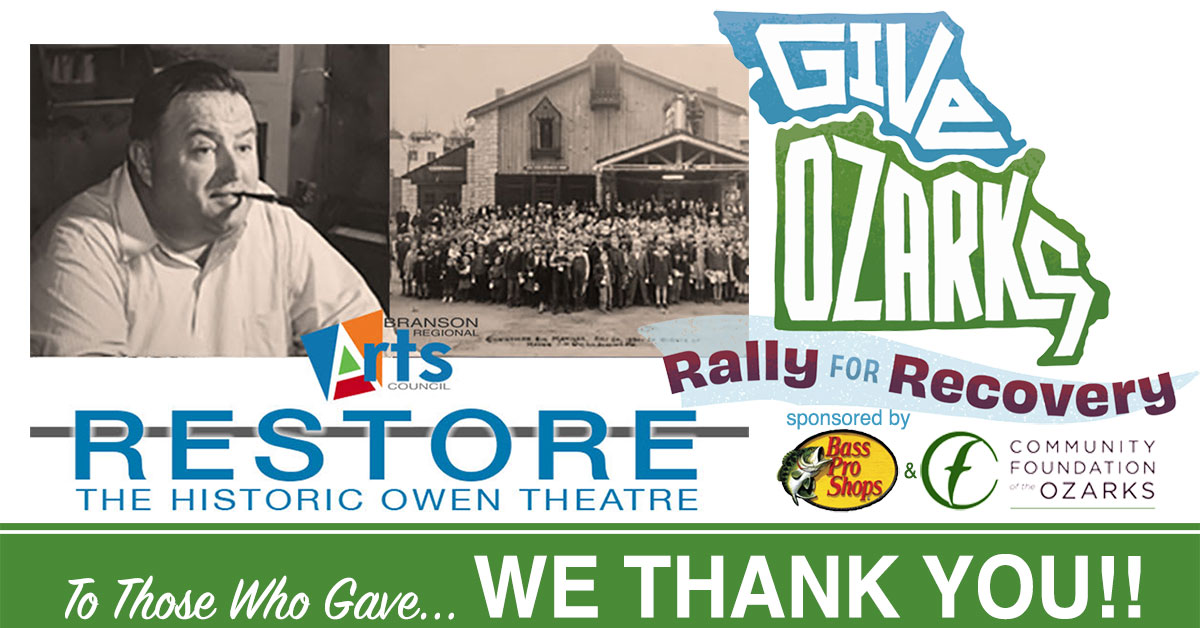 The Branson Regional Arts Council Board of Directors, wish to thank the many generous donors who contributed to the Give Ozarks: Rally For Recovery effort to help Restore The Historic Owen Theatre.
Approximately 150 non-profit organizations participated in the 12 hour online fundraising event sponsored by the Community Foundation of the Ozarks and Bass Pro Shops. Over 9,000 donations totalling $718,728 were received by all organizations combined.
$3,074 Raised For Restore The Historic Owen Theatre
The Branson Regional Arts Council is grateful to the many donors who contributed $3,374 to the Historic Owen Capital Campaign, which will eventually allow the Arts Council to pay-off the building and make needed repairs and renovations in order to preserve the legacy of Jim Owen and the Historic Owen Theatre.
Special thanks to the following donors who generously supported this Branson Regional Arts Council fundraising event (names from the Give Ozarks campaign site):
Community Bank of the Ozarks, Sue & Rich Spoley, Mark H Peper, Rick Uebel, Robin Jackson, Karen W Roof, RL Bartley, Josh Silvy, Dorr St.Clair, Jim Robertson, Jeanine (no last name), Gussie Mustain, Nathan and Darla Howe, Judy Rockenback, Jim Barber, Michelle Rodgers, Tammy Matney, David Dykeman, Cheryl R Campbell, Mary Adcock, Patti Berg, Madeline J Allin , Mac Hill, Cece Garceau, Howard Cavner, Marshall Howden, Ruth E Urich, Kimberly Hale , Meredith Mizell, Raeanne Presley, Dana Freeman, Roger & Susan Horsman, James Myers, Rod A Phillips, Bobby McTaggart, Melissa Rivera, August Gideon, Kristine Brown, MJ Szumowski, Ronnie L Mathes, Kelly Pratt, Loran Polson, Jim Harshberger , Jeannie Moeskau, Myron J Page, Jessica Luthardt, Katy Kohler, and Sally Richardson.
The Historic Owen Theatre was constructed in 1936 as Branson's very first theatre, and is credited as the official place that started the live entertainment tradition that Branson is now famous for.  Lovingly referred to as "Your Community Theatre," the Historic Owen is home to the Branson Regional Arts Council and their Conservatory of the Arts Education programs for youth as well as professional level community theatre and musicals for the community.
Anyone wishing to contribute additional tax-deductible donations for the Historic Owen Theatre or Branson Regional Arts Council will find more information by visiting the BRAC Donations and Membership page on this website.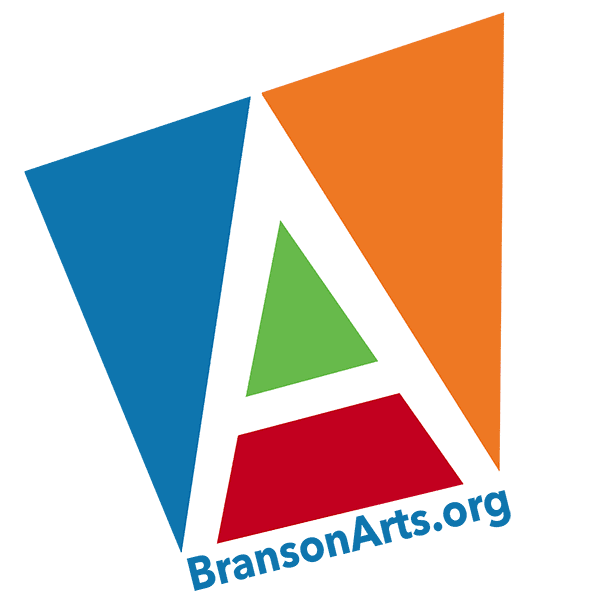 The Branson Regional Arts Council was founded in 1965 as the "Taney Arts Council," and officially established 501 (c)(3) non-profit status as "Branson Arts Council, Inc." in 1993.
Our mission is "to provide artistic, cultural and educational opportunities that support, strengthen and enhance artistic experiences for people of all ages in our area."
Financial support  is provided by BRAC members, theatre patrons, private donors, as well as additional grant support from  the Missouri Arts Council and other organizations.
BRAC, PO Box 2004, Branson, MO 65615
https://bransonarts.org/wp-content/uploads/2021/03/Thank_You_Donors_Give_Ozarks_Day.jpg
628
1200
Branson Regional Arts Council
https://bransonarts.org/wp-content/uploads/2017/03/BRAC-HeaderLogo.png
Branson Regional Arts Council
2021-03-24 19:25:24
2021-04-05 13:45:47
Give Ozarks Campaign Raises Over $3 Thousand Dollars For Historic Owen Theatre