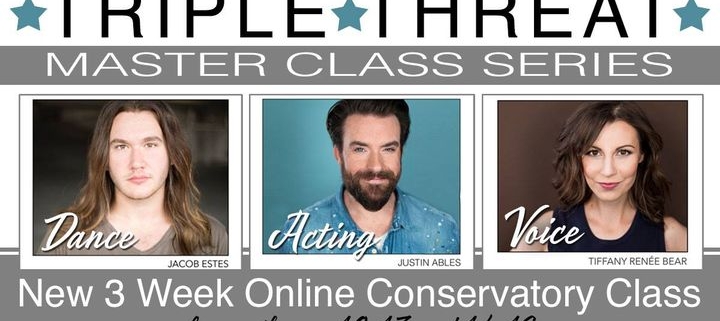 Triple Threat is the Branson Regional Arts Council's new online conservatory which focuses on the three major areas of performance of musical theatre: Acting, Singing, and Dance.
This new three week course gives the youth of our community the opportunity to study in these specific areas with local professionals from the comfort of their home. All three of our teachers come directly from the fields of theatre and performance and are excited to offer this masterclass series to educate and enlighten in these specific areas.
More info: https://bransonarts.org/triple-threat-online-conservatory/
triple threat
noun: triple threat; plural noun: triple threats. A person, especially a performer, who is proficient in three important skills within their particular field. "a triple threat can sing, dance, and act"
We are excited for you to join us!
Dates and Times:
3 Sundays: October 18, 25 & November 1
Times: 2PM-5PM Central Standard Time (3 hours)
Location: Online via Zoom Video (links provided at registration)
Registration Info:
Cost per student (all 3 weeks): $60.00
Students may register via credit card, or personal check (made payable to BRAC).
Class sizes are limited to 18-20 students per class.
Scholarship opportunities for residents of Branson, Missouri (please inquire at edu@bransonarts.org).
Meet the teaching staff:
ACTING… with Justin Ables
Let's take the stage and bring out your inner monologue in the acting portion of Triple Threat! In this theatre masterclass, students will learn about basic acting techniques brought about by the famous Konstantin Stanislavski and Uta Hagen. Students will dive into the techniques of sense memory, naturalism and the different steps that actors take to develop a character onstage. As a class, we will use these new skills to become more aware of ourselves as performers and look through the lense of life as our stage characters do. So join us, as we develop these basic skills that have shaped the careers of artists all around the world!
About the instructor: Justin is beyond excited to be joining the teaching staff for BRAC as well as their new series, "Triple Threat". A native to Baltimore, Maryland, Justin holds a BFA in Musical Theatre from Coastal Carolina University in Conway, SC and has been performing professionally for 10 years.
Over the last six years, Justin has been working as a performer for Sight and Sound Theatres here in Branson. Some shows you may have seen him in are Noah, Samson, Miracle of Christmas, Moses, and Jonah.
Some of his favorite regional credits include: Fiddler on the Roof (Tevye), Jesus Christ Superstar (King Herod), The Three Musketeers (Porthos), Lil' Abner (Marryin' Sam), Bigfoot and Other Lost Souls (Donny McGreggor), The Reluctant Dragon (Dragon/LeadPuppeteer), The Sword in the Stone (Merlin), The Music Man (Ensemble/Marcellus u.s), Les Miserables (Fueilly/The Foreman/Brujon), Legally Blonde (Kiki/Dewey/Ensemle), and The Who's Tommy (The Specialist/The Harmonica Player).
Justin also serves as the Artistic Advisor for BRAC as well as one of the Mainstage Directors for the theatre. For BRAC, he has directed The Diary of Anne Frank, Into the Woods, A Midsummer Night's Dream, Romeo and Juliet, and Hamlet.
VOICE… with Tiffany Bear
As singing actors we are partners with the text and our voice is a means of communicating the story to our audience. In our Musical Theatre Voice section of Triple Threat we will focus on how to be compelling storytellers through music. Come ready with "your book" and several contrasting 32 bar cuts that we can "put on their feet"! We will also touch on how to choose appropriate material for YOUR voice, how to prepare your audition and present yourself "in the room" and in when creating a character on stage for an actual show. Together we will sharpen skills, dive deeper into Musical Theatre voice, make strong acting choices that create compelling performances, and most of all have fun while building confidence!
About the instructor: Tiffany Renee Bear is an extremely versatile performer and teacher. She is actively working on stage, on camera, in voice over and in print modeling. She has enjoyed performing in regional theatres and tours across the country, as well as internationally (China, Germany.) Tiffany has also been very involved in the world of TYA (Theatre for Young Audiences) and the creation of new works. She has been a part of bringing several new shows from page (staged reading) to stage (world premiere productions) with the Children's Theatre of Charlotte, CITA and other theatres.
Tiffany and her husband Conrad moved to Branson 3 years ago to join the cast at Sight and Sound Theatres. She has had the joy of portraying Mary in Miracle of Christmas and several fun roles in SAMSON. She is currently portraying the role of Cayla, Japheth's wife, in NOAH.
Some of her favorite past stage roles include: Rapunzel (Into The Woods), Maria (West Side Story), Glinda (Journey to Oz), Ruby (Ella's Big Chance), Nancy (Oliver!) Princess of France (Love's Labour's Lost), Lily (Secret Garden), Magnolia (Showboat), Gertrude (Seussical), Kelsi (High School Musical) and Eliza & Belle in Concerts versions of My Fair Lady & Disney's Beauty & The Beast.
Tiffany is also an award-winning Director, Music Director and Vocal Coach. She holds an advanced degree in Voice and passionate about "cross training" artists to be excellent musicians and compelling actors. Her students have won numerous competitions across the country for music and theatre. Many of current and former students be found in Film/TV/Commercials, in Regional Theatres, on National Tours (How the Grinch Stole Christmas, The Lion King, Beautiful: The Carole King Musical), Cruiselines (Disney Cruise Lines, Carnival) and on Broadway (Matilda!, Beautiful: The Carole King Musical). www.tiffanyreneebear.com
MUSICAL THEATRE DANCE… with Jacob Estes
This class is designed for students with a passion for musical theatre. Get ready to step outside of your comfort zone, while learning various fun pieces of choreography! We will study/move to a vast variety of musical theatre rep and even learn some original Broadway steps! The choreography taught is meant to challenge you and there will be different options of difficulty to choose from when doing the routine! Dance class is how you study, which means auditions are the test. We will be learning by setting up virtual mock auditions where you will receive feedback and instruction. You will leave feeling confident, and ready to book that next audition!
About the instructor: Jacob is a performer and director based in Branson. He has had the amazing opportunity to travel the United States teaching, performing, and directing in various theatre venues throughout his professional career.
Jacob is currently the director of Staccato show choir at the Branson Regional Arts Council. You may have seen his work performing locally at Silver Dollar City, The Welk Resort, Branson Regional Arts Council, and Sight and Sound Theatres.
https://bransonarts.org/wp-content/uploads/2020/09/10750_image_120076185_3836545079692192_6004358985493353262_o.jpg
377
720
Branson Regional Arts Council
https://bransonarts.org/wp-content/uploads/2017/03/BRAC-HeaderLogo.png
Branson Regional Arts Council
2020-09-25 08:02:15
2020-09-25 08:02:15
Triple Threat Online Conservatory Of Musical Theatre