Annual Arts Council Membership Meeting Will Be A Righteous Experience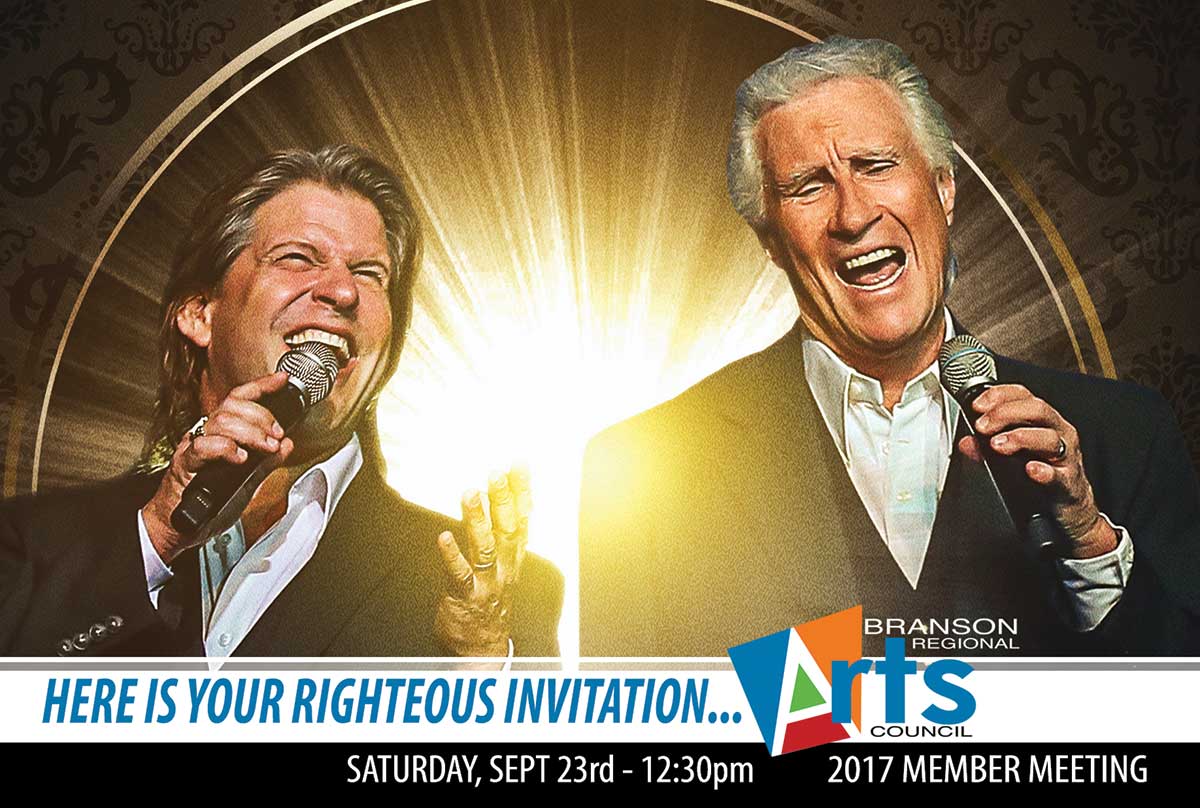 The Branson Regional Arts Council invites all active members to attend the 2017 Annual Meeting on Saturday, September 23rd on the upper lobby level of the Andy Williams Performing Arts Center. The meeting will begin promptly at 12:30pm, and BRAC members will participate in the election of new Board Members, as well as be the first to learn about several NEW and EXCITING arts programs for 2018.
After the meeting, members will gather in the beautiful theatre of the Andy Williams Performing Arts Center to enjoy the Righteous Brothers Live! The concert stars the legendary Bill Medley and his new sidekick, the uber talented Bucky Heard!
I'd been friends with Bucky for years, but when I caught his show he just killed me! The next day it hit me – that's the guy, someone I could sing hard with, laugh hard with, love and respect – on and off stage. He fits The Righteous Brothers live performance show perfectly. And, we've even recorded some new material together, I'm really excited!
– Bill Medley
With a string of #1 classics, including the most played song in radio history, You've Lost That Lovin' Feelin', the Rock and Roll Hall of Fame duo of Bill Medley and Bobby Hatfield topped the charts in four decades. After Bobby's death in 2003, Bill Medley continued to perform to sold-out crowds around the world, but fans and friends pleaded with him to keep The Righteous Brothers alive. Says Medley … No one could ever take Bobby's place, but when I caught Bucky Heard's show it all came together – I found the right guy to help me recreate the magic. The concert experience features their biggest hits – Lovin' Feelin', Soul & Inspiration, Unchained Melody, Rock and Roll Heaven, Medley's Grammy-winning Dirty Dancing theme The Time of My Life, and much, much more!
Bucky and his wife A.J. were honored as our 2012 Arts Citizens of the Year, and I'm especially excited that our members will be able to experience Bucky Heard and Bill Medley in this amazing new show, direct from Las Vegas!
– Jim Barber, Executive Director – Branson Regional Arts Council
The Branson Regional Arts Council is excited! And if that wasn't enough to encourage your attendance, Bill Medley personally offered to give a $10 discount to all Arts Council members in attendance! So, if you are not a member yet, this is the perfect time to join! An annual individual membership is only $20, and you'll get additional discounts to most of the arts council events throughout the year! This concert alone, pays for half of your membership! How Righteous is that???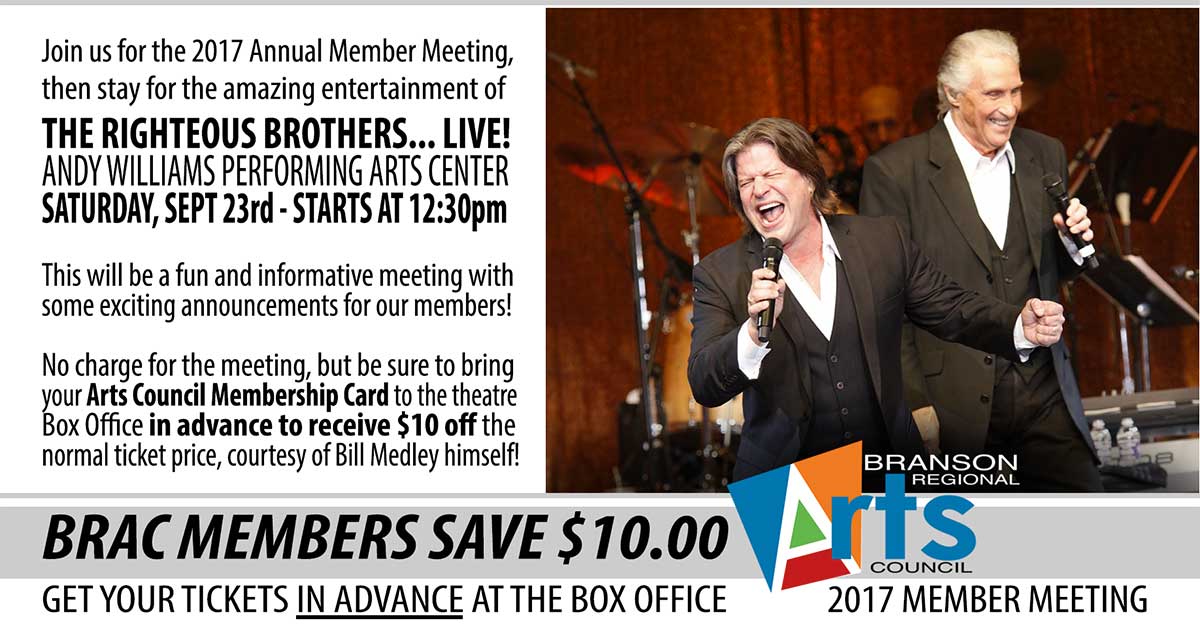 NOT A MEMBER YET? CLICK BELOW & JOIN US TODAY!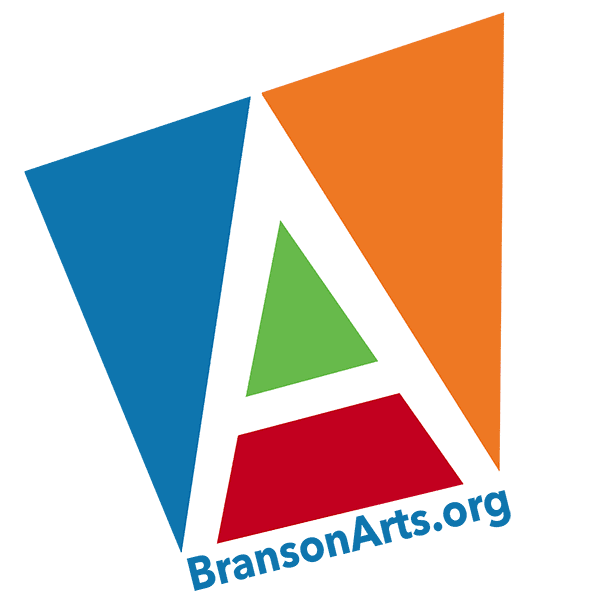 The Branson Regional Arts Council was founded in 1965 as the "Taney Arts Council," and officially established 501 (c)(3) non-profit status as "Branson Arts Council, Inc." in 1993.
Our mission is "to create exceptional artistic, cultural and educational opportunities for our community."
Financial support  is provided by BRAC members, theatre patrons, private donors, as well as additional grant support from  the Missouri Arts Council and other organizations.
BRAC, PO Box 2004, Branson, MO 65615
https://bransonarts.org/wp-content/uploads/2017/08/Righteous_Invite_Web_1200.jpg
808
1200
Branson Regional Arts Council
https://bransonarts.org/wp-content/uploads/2017/03/BRAC-HeaderLogo.png
Branson Regional Arts Council
2017-08-13 12:48:20
2017-08-13 12:48:20
Annual Arts Council Membership Meeting Will Be A Righteous Experience