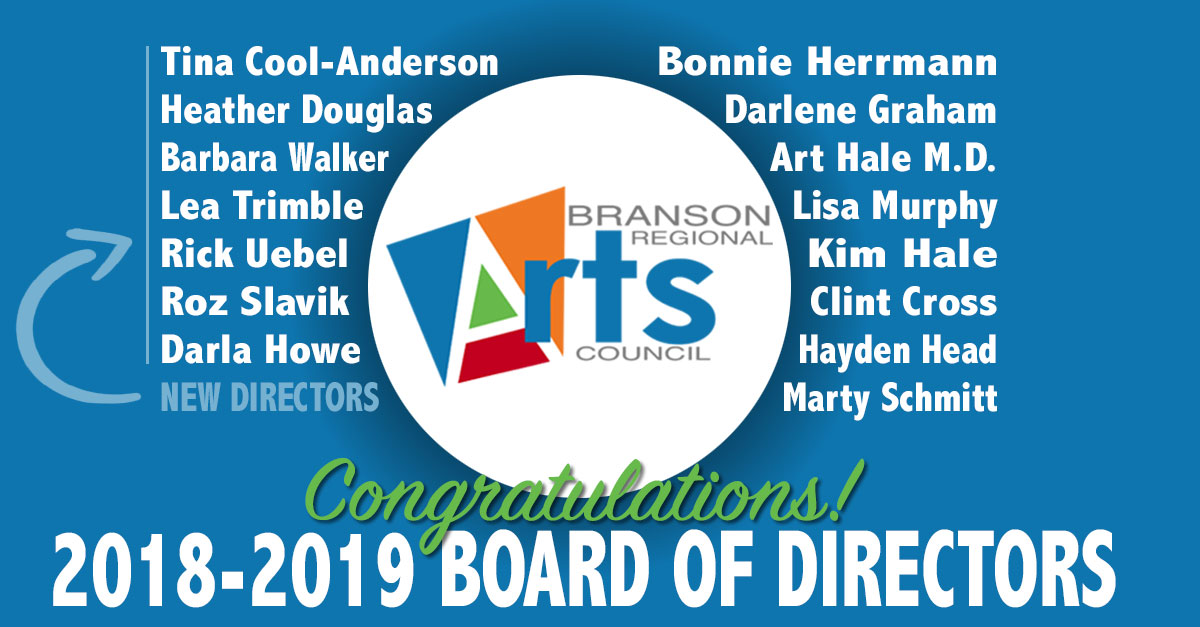 The Branson Regional Arts Council inducted several new Directors to serve at least a two-year term at the Annual Member Meeting on Sunday, September 20th at the Historic Owen Theatre in Branson.
The event began with BRAC Executive Director Jim Barber welcoming the large group of active members and guests that were in attendance.  BRAC President Lisa Murphy called the meeting to order and presided over the items on the agenda. All eligible voting members cast their votes on two items, first being an amendment to the official by-laws that would allow the current number of board members to increase from seven to the maximum of fifteen. This was unanimously passed by all voting members, as was the second item, to accept the new slate of incoming Board Members as well as renewing members.
The new Directors elected to serve at least one two-year term are (in alphabetical order): Tina Cool-Anderson, Heather Douglas, Darla Howe, Roz Slavik, Lea Trimble, Rick Uebel and Barbara Walker.
Renewing Directors who's terms were expiring this year are (in alphabetical order): Clint Cross, Kim Hale (BRAC Vice President), Hayden Head and Lisa Murphy (BRAC President).
Other Directors currently serving on the BRAC Board include: Darlene Graham, Art Hale M.D., Bonnie Herrmann and Marty Schmitt.
We asked our members to approve the amendment to increase the number of directors allowed to serve at one time to fifteen, simply because the Arts Council is growing so fast, we need more active members on our board who can participate in all the incredible activities that are now in development. – Lisa Murphy, BRAC President
Following the election, members were informed of all upcoming events for the remainder of 2018 as well as most major events scheduled for 2019. They were also invited to sign up for any volunteer interests they may have by visiting BransonArts.org/volunteer.
As a special treat to close out the member meeting, several young performers took to the stage to entertain the appreciative audience. Alexis Fischer represented the "Showstoppers" Youth Theatre Troupe with a beautiful vocal performance of "A Million Dreams" dressed in a fantastic themed costume. The next performer, Dylan Pratt, presented a fun and entertaining performance of "What A Wonderful World" in the vocal style of Louis Armstrong.  Dylan not only volunteers in a variety of ways at nearly every theatre production, but has also been a cast member in some recent BRAC productions.  Finally, Director Jordan Alexander-Holt and cast members of BRAC's upcoming "Little Shop of Horrors" presented a preview of the incredible vocals and memorable music that will be featured during the live stage production opening October 25th. Tickets for Little Shop are on sale now at BransonArts.org/tix.
https://bransonarts.org/wp-content/uploads/2018/09/BRAC_Board_Of_Directors_1200.jpg
627
1200
Branson Regional Arts Council
https://bransonarts.org/wp-content/uploads/2017/03/BRAC-HeaderLogo.png
Branson Regional Arts Council
2018-09-24 16:23:41
2018-09-24 16:23:41
Arts Council Welcomes New Board Members