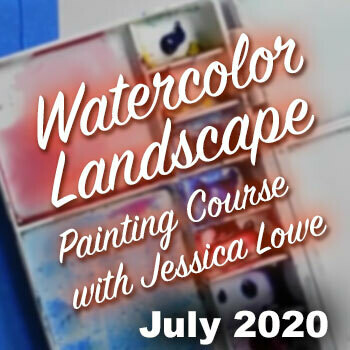 Online Watercolor Landscape Painting Course - JULY 2020
SKU JULY20ART
Product Details
LIMITED TO 8 STUDENTS PER CLASS (Register Early)
These interactive zoom video classes will focus on Watercolor Landscape Painting techniques, and students will learn to create a new and unique painting each week, while developing their artistic skills in a fun and safe manner from the comfort of their own homes.
Course Description: This is a 4 week online LIVE course where students join the instructor for 1 hour each week to practice watercolor landscape painting. After you sign up you will get access to:
Amazon linked shopping list to order your art supplies!
Two pre-instructional streaming videos about watercolor techniques and tools!
One beginners project streaming video to practice with!
Four Live Interactive Online Courses with Jessica Lowe!!!!
Registration is only $40 per student - designed for adults and high school age students (16 years +). Painting supplies not included in registration fee.
Each live session will last for 1 hour. Students will be sent a private Zoom Video link so they may interact with the instructor via their computer, pad or smart phone device.
Instructor Jessica Lowe is a Missouri based artist. She works with a variety of media and creates artworks that focus on nature and portraiture. Jessica was born in Wichita, KS and moved to Missouri at the age of 10. At age 13 she began her formal training as an artist, working under local veteran artist Sam Hull for 2.5 years. Graduating from Branson High School, she went on to continue her education at Missouri State University, gaining her BSED in Fine Art in 2015. She taught High School Art for 4 years at Forsyth High School before deciding to pursue life as an artist-full-time. She is currently working as a free lance commissioned artist creating pieces for patrons, as well as developing her own work.
Save this product for later