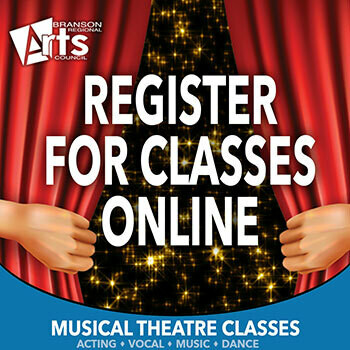 Musical Theatre Classes
SKU ACT6WEEK
Product Details
The Branson Regional Arts Council Youth Education Department is excited to offer a SIX WEEK SUMMER MUSICAL THEATRE CLASS for various age levels, as well as an advanced class for more experienced students.
Registration Fee includes all 6 weekly sessions:
1 HOUR CLASSES - $65 (non member), $60 (BRAC Family Members)

1.5 HOUR CLASSES - $80 (non member), $75 (BRAC Family Members)
The classes will meet on Thursdays from June 27th through August 8th (no class on 7/4/19) at the Historic Owen Theatre in Branson.
Musical Theatre age 4-11 (1 Hour Class - Instructors: Jake Deck & Mesa Mitchell) Meets 10am-11am
Musical Theatre age 12 and older (1.5 Hour Class - Instructor: Kyle Bradley) Meets 3pm-4:30pm
Advanced Musical Theatre (1.5 Hour Class - Invitation Only - Instructor: Jacob Estes) Meets 11am-12:30pm
Kids love to let their imagination soar, and participation in musical theatre takes that imagination to the next level by letting them become new characters and perform roles. Your child will develop confidence while making new friends and learning new skills.
Topics covered include writing and other story-telling skills, acting, dance and choreography, singing (solo and harmony), costumes, auditions, staging and performance.
Teamwork and constructive feedback are important parts of the instruction. Students will become familiar with practices used in the professional acting world as they learn about the community behind musical theatre.
PLEASE REGISTER EACH CHILD INDIVIDUALLY, REFRESHING THIS FORM EACH TIME
Save this product for later