Branson Regional Arts Council offers online and in-person arts education classes for youth and adults.
Contact BRAC at 417-336-4255 or edu@bransonarts.org with any questions regarding our current schedule for the following types of classes…
Visual Art & Painting Classes
Acting & Theatre Classes
Dance & Movement Lessons
Vocal Lessons
Piano Lessons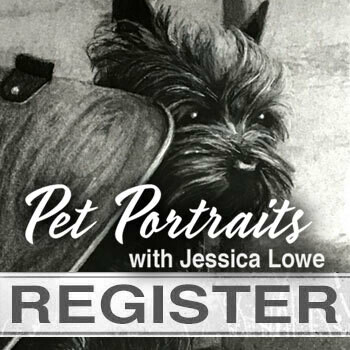 Drawing Animals With Charcoal Course
SKU CHARNOV20
Product Details

4 Week Class meets for 1 hour on Tuesdays via Zoom
Art Instructor: Jessica Lowe
LIMITED TO 8 STUDENTS PER CLASS (Register Early)

CLASS DESCRIPTION:
This is a 4 week charcoal drawing class for teens and adults. Learn classic charcoal drawing techniques and create your own pet portrait with the guidance of a local artist, Jessica Lowe. Materials should be purchased prior to the first class. Come to experiment, have fun, and develop a new artistic skill!
Registration fee covers all instruction over the 4 weeks of classes, plus a bonus Charcoal Materials & Techniques video.
NOTE: Students must provide their own materials (see list below). Materials may be purchased at most art supply stores such as Hobby Lobby, Michael's Craft Store, or via Amazon.com (Approx. $33 + shipping) at this link: http://bransonarts.org/charcoal.
Materials Required (Students Must Provide)
Generals Charcoal

Kit #15: (white

charcoal

pencil, five black

charcoal

pencils, two black

charcoal

sticks, a white

charcoal

stick, a black wide

charcoal

stick, a carbon sketch pencil, a kneaded eraser and a sharpener)
Toned Grey Paper 9x12
Paper Blending Stumps (varied pack)
Standard Eraser
Masking or Blue Painters Tape
Optional Supplies
Matte or Workable Fixative
Fluffy medium sized paintbrush
Jessica Lowe is a Missouri based artist. She works with a variety of media and creates artworks that focus on nature and portraiture. Jessica was born in Wichita, KS and moved to Missouri at the age of 10. At age 13 she began her formal training as an artist, working under local veteran artist Sam Hull for 2.5 years. Graduating from Branson High School, she went on to continue her education at Missouri State University, gaining her BSED in Fine Art in 2015. She taught High School Art for 4 years at Forsyth High School before deciding to pursue life as an artist-full-time. She is currently working as a free lance commissioned artist creating pieces for patrons, as well as developing her own work.
Save this product for later