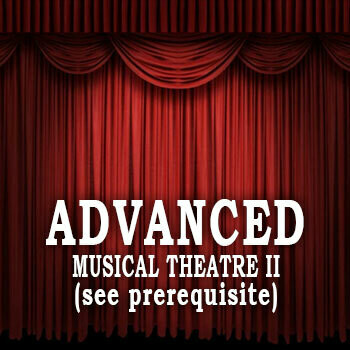 Advanced Musical Theatre II
SKU ADV-MUS_THEATRE
Product Details
The Branson Regional Arts Council Youth Education Department is excited to offer a SIX WEEK ADVANCED MUSICAL THEATRE II CLASS, open to all ages.

*Prerequisite: This class is open for Advanced Musical Theatre students only ...other inquiries will need to go through instructor.

Description: Students will focus on the exploration and discovery of the skills necessary to be a polished musical theatre performer (singing, dancing, acting). This class is not for beginners, as students will be expected to have a high level of prior theatrical knowledge in order to dive deeper into the craft. The work as a performer is NEVER complete. The journey to finding who you are on stage is a process that is ever changing, and the moment an actor embraces that, their world will be opened up to ALL possibilities!
Classes begin Thursday, September 19th and occur every Thursday for SIX, fun filled weeks of fun, interactive acting classes with your instructor, Jacob Estes!
WHEN: Sept 19 - Oct 24, 2019
TIME: Thursdays, 4:30pm - 6:00pm
WHERE: Historic Owen Theatre
Registration Fee includes all 6 weekly sessions:
1.5 HOUR CLASSES - $80
PLEASE REGISTER EACH STUDENT INDIVIDUALLY, REFRESHING THIS FORM EACH TIME
Save this product for later