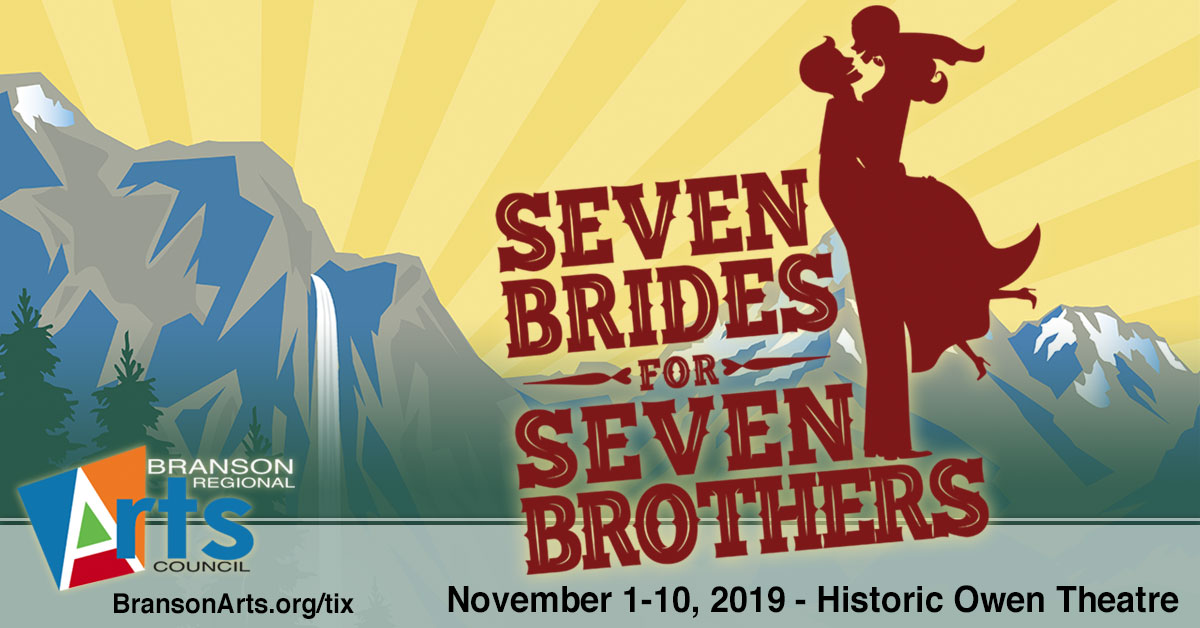 Seven Brides For Seven Brothers Opens Nov 1st!
The high energy stage musical Seven Brides for Seven Brothers, based on the Academy Award winning MGM musical film by the same name, will be presented at the Historic Owen Theatre in Branson for eight exciting shows between November 1-10, 2019.
This Branson Regional Arts Council production has been in rehearsal for over six weeks with a talented cast of 26 actresses and actors.
Advance reserved tickets are highly recommended and available by calling the box office at 417-336-4255. Patrons may also select and purchase their own seats online at BransonArts.org/tix. Adult (18+) tickets are $16.95 and Youth (4-17) are $11.45. Proceeds benefit the Branson Regional Arts Council, a 501 (c)(3) non-profit organization.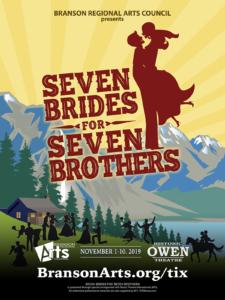 This authentic piece of Americana, is a time-tested romantic comedy musical with a special, contemporary relevance. Bringing the raucous Oregon frontier from the screen to the stage, it is a crowd-pleasing hit that has audiences cheering from the opening scene to the curtain call.
"Whether you attend for a heady exploration of its thematic elements or to simply sit back and enjoy the spirited song and dance, it is my sincerest wish that you enjoy "Seven Brides for Seven Brothers."
–  Jordan Alexander-Holt, Director and Choreographer
Saddle up for a joyride in this tale of stubborn men and cunning women. The men in question are Adam and his six unruly brothers, who think they know what a woman's place is and how to keep her there. It takes Milly, Adam's spirited new wife, and six other savvy women to show them who's the boss.
"I applaud our incredible production team for their seamless transition as we go from one show to the next. This will be the 9th major theatre production that the Arts Council has been involved this this year, and it promises to be one of our biggest and best, especially if you are a fan of classic broadway musicals filled with tons of singing and dancing throughout."
– Jim Barber, BRAC Executive Director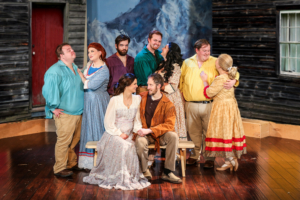 The cast members are: Sarah Sutherland (Milly Pontipee), Nathan Sutherland (Adam Pontipee), Kellsey Bradley (Dorcas), Joey Blackwood (Gideon), Julie Brinkman (Sarah), Kyle Bradley (Benjamin), Melissa Davis (Alice), Joseph Donathan (Luke), Alexis Fischer (Liza), Alex Harris (Frank), Amy Miller (Ruth), Michael Horn (Caleb), Samantha Ault (Martha), Josh Silvy (Nathan), Haley Bertrand (Mrs. Hoallum), Jonathan Kirkland (Daniel), Beth Lambeth (Mrs. Sander), Sean Neil Myers (Ephraim), Jed Friedman (Jeb),  Dylan Pratt (Zeke), Carter Hendrickson (Matt / Understudy Ephraim), Derek Brown (Joel), Jeremiah Reeve (Preacher), Michael Franklin (Mr. Sander), Lucas Dahlgren (Mr. Hoallum) and Ruben Dutton (Understudy Matt).
The production team includes: Karie Dykeman, Kimberly Hale and Lisa Murphy (Producers), Jordan Alexander-Holt (Director and Choreographer), Lloyd Alexander-Holt (Music Director and Stage Manager), Corey Mitchell (Technical Director and Set Designer), Kwaku Addai (Scenic Muralist), Jonathan Crum (Costume Designer), Haley Bertrand (Costumer), Roz Slavik (Prop Master), Pamela Meadows (Lighting Designer), Mac Hill (Audio Director), Noah Byer (Videographer), Marshall Meadows (Photographer), Jim Barber (Graphic Design and Marketing), Mike Groff, Michael Horn, Kyle Bradley, Nathan Sutherland and Mark Musser (Set Construction).
"We are thrilled anytime we can incorporate a talented area artist into our set designs, and the full stage backdrop of this production features a hand-painted mountain scene by world renowned artist Kwaku Addai, who was born in the small village of Asamang in the Ashanti region of Ghana, Africa. Kwaku is now a resident of Branson and currently featured in our art exhibit at the Branson Convention Center Gallery. We are grateful that he lent his talents to help transform this historic stage into the majestic mountains of Oregon."
– Jim Barber
BRAC wishes to thank State Park Marina and Starboard Corporation for supporting this production as a Backstage Sponsor.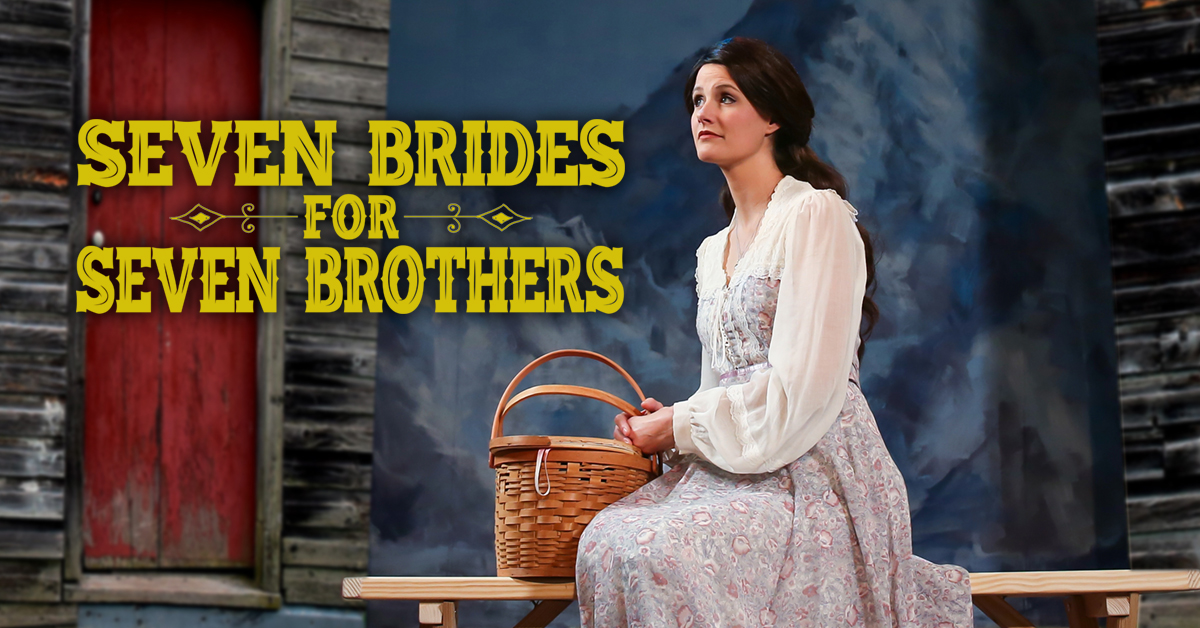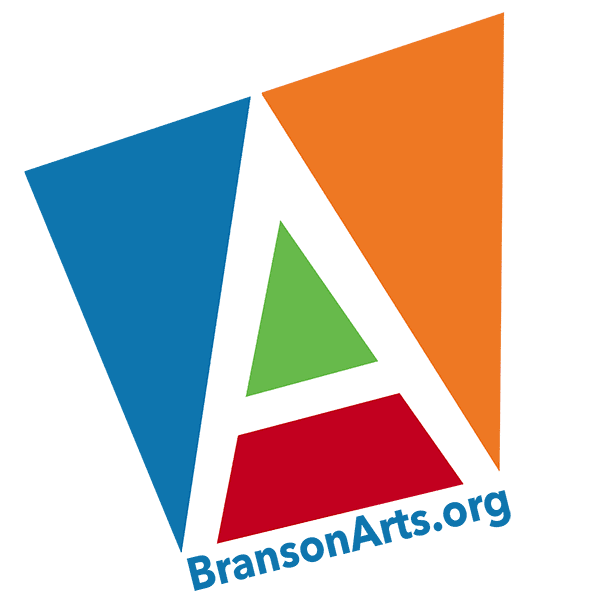 The Branson Regional Arts Council was founded in 1965 as the "Taney Arts Council," and officially established 501 (c)(3) non-profit status as "Branson Arts Council, Inc." in 1993.
Our mission is "to provide artistic, cultural and educational opportunities that support, strengthen and enhance artistic experiences for people of all ages in our area."
Financial support  is provided by BRAC members, theatre patrons, private donors, as well as additional grant support from  the Missouri Arts Council, City of Branson, and other organizations.
BRAC, PO Box 2004, Branson, MO 65615
https://bransonarts.org/wp-content/uploads/2019/10/7Brides_7Brothers_1200.jpg
628
1200
Branson Regional Arts Council
https://bransonarts.org/wp-content/uploads/2017/03/BRAC-HeaderLogo.png
Branson Regional Arts Council
2019-10-24 13:58:56
2019-10-28 16:53:47
Seven Brides For Seven Brothers Musical Opens November 1st