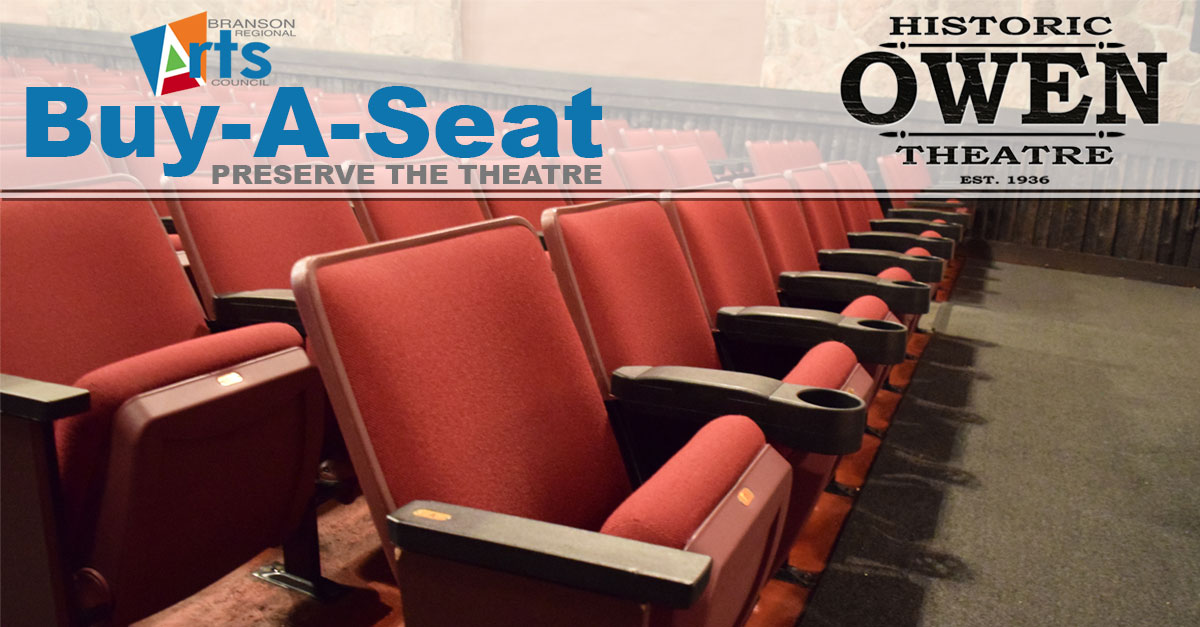 Buy-A-Seat At The Historic Owen Theatre
The Branson Regional Arts Council has a long term goal of restoring the Historic Owen Theatre and preserving the legacy of former Branson Mayor Jim Owen who built the venue as a movie theatre in 1936.  Theatre patrons and area businesses are invited to "Buy-A-Seat" at the Owen Theatre as a way of showing their support and appreciation of the arts in our community.
"There are 203 cushioned theatre seats available for adoption in our Buy-A-Seat campaign. For a $500 deductible donation to the Arts Council, each donor will received an engraved brass plate with their name, the name of their business, or a dedication to a loved one; permanently fixed to the back of their seat. Their support of the arts will be on display for as long as the Branson Regional Arts Council has management of this historic facility. We hope that will be for generations to come!" – Jim Barber – Executive Director, Branson Regional Arts Council
To submit a donation to "Buy-A-Seat" at the Historic Owen Theatre, mail a check to: BRAC, PO Box 2004, Branson, MO 65615 and notate the seat number you wish to "adopt" in the memo line.  If donors would prefer to pay via any major credit card, please click on this link and select your seat via our Vendini ticketing system.
The seating chart below shows which seats are currently available for adoption.  Once a seat is "adopted" by a donor, it will never be available to anyone else. We thank everyone who has "adopted" a seat to date….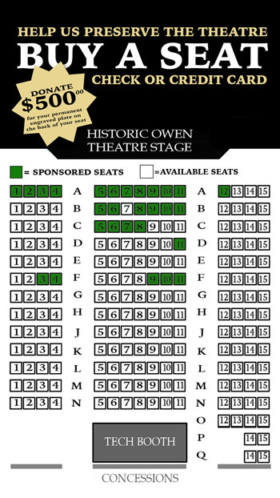 Current Buy-A-Seat Patrons include:
A1 – DELYLA & RICH UEBEL
A2 – RICH & SUE SPOLEY
A3 – PAUL A SLICER (by Patty Slicer)
A4 – VENEDA B SLICER (by Penny McDermott)
A5 – SUE R HEAD
A6 – HAYDEN HEAD
A7 – DIANE W BARBER (by Jim & Jessica Barber)
A8 – ROBERT (BOB) COHN (by BRAC)
A9 – JEAN CANTWELL (by BRAC)
A10 – RON & DIANE MATHES
A11 – THE HALE FAMILY
A12 – SMITH BROOKHART (by Gail Brookhart)
B5 – ALAN "CHIP" MASON
B6 – DAWN ERICKSON
B8 – BARBARA COHN
B9 – DARLENE REA (to be announced)
B10 – DARLENE REA (to be announced)
B11 – GRANDMA SANDY PLATE (by Kim & Art Hale)
C5 – ANN M McDOWELL
C6 – ROBERT F McDOWELL
C7 – CHRISTMAS SURPRISE (to be announced)
C8 – STEVE & RAEANNE PRESLEY
D-11 – DIANE WALLAHAN BARBER (by Mary Jane Wallahan)
F3 – RUTH & BOB ABBOTT
F4 – BOB & RUTH ABBOTT
F9 – FRED PFISTER
F10 – FALECIA PFISTER
F11 – FAYE PFISTER
https://bransonarts.org/wp-content/uploads/2018/11/Buy_A_Seat_1200.jpg
627
1200
Branson Regional Arts Council
https://bransonarts.org/wp-content/uploads/2017/03/BRAC-HeaderLogo.png
Branson Regional Arts Council
2018-11-09 16:55:45
2018-12-11 14:26:09
Buy-A-Seat At The Historic Owen Theatre