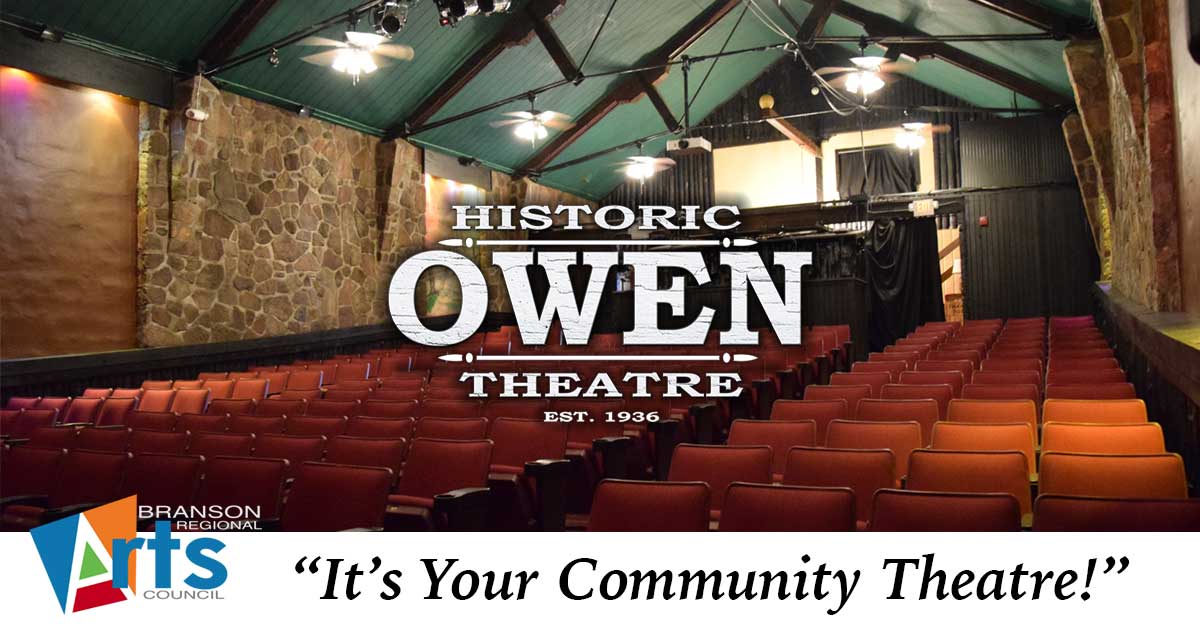 In an official announcement, the Branson Regional Arts Council announces that they have merged Tri-Lakes Community Theatre into their organization.
State of Missouri Secretary of State, John Ashcroft, signed the merger as official on January 23, 2018 after several months of discussion and preparation between both non-profit organizations, as well as unanimous votes of support from their active members.
"When the Branson Regional Arts Council entered into our agreement last Fall to assume operations of the Historic Owen Theatre, we knew this would create an opportunity to provide a permanent home venue for community theatre in the Branson Tri-Lakes Area," stated BRAC Executive Director Jim Barber. " TLC (Tri-Lakes Community Theatre) has struggled in recent years to find available performance space, and therefore, financial support to sustain it's operations into the future. We felt that this merger, with the goal of preserving the amazing 34 year history of TLC productions, would be very beneficial to our community, and provide TLC with additional management and marketing support.  I want to thank Jean Cantwell, Harry Styron, Phoebe Fox-Head, Sean Neil Myers, Della Mason Stacy, and the Branson Regional Arts Council board, for their cooperation and vision during this merger process." added Barber.
There were some interesting connections between the two organizations that made this merger a natural progression.  Both groups were founded by long-time Branson resident Jean Cantwell and other area arts enthusiasts.  The Branson Regional Arts Council was founded 53 years ago in 1965 as the Taney Arts Council, and Tri-Lakes Community Theatre is now celebrating it's 35th year having been formed in 1983.  Jean was extremely excited to learn that both organizations she help give life to, would now continue forward as one, combining her love of the visual arts and live community theatre.
The Arts Council plans to document and preserve every past TLC production on it's website, thereby preserving the historic roots of community theatre in our area.
Excitement is high for this opportunity to improve the quality of community theatre in the Branson area.  Audition turnout for the first 2018 season production of Annie, was much higher than expected, with an enthusiastic and extremely talented team of actors, directors, musicians, set designers, electricians and painters, who understand and want to participate in building a thriving theatre arts community in Historic downtown Branson.
Area businesses or individuals interested in underwriting portions of this and other theatre productions are asked to contact the Arts Council at
Public performances of Annie run March 8-11th at the Historic Owen Theatre.  Tickets are on sale now, and expected to sell out for each performance. Visit BransonArts.org/tix to reserve seats before they are all gone.
https://bransonarts.org/wp-content/uploads/2018/02/BRAC-TLC_1200.jpg
627
1200
Branson Regional Arts Council
https://bransonarts.org/wp-content/uploads/2017/03/BRAC-HeaderLogo.png
Branson Regional Arts Council
2018-02-04 22:22:15
2018-02-04 22:22:15
Tri-Lakes Community Theatre Merges With Branson Regional Arts Council